Model and actor Iman Ali recently appeared on a local talk show hosted by Vasay Chaudhry calling herself Khusra. The Bol actor spoke about keeping a low profile on social media as well as her life as a married woman. When talking about her insecurities, the model ruffled the feathers of the viewers with her insensitive comment.
The model famously referred to as 'Iman Ji', shed light on the body image issues she often faces and her inability to accept compliments. Talking to ARY Digital show Ghabrana Mana Hai, Ali shared that she is not the biggest fan of her face, which is why she finds it hard to photograph herself. Yes, we are just as shocked as you!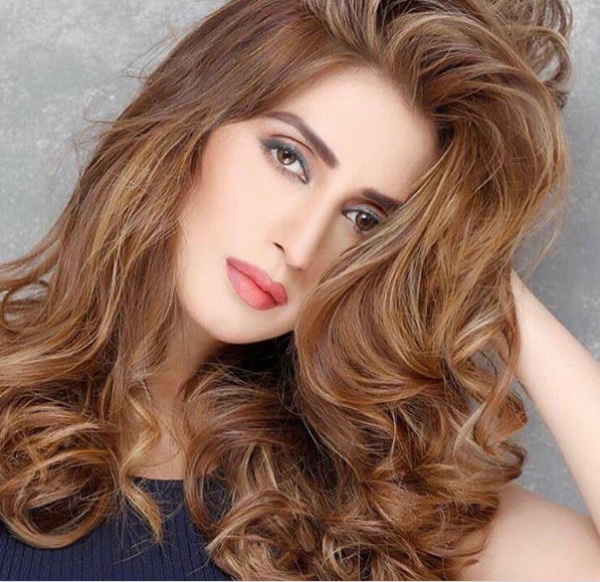 "People tell me I am good-looking, but when I stand in front of the mirror I feel everyone is lying," she shared. Using rather prejudiced and controversial language, she spoke of her inability to take pictures of herself. Iman Ali said, "I can't even take pictures of myself, whatever angle I try, I think 'aye haye, khusra [transgender]'."
Upon being told to change her mirror, Ali joked she would have to change her cameras too. "People say "you're lying, you must like yourself". People should try to understand that not everyone is supposed to love themselves like I don't like the way I am. This is why I don't take selfies and am not very active on Instagram," she shared.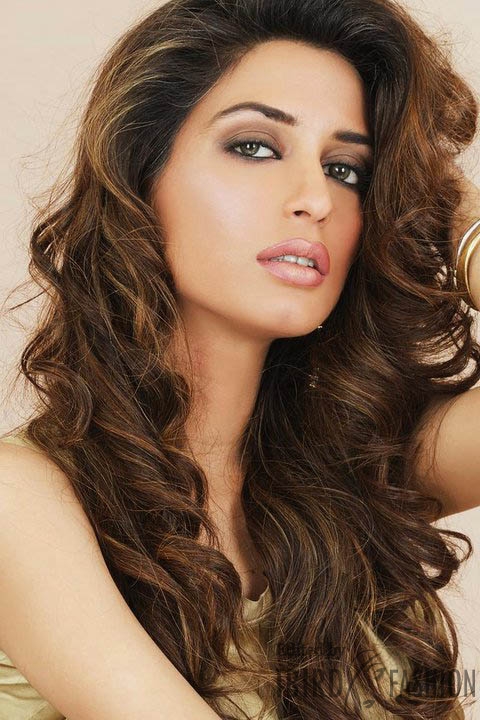 The 40-year-old who has made her strong presence felt in showbiz with her impeccable acting skills and glamorous looks clearly offended the viewers. While comparing herself to a 'khusra', the model humiliated the transgender community.
Rabia Anum calls out Iman Ali
TV host Rabia Anum took to Instagram to point out Iman's insensitive statement. "Koi aisay stupid actors ka moo band karwado yaar [Someone please make shut these stupid actors up]," Rabia said, sharing a screenshot of the clip.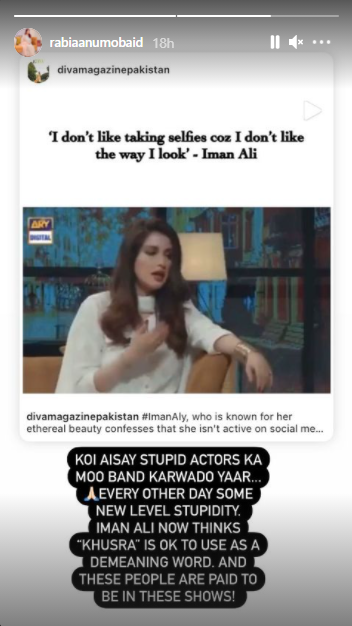 Trans activist Kami Sid said on Instagram, "I still don't know why people are using these terminologies as derogatory."
In Pakistan, transgenders have been discriminated against for a long time. There is harassment and violence against them, and they are excluded from education and employment. It is ironic that the same actress worked in the Pakistani movie Bol. A movie that raised awareness about this particular issue.
Take a look at the video
Ali's controversial statement about the transgender community has stirred conflicting reactions. People are not happy with her comments. It is about time that people, especially celebrities think before they speak.
Previously, Iman Ali's controversial photoshoot took the internet by storm and people were not happy!
What do you think of this story? Let us know in the comments section below.