West Indies all rounder and Peshawar Zalmi's Darren Sammy is now officially an honorary Pakistan citizen!
Not.
Upon this tweet confirming Darren Sammy having learnt Pashto:
I did #LearnPushto from @JAfridi10 , very sweet language now almost a Pakhtun Zalmi. Noray khabaray ba bya kao. Do Khoday Pa Amaan

— Darren Sammy (@darrensammy88) April 25, 2016
Javed Afridi, a passionate cricket fan and the owner of Peshawar Zalmi, initiated a tweet about Darren Sammy, about how he should be made an honorary citizen:
Will request Govt of Pakistan to offer Honorary Citizenship (Nationality) for @darrensammy88 ,with regards to his love for this Nation.

— Javed Afridi (@JAfridi10) April 25, 2016
Soon after which, came a prompt response from  Chief Minister of Khyber Pakhtunkhwa, Pervaiz Khattak, which was actually a fake account!

source: pakistanigif

On Special Request frm @JAfridi10 ,we are honoured to offer a Honorary Pak Citizenship to @darrensammy88 ! "Sammy Khan" Pakhair Raghlay

— Pervaiz Khattak (@Pervaiz_Khattak) April 25, 2016
Khattab sb dera dera Manana ! Pa sar stargo ma qabool de https://t.co/ULWYKEQv2d

— Darren Sammy (@darrensammy88) April 25, 2016
The PTI Official Twitter account then revoked the tweet, saying it was not his official account!
Notification: The only official & authentic Twitter account of CM KP, Pervez Khattak, is @PervezKhattakCM. All other accounts are fake.

— PTI (@PTIofficial) April 26, 2016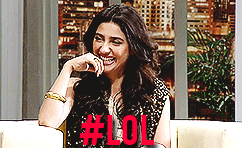 source: pakistanigif
Poor Darren Sammy. So young. So excited. 
It's okay Sammy boy, with your crazy Pashto skills, we'll still count you as Pakistani!