Daraz Mobile Week – the biggest mobile phones and electronics sale of the year – is now live on the platform! The online shopping event, which will run till June 21st, offers customers access to discounts on mobiles, refrigerators, air conditioners, television sets, and a range of kitchen appliances!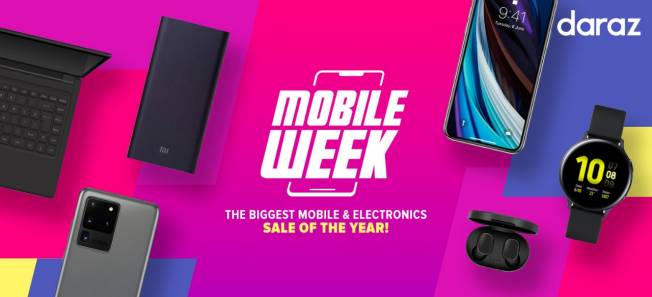 Here is how you can make the most of the event:
Make sure you catch the countdown deals
Daraz will be offering customers access to exciting mega-deals during the sale. However, the platform has already made available several countdown deals that you can add to your cart now!
Free shopping cart
By adding products worth Rs. 25,000 and above to their cart by June 14th, customers have the chance to win it for free!
One Rupee Game

Customers can buy their products for just Rs 1 by playing the One Rupee Game
Mobile'athon

By completing a set of challenges every day, customers stand a chance to win exciting prizes
Bank cards and wallet
In order to make the most of the sale, customers should keep their cards ready and activate the Daraz Wallet. The platform has partnered up with Habib Bank Ltd, Silk Bank, Bank Alfalah, and Easy Paisa to offer customers additional discounts up to 20%. The Daraz Wallet is the smartest way to pay on Daraz as it offers customers access to exclusive bonuses, faster checkout, and instant refunds!
The Mobile Week sale includes deals such as:
The chance to win 10% cashback with no minimum cart value
The chance to shop for products with Rs 1 with the One Rupee Game
Mobile'athon: customers can win gifts by completing daily challenges
The chance to win special vouchers and giveaways with Shake Shake
Over the past few months, Daraz has focused on providing an enhanced experience on the platform while also prioritizing the health and safety of customers, employees, and delivery agents.  The platform has implemented several strict safety measures across its facilities to mitigate the transmission of the CoronaVirus.
These include the provision of protective equipment to warehouse staff and DEX Heros such as gloves, sanitizers, and face masks. Staff at the warehouse have been asked to maintain distance amongst each other and to wash their hands frequently and DEX Heros have been instructed to disinfect customer packages at their doorsteps with alcohol swabs before handing them over.
Make sure you catch the Mobile Week sale on Daraz starting June 15th!