Meteorological specialists are of opinion that low depression over the epicenter of the Arabian Sea will change into cyclone "Nilofar" in the next 12 hours, which will probably hit Pakistan [coast of Baluchistan] on October 29.
Authorities of the meteorological department assert that the force of cyclone Nilofar will be significantly powerless when it hits Sindh's coastal regions, which includes Karachi, Thatta and Badin. "Anyhow we can't disregard the likelihood of heavy rains with thunderstorms," chief meteorologist Muhammad Tauseef told the press.
"The tenacious depression over the Arabian Sea could form into cyclone Nilofar," said Muhammad Tauseef. "It will, then, most likely hit Oman at first, before reaching to Pakistan's coastal areas." After hitting Oman's coast, cyclone Nilofar, which will by that time will become less forceful, will turn north towards Pakistan and after that India.
It is likewise expected that thunderstorm will be witnessed in Balochistan and Sindh's coast on October 29. "Substantial quantity of rainfalls can be expected in Karachi on October 30 and 31," said Muhammad Tauseef.
To remain safe when cyclone Nilofar hits the costs, early warnings have been issued to the fishermen and people living near the coastal areas of Pakistan. Fishermen have additionally been exhorted not to go into the deep ocean for fishing between 28 and 31st of October.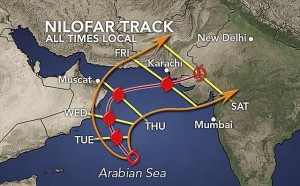 An official of the meteorological office affirmed that all pertinent divisions have been informed about cyclone Nilofar, and also that there is no reason to spread panic among people as they claim that cyclone Nilofar won't hit Sindh's coastal region directly.
The fishermen are also aware of the harms that a cyclone could possibly bring, additionally; they sense the looming cyclone Nilofar. They say that, the force this time won't be as strong as that in 1999, when a cyclone brought destruction along the coastal regions of Sindh, barring Karachi.
"There is a strange silence and the people feel there is something unsafe nearing around," said Mohammad Ali Shah, the administrator of the Pakistan Fisherfolk Form. However, he concurred with Tauseef that cyclone Nilofar won't hit Karachi specifically. "It will hit Oman yet its effect in Sindh particularly in Karachi can't be disregarded," Shah anticipated.
Mohammad Ali Shah informed that information regarding cyclone Nilofar has been circulated by the officials, and warning have been issued against going into the deep sea for fishing.Cyc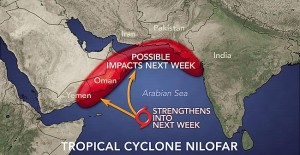 Tracing the history of cyclones since 1999, Mohammad Ali Shah said that the administration had never possessed the capacity to prepare for a common catastrophe along the coastal region, beforehand. Since 1999, Sindh's sea belt has frequently experienced category five tornados/ cyclones, barring 2010, when the cyclone was of class four.
"There is no legitimate rescue system in Karachi," Mohammad Ali Shah brought up. "We can't appraise the devastation if a cyclone Nilofer hits Karachi," he supported. He said that the greater part of the cyclones had dependably hit different parts of Sindh, for example, Thatta and Badin.
The May 2001 and October 2004 cyclones had affected Thatta and Badin while in June 2007 and November 2009, limited effect was felt in Karachi. Karachi likewise experienced heavy rains and thunderstorms when a cyclone hit Oman in 2011. It has additionally been observed that the government of Pakistan has no administrative measures to counter cyclone Nilofer or any other cyclone for that matter.