This World Cup for Pakistan is turning out to be greatly unbelievable. People had started using the phrase '92 ka world cup making a comparison between Pakistan's performance in World Cup 1992 and CWC19. It was just being played as a consoling joke for the matches that Pakistan had lost. Who thought it would get SO REAL?
The social media has been flooding with people bringing up crazy factual things that happened in today's CWC19 match, Pakistan vs New Zealand. These facts only lead us up to one direction that is, 92 ka world. Previously, the people who were annoyed by the phrase can't help but think now that history is actually and undoubtedly repeating itself.
I am actually believing this now, history repeats itself. In 1992 Pakistan won the 7th match with 7 balls remaining & the same happened today. #PakvNZ

— Ihtisham ul Haq (@iihtishamm) June 26, 2019
After today's match, even ICC  was convinced enough to post a parallel comparison of Pakistan in the 1992 World Cup vs CWC19.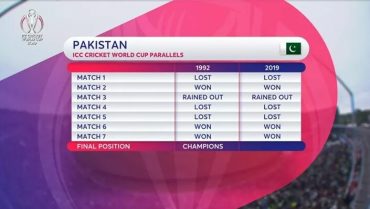 Pakistan vs New Zealand, the facts of now and then
Before the match even started people were half sure that Pakistan will own today's match. The predictions were based on leading up the timeline of results of Pakistans matches from World Cup 1992. But none of us was expecting it to get real in so many surprising ways.
The win that Pakistan has scored today is 101% leading our way to the semi-finals following the same tracks followed in 1992.
Also Read: World Cup 2019: What Will Take Pakistan To The Semi-Finals?
Here are some of the uncanny similarities that would leave you jaw-dropped:
New Zealand Was Unbeaten And Lost Against Pakistan
This was the first similarity that many people were positive to look up at. The same sequence of results had us convinced. If we're following the tracks of 1992 World Cup, this match had to be won.
84% of fans were predicting it to be a win for Pakistan prior to the start of the match.
Pakistan Chased The Score And Won
Today the toss was won by New Zealand but they opted to Bat first eventually giving Pakistan the chance to field. In the previous matches, Pakistan was being told that the team is incapable of chasing the score. So hopes instantly went down. Some of us, however, we're stuck to the fact that in 1992 Pakistan had chased the score in the match against New Zealand and had won. Glad that they weren't wrong because that's exactly what happened.
The Team Won By 7 Wickets
In 1992 and today in CWC19, Pakistan won the match against New Zealand by 7 wickets while chasing the score. Knowing how Pakistan had been performing in the previous matches, wasn't this very unlikely to happen?
Winning a match with 7 wickets was the similarity that we Pakistanis were least expecting. But again it's Pakistan. You should never make the mistake of underestimating this team.
The 7th Match Was Won With 5 balls Remaining
Pakistan vs New Zealand playing their 7th match in the series of World Cup 2019 for Pakistan. The toss was won by the opposing team in this match and they chose to bat first. However, it ended up with a win for Pakistan while 5 balls were still remaining. Exactly like today's match.
How unbelievable is that!
Pakistan win the match number 7 with five balls remaining. They won the game 7 with five balls remaining in WC 1992 too. This is getting unbelievable!! #CWC19

— Mazher Arshad (@MazherArshad) June 26, 2019
Waseem Akram Is Hoping Results To Be Similar
Before the match, in a conversation, Waseem Akram said that there are a lot of similarities. Pakistan was desperate to break the winning streak of New Zealand back then and now too. The sequence of the results is also similar up til now and he hopes the final result would also be the same.
Also Read Cricket World Cup Winners Who Have Ruled The Game Since 1975!
Ricky Ponting Says Its Pakistan Vs Pakistan
It has become a developed fact that we cannot predict based on Pakistan teams previous matches how they'll do in the next match. They could get all out on 105 then beat England with a target of 348. Rickey Ponting second that fact by saying that Pakistan wins from whoever they want to win and lose from whoever they want to lose. Their match is not against the opposing team, instead, it is with themselves. Very well said Ricky, we feel you.
Ricky Ponting "Pakistan beats whoever they want to beat and they lose from whoever they want to. It's not Pakistan vs the opposition. It's Pakistan vs Pakistan." pic.twitter.com/kUfKkIXcZn

— ZEE. ?? (@iBleedGreenZEE) June 26, 2019
All The Cricket Legends Are Posting Appreciation Tweets
The efforts of the team were visible and no one could deny that the team really put in their lives to win the match. It was certain that the legends who bashed them would appreciate the change in the spirit of the team too.
Congratulations to our cricket team for a great comeback. Congratulations especially go to Babar, Haris and Shaheen for their brilliant performances.

— Imran Khan (@ImranKhanPTI) June 26, 2019
Match winning inning from Babar Azam. Brilliant display of talent by Haris Sohail. What a class act he is turning out to be.
Shaheen Afridi bowled with pace & aggression.
Pakistan Zindabad. One step closer to the dream. #PAKvNZ #CWC19

— Shoaib Akhtar (@shoaib100mph) June 26, 2019
Well done to all the bowlers esp @iShaheenAfridi ! We worked hard & you did it boy ! Babar and Haris what an outstanding innings – great run chase on a tricky pitch, keep believing boys … proud of you all, Pakistan Zindabaad ??

— Azhar Mahmood (@AzharMahmood11) June 26, 2019
Pakistanis Are Proud
Winning one of the toughest matches for Pakistan in CWC19 today has lifted the spirits of Pakistanis and they are loving the team again.
Congratulations Pakistan!! Keep it going. Onwards and upwards inshAllah!! ??????#PAKvsNZ

— Mahira Khan (@TheMahiraKhan) June 26, 2019
If Beating, Unbeatable Teams In A Big Tournaments Is An Art, Then AllahamdulilAllah We Pakistanis Are Picaso Of It ?#PAKvNZ #CWC19

— Ahmi_Ali (@AhmiAli5) June 26, 2019
Also Read: Pakistani Vlogger Momin Saqib Hilariously Trolled Saif Ali Khan At The Match And We Can't Stop Laughing!
Babar Tweets Calling It A Memorable Victory
Not to forget the fact that Babar gave Pakistan its first century in World Cup after 32 years. We can't love him enough for that.
Seems that he is proud of his achievement too calling this match a memorable victory in his tweet.
What a great and memorable victory for our entire nation! This is for my #SoniDharti. This is for #Pakistan. #RiseAndRise #WeHaveWeWill #NZvPak #CWC19 pic.twitter.com/4dC3GWR4al

— Babar Azam (@babarazam258) June 26, 2019
With today's win, Pakistan's standing in the CWC19 has now trickled up to 6th position. Pakistan has managed to beat up the best teams of the World Cup that are New Zealand and England. The team has uplifted the performance that was seen to be going down in previous matches. The way Pakistan is bouncing back, the chances for Pakistan to reach the semi-finals seem likely. If Pakistan wins the coming 2 matches, the cup would not be far from its reach.
So, we hope and pray that the team Pakistan ends up repeating the history in CWC19 with a legendary victory like 1992.
What do you think about Pakistan's performance in today's match? How likely are Pakistan's chances to be in the semi-finals? Let us know in the comments.