Cases of animal cruelty often go overlooked and people do not even bat an eyelid over the pain caused to innocent animals. A sacrificial buffalo was injured Wednesday afternoon, on the first day of Eid-ul-Adha, after it was shot by a heartless crowd of men.
Cruelty to animals is not three words for us. To us, it is one of Pakistan's biggest issues. It hurts us deeply. But sadly, the news of mistreatment or violence to animals is not taken seriously in our country. Inflicting pain on animals who do not speak the language of humans, and who we Pakistanis say are 'bezuban' (without voice) is an utter monstrosity.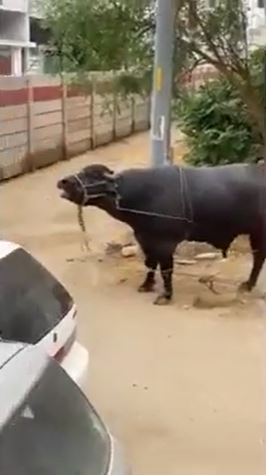 It is not an easy task to slaughter an animal. Hence, the butcher has to be very steady while preparing the sacrifice for slaughter. However, during the first day of Eid, something went amiss during the slaughter of a buffalo. Due to this, it escaped and ran across many homes in the neighborhood for several hours before its owners caught up with it. Video fo the incident went viral across social media.
The blood-curdling incident took place in the Scheme 33 area of the metropolis. While running for its life, the buffalo damaged several vehicles. Unable to get hold of the buffalo, its owners resorted to shooting it in the leg before finally getting a chance to sacrifice it.
After the horrific incident of people shooting at and injuring a panic-stricken buffalo brought for sacrificial offering on Eid, the Sachal Police Station reportedly detained the men behind the inhumane act and recovered weapons from them.
Here is the viral video
As the video of the horrendous treatment inflicted upon the animal went viral, the police came into action and they detained the suspects. According to ARY News, ammunition was recovered from the suspects, who wielded their guns blatantly in the streets, including a pump-action repeater and a pistol among other weapons. Senior Superintendent of Police (SSP) East Sajid Sadozai said anyone behind the event will meet legal consequences.
It seems people have forgotten the importance of lives and are often negligent to animals. Take the Bakra Eid 2020 incident as an example. A number of sacrificial animals became a victim of abuse on different occasions. Such as the sacrificial goat in Gadap Town, which almost became a meal to the street dogs. Not only that but also the tragic incident of how a sacrificial cow fell from the crane while being lifted down will always haunt us.
Sadly, Pakistan is one of the few countries around with obsolete animal laws. This, in turn, allows people to torture animals with impunity.
What do you think of this story? Let us know in the comments section below.