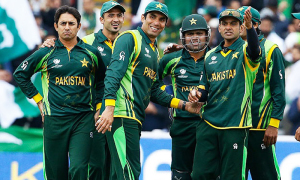 Pakistan Cricket has witnessed multitude of changes during the last decade. The drastic changes in the squads, frequent injuries of the players, mismanagement of Pakistan Cricket Board, internal conflicts within the team, captaincy issues, main players getting banned , and many more problems that makes news almost every day.
With all these uncertainties, one thing remains consistent throughout the last decade. That is the bickering nature of our batting. It remains the biggest unsolved dilemma of Pakistan Cricket. No matter how many batting coaches they change or resources they spend on building batting technique, Pakistan Cricket remains deprived of reliable batting order.
The public outcry on batting becomes visible if you browse through social media forums such as Facebook and Twitter. The target- low or high, doesn't matter, we never chase easily. Sometimes it seems we don't want to, even when the target is as low as 140-odd runs. Pakistani Cricket fans haven't witnessed any big-target run chase in a long time.
We seem to have accepted and internalized the failures of Pakistani batting and don't expect from them much either. But, it hurts. As a cricketing fan despair has overshadow the excitement now.
It's pertinent to see where we have been hit. We have failed to find the reliable opening duo that would perform with consistency on any kind of pitch. But that happened rarely in Pakistan cricket. I mean, apart from Saeed Anwer and Amir Sohail or for some time Saeed Anwar and Shahid Afridi, we haven't had formidable opening pair.
In that case, we relied on strong middle order which handled the score line after the top order tumbled. In the 90's and early 2000's Inzamam-ul Haq, Ejaz-ul-Haq, and Mohammad Yousuf acted as bulwark against opponents and made sure we get to a decent score.
This was the reason why fans asked about the score of Inzamam than any one of opening pair because it was certain that only middle order can recue Pakistan out of the initial blow. Opening order's failure was obvious to fans but they had trust on formidable middle order.
Numerous innings were won because Inzamam came in number 3 at the deplorable score under 50 and he would maneuver the innings to the respectable total. This role was played by either of Inzi, Yousuf, Salim Malik, and Ejaz-ul-Haq. So, the middle order was the backbone of Pakistani batting. And, the importance of mid-way innings and players who make the middle innings reflects in every sport.
In hockey,it's the mid wingers that make the game by timely attack and defense. Even in football, Midfielders are the match winners. The point is, it's the middle order among all other departments of cricket, that hold key to successful run chase and putting a good total on the board.
Now, the backbone of middle orders seems to be broken. There is no one to be relied on. If the senior players like Misbah don't stay on increase, there's no one else with the right temperament and technique stay on the wicket.
Unfortunately, Misbah is not clicking so others in middle order fumble out. We witnessed this throughout the Australia-Pakistan Series. There is hope when openers click luckily, for if they not, the middle order collapses with them. The opening pair provided a good stand in the second ODI against Australia but no use as middle order and middle lower order collapse after scoring mere 100 more runs to those scored by openers.
Umar Akmal has a talent, but he lacks the temperament and little technique to weather the spin-fast attack during the mid-way innings. Umar Amin's talent is much discussed but we haven't witnessed any of long innings though he has been given numerous chances. Fawad Alam's potential was conspicuous during recent series against Sri Lanka but he seemed disoriented against Aussie attack.
I wonder why they didn't take the experience Younus Khan on the tour; he is the only player with all the required T's i.e. talent, temperament, and technique that has all what it gets to revitalize the middle order. His absence is conspicuous during ongoing series. Moving on, Asad Shafiq, is the unluckiest. He has been unable to convert good starts into long innings. Shahid Afridi is unpredictable, all we can say about him.
He is least reliable so not fulfilling the requirements of middle order. Sohaib Maqsood has the talent but again falls short of other criteria. So, current middle order having the talent lacks the mental toughness, temperament and enthusiasm to stay on the wicket and enjoy the batting.
One wonders if Pakistani batting order is collapsing in Sharjah, what it would be like in MCG in the coming World Cup where the wickets are bouncy. Cricket world Cup 2015 will be the greatest test of Pakistani batting line, for if it doesn't perform, there stands no choice to win, even with best bowling attack. Misbah and PCB management need to put their heads together and come with an inclusive strategy.
On other note, now as I write this article, Pakistani middle order is again loosing on Australian bowlers in the last match of the series. Let's do what we all can do, pray to God, that's how I can contribute to Pakistan cricket.