SMEs contribute so much to a country's economy and CreditBook, a finance management app targeting these micro, small, and medium businesses is here to empower and enable them in any way possible!
CreditBook recently launched a whole new feature where these businesses can increase visibility and build a strong customer network for themselves.
Imagine your small business being endorsed by a mega-celebrity just for free! All you have to do is become a CreditBook user!
This exclusive new feature 'Local Baadshah' on the application lets users apply for a business ad with the skipper himself, Babar Azam! All users have to do is enter a few details like their business name, address, number, etc. then with just a few clicks they can generate a full video ad promotion for their businesses by Babar Azam himself!
After that, they can share these customized ads with their business vendors, customers, and other networks.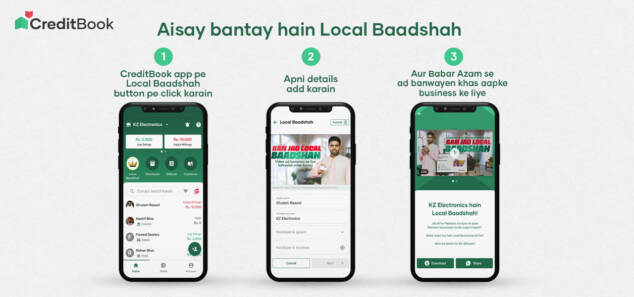 About CreditBook
CreditBook was launched in 2020 with the single aim to improve the financial outcomes of micro, small and medium businesses across Pakistan.
Starting with a simple digital ledger, the company has been building secure software for millions of businesses to manage their credit, sales, and expense cycles.
Partnering with Babar Azam to launch #LocalBaadshah to promote these local businesses speaks volumes of the company's resolve and commitment to Pakistan.
With this app and its new feature 'Local Baadshah', CreditBook expects to bring some joy to business owners in Pakistan who have had to go through trying times, from the pandemic to the recent economic volatility.
Download the CreditBook Android and Huawei apps and get a free promotion from Babar Azam for your business!