An assistant of Karachi Metropolitan Corporation (KMC) officer infected with Coronavirus hugged the director of the company in retaliation for withholding his salary.
According to the sources, the Human Resource Management (HRM) of the KMC had withheld the salary of the KMC Assistant Director Shehzad Anwar on the basis of negligence and alleged corruption allegations.
Allegedly annoyed over the matter, the irresponsible COVID positive employee entered the HRM department office and demanded his salary. He risked people's lives on purpose. He hugged and pecked other employees as revenge for withholding his salary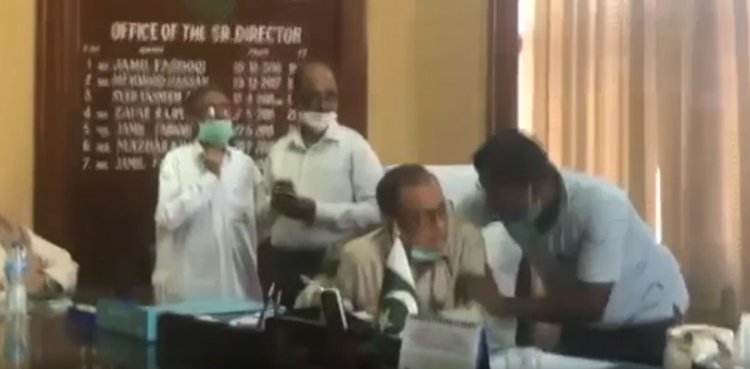 Anwar first barged into the office and after an argument, purposely hugged the Senior Director Jamil Farooqui of HRM followed with pecks on his cheeks allegedly.
Little did the employees know, Anwar, after hugging the HRM director and other employees, who thought it was his courtesy, presented to them his COVID report. It was his way of mocking them, who later reported traumatic experience and urged authorities for action.
Soon after, panic spread like wildfire in the KMC head office, with officers quickly fleeing from their offices. Officials jumped out of their chairs and fled the office in a bid to get away from Anwar.
Show-cause notice served
However, the management has now served him a show-cause notice for his criminal negligence. Noting that they withheld his salary for his recklessness. KMC management appeals an action against him. Moreover, Anwar is liable to furnish his response within seven days for his behavior.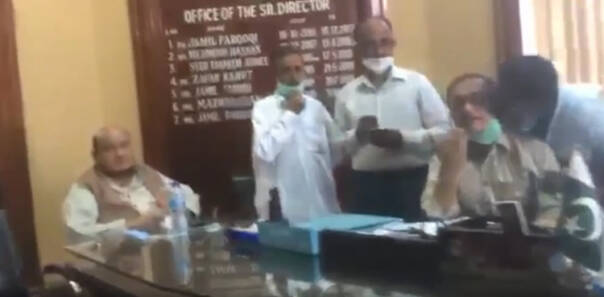 Senior Director HRM revealed Anwar, had been posted as Assistant Director of Land Landhi. Moreover, they suspended him on October 5 following a corruption complaint. His salary was also withheld for not reporting to HRM, the director told Express News.
Farooqi said Anwar deceivingly entered the office and tried to approach him.
"I will take legal action against Shehzad Anwar", he said. In addition, the director said he had the virus four months prior. However, he was to get retested after this episode.
None of the people present, including Anwar and Farooqui, were wearing their masks properly. Some had them under their chins while others were not wearing them at all.
The HRM department has served a show-cause notice to the suspended assistant director for violating the Sindh Local Council Servants (Efficiency & Disciplinary) Rules, 1974. A case has also been registered.
Watch the video here
It is pertinent to mention that earlier Pakistan crossed China in coronavirus cases. And with the second wave, the cases are once again surging rapidly. This incident is in no way to be laughed off. It is rather blatant, putting the lives of numerous people in danger.
What do you think of this story? Let us know in the comments section below.