Minister for Planning and Development Asad Umar said the process of registration of citizens aged sixty-five and above has been started for vaccination against COVID-19.
In a tweet on Monday, he said citizens who wanted to register for the vaccination should SMS their CNIC number to 1166 for registration. He said the vaccination of this age group will start next month.
Pakistan has approved three COVID-19 vaccine
Last week, Pakistan approved the third COVID-19 vaccine, Russia's Sputnik-V, for emergency use. It had earlier approved China's Sinopharm and the one developed by AstraZeneca and Oxford University too.
The Russian vaccine is given in two shots after three weeks. It has a shelf life of six-month at -18 Celsius.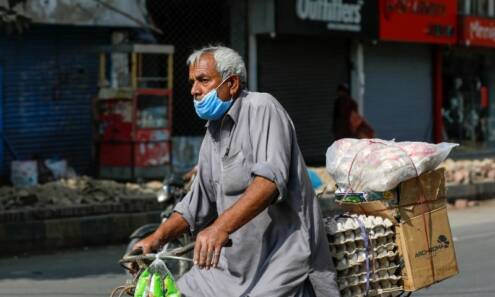 A fourth vaccine candidate has also completed clinical trials. It is developed by CanSino Biologics Inc (CanSinoBIO).
CanSino trials have shown 65.7% efficacy in preventing symptomatic cases. It has a 90.98% success rate in stopping severe cases of the disease in an interim analysis of global trials.
Sultan said its efficacy in the Pakistani subset at preventing symptomatic cases was 74.8%. It was 100% for preventing severe disease.
The efficacy of the CanSino shot is based on an analysis of 30,000 participants and 101 confirmed cases in Pakistan. The minister said, citing an independent data monitoring committee.
Vaccination drive in Pakistan
Pakistan has recorded more than 550,000 cases of COVID-19 and more than 12,000 deaths. However, it is yet to get any of the 17 million doses it is expected to get through the COVAX initiative.
The country earlier this month launched a vaccination drive with 500,000 doses of Sinopharm donated by longtime ally China to give to frontline healthcare workers as a priority.
Frontline health workers are receiving the first of the shots as a priority. However, officials recently suspended a health official for out-of-turn vaccination of a PML-N Leader's daughter and son-in-law.
What do you think of this story? Let us know in the comments section below.