Federal Minister for Planning and Development Asad Umar has announced that the vaccination drive for citizens 50 and above will start from March 30.
"Registration of those who are 50+ for COVID vaccination will be opened on March 30," said Umar on Twitter.
During the last 24 hours, Pakistan reported 63 more deaths due to coronavirus. Meanwhile, the country recorded over 4,000 cases for the first time since July as Punjab and Khyber Pakhtunkhwa drive spike.
The death toll due to pandemic has now reached 14,091, while 591,145 patients stand recovered from the disease.
COVID-19 vaccination in Pakistan
Pakistan's COVID-19 vaccination drive has been underway since February, with health care workers as a priority.
Pakistan recently launched a COVID-19 vaccination for the general public, starting with older people. The country grapples with a high degree of vaccination hesitancy among its 220 million people, even among health workers.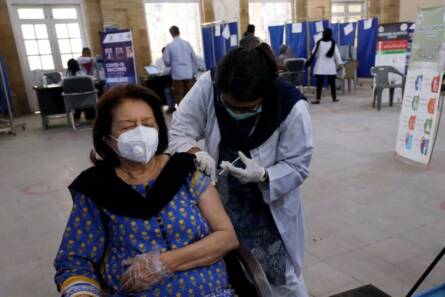 According to a survey released last week, nearly half of healthcare staff had concerns over China's Sinopharm vaccine. It is the only one available in Pakistan for now.
The poll of 555 medical workers conducted by Gallup Pakistan and a physicians' association between February 12 and February 20 found that many health workers would prefer other vaccines.
Pakistan distributed 504,400 Sinopharm vaccine doses to provincial authorities by February 20. Moreover, 230,000 front-line health workers had got a shot.
Pakistan has not secured any supplies from vaccine manufacturers and is largely depending on the GAVI/WHO COVAX initiative for poorer nations and donations from old ally China.
Meanwhile, a group of Pakistani clerics declared through a fatwa (decree) that it was permissible under Islamic law to get the COVID-19 vaccine. Prime Minister Imran Khan's special adviser on religious harmony and the Middle East, Tahir Mahmood Ashrafi announced it last Monday.
What do you think of this story? Let us know in the comments section below.