The lethal coronavirus is wreaking havoc across the world. Sadly, the virus is causing more destruction in the underdeveloped world. The third world severely lacks health and testing facilities. There is a shortage of medicines and even blood plasma of recovered patients. In Pakistan, a group of volunteers pioneered by Zoraiz Riaz have come forwarded and making significant efforts for Covid-19 patients in the country.
 Zoraiz Riaz has made a group on Facebook to aid the ailing souls. The group named corona recovered warriors is all about arranging medicines, plasma, and providing any certain help to the COVID-19 patients. Primarily, the group is helping those who are seeking blood plasma of recovered COVID-19 patients.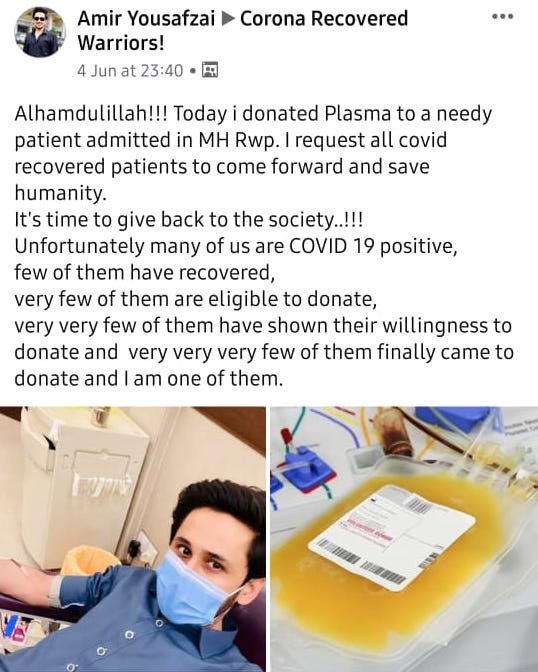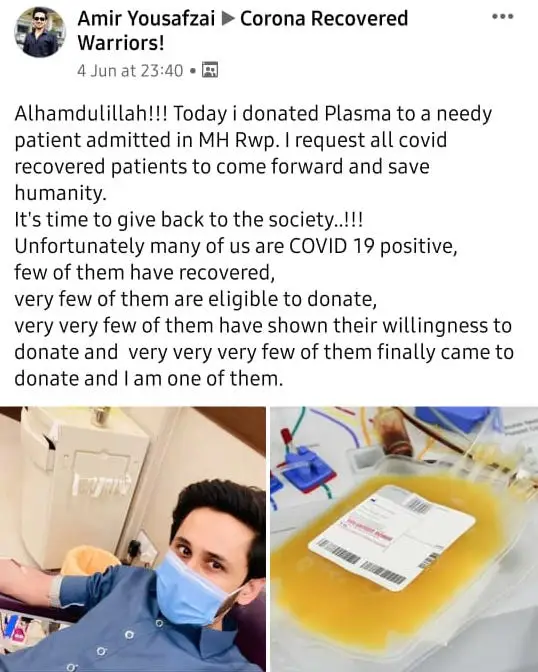 official Info about the group
"This group is supposed to have a pool of corona Recovered warriors so that the critical patients who need plasma can be served & connected. This is Sadqa Jariya. Please add corona recovered warriors to this group! let's save humanity! This group however doesn't allow any malicious activity and it does not support any kind of monetization of plasma. If anybody is found selling or hoarding plasma, a complaint will be forwarded to the state legal authorities and you will be blocked from the forum."
Presently, 26 to 27 people are working in a group to help others. Mainly the workers, contact people across Pakistan and verify their Plasma and arrange it for the ones in need. As per Zoraiz Riaz, more than 450 people connected each other via the group and got benefited. Currently, the group has around 325000 members.
There is also a what's app group where these people work tooth and nail and organize stuff for the patients.
 Zoraiz Riaz
Zoriaz is a social media activist, a graduate from Lahore University of Management Sciences (LUMS). He is the creator of the group and has helped numerous people. While speaking to Parhlo, Zoraiz has shared that what motivated him for the noble task.  Zoraiz told to Parhlo, "I was reading a lot about plasma therapy and I knew Pakistan is going to conduct its trails on plasma. Since there was no official platform, so I as an individual wanted to play my part in this."
He added, "I was motivated by seeing the souls in need." Furthermore, he said,  "for the sake of humanity, I created the most convenient method of connecting plasma donors to the plasma recipients, so I created this group."
Besides, Zoraiz, gave a message to his readers, "I want everyone to be as helpful as they can. This may elevate our status in the eyes of ALLAH as well. We must offer our services to humanity."
People across social media are praising the efforts of the group.
Here's what Actress Ayesha Omar says
If you have fully recovered from #covid19 you can donate your plasma to those who are on ventilators and are fighting for their lives. It's a 100% safe procedure. Please join the "Corona Recovered Warriors" group on facebook and save lives today. pic.twitter.com/Sk2y61aIcA

— Ayesha Omar (@ayesha_m_omar) June 20, 2020
Wife of Dr. Amir Liaquat Hussain
Please listen to this 37sec video and donate your plasma if you have recovered from #COVID19 as you can save other lives. It is not a harmful procedure and you won't be at risk. Request to all donors, please come forward. #coronarecoveredwarriors #pakistan pic.twitter.com/2WomPPar4D

— SYEDA TUBA AAMIR (@TubaAtweets) June 17, 2020
Message from Dr. Fauzia Hussain
There's a Pakistani group called Corona Recovered Warriors on Facebook, where recovered people are offering free plasma to anyone who needs it.

— Dr. Fauzia Husain فوزیہ حسین (@FauziaHusain) June 18, 2020
To conclude, the group is avidly helping those in need. Indeed, Zoriaz has done a remarkable job. Although some people in Pakistan are selling the recovered plasma, there are people who are helping for free.
What do you think of the story? Please, let us know in the comments section below!
Here's the link to the group: https://www.facebook.com/groups/coronarecovered/