In a bizarre incident, traffic police lifted a car with a woman sitting inside in the Regal Chowk area of Saddar, Karachi.
In the video shot on the location by a citizen from a cell phone, the car lifter is seen picking up a car with a woman sitting inside. The incident came into the limelight when the video surfaced on social media.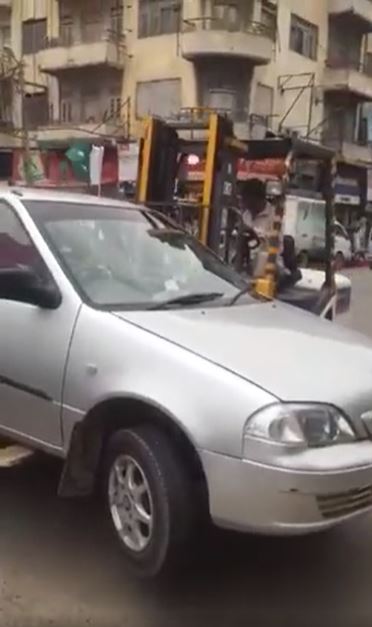 According to the details, the woman was driving the wrong way down the one-way road. However, she refused to accept her mistake. An argument broke out between the female driver and the traffic cops after their car was stopped. The woman was reportedly misbehaving with the traffic cops as well as the station house officer (SHO).
In the viral video, the citizens on the road can be seen lauding the traffic officer for taking his action. The official car lifter reportedly took the woman and her car to the police station. A man alleged in the video that the police were to register an FIR against her.
Check out the videos!
Earlier this month, PTI MNA Aamir Liaquat lashed out at a traffic warden police officer. A number of people gathered at the scene of the incident and filmed the PTI MNA insulting the traffic warden.
Following the insulting session, the traffic warden moved to Ferozeabad police station where he lodged a complaint to seek the registration of a case against the politician. He accused Liaquat of pummeling the government vehicle, pushing the on-duty officers, and using abusive language in public.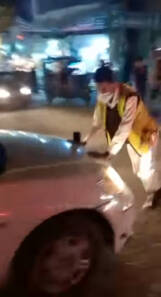 It is good to see traffic cops taking action against their mistreatment! Since last year such cases are rapidly piling up, as the privileged continue to misbehave with the on-duty traffic police officers. Every now and then, social media is filled with degrading videos of people showing their uncivilized side to the world.
In a similar incident recently, a woman from Islamabad maltreated an on-duty traffic police officer. A video came to the surface showing a cop asking a woman to show her driving license. However, she did not have it. The cop then removed the number plate of her car, saying that it is not even original.
Rather than accepting her mistake, the woman got out of the car and misbehaved with the cop. "How dare you touch my car," she constantly yelled at him. Not only that but she also allegedly held him by his collar.
What do you think of this story? Let us know in the comments section below.