Pakistan is a hub of beautiful and attractive places, and today, we're going to explore its cold wonders! Get ready for an icy adventure as we journey into a world filled with snow, cold winds, and magical landscapes. In the year 2023, we'll be traveling to discover the ten coldest places in Pakistan. So, bundle up in your warm coats, mufflers, and mittens, as we embark on this thrilling tour to explore these chilly wonderlands.
Our exciting blog will take us through valleys, hills, and even a fairyland! Each place has its unique charm and beauty, just like a winter wonderland from your favorite storybooks. From frozen lakes to snow-covered peaks, Pakistan has a wealth of winter delights waiting for us to discover.
Top Coldest Places In Pakistan
So, hold on tight as we journey into the heart of the coldest places in Pakistan. Let's set out on this chilly exploration and discover the magic of the frosty landscapes together! Are you excited? Let's go!
Skardu Valley: A Frozen Wonderland
Skardu Valley is a super chilly place in Pakistan. It's surrounded by snowy mountains and looks amazing. The cold winds blow a lot there, making it a perfect spot for people who love the cold. Visitors can see the stunning frozen lake, Sheosar Lake, and the K2 which is included in the list of the top 10 highest mountains in the world, both covered in shiny snow. It truly feels like stepping into a magical snowy fairy tale!
Hunza Valley: A Winter Fairyland
Hunza Valley becomes a magical winter place when it gets super cold. The village called Karimabad and the Altit Fort become frozen and beautiful. You can see a tall mountain called Rakaposhi covered in snow, and the people there are very friendly. Be sure to try the delicious apricot soup, a delightful winter treat that brings comfort. Don't forget to gaze at the twinkling stars in the clear, cold night sky for an extra touch of wonder!
Swat Valley: A Snowy Retreat
Swat Valley turns all white when winter arrives. Cities like Mingora and the Malam Jabba ski resort are perfect for enjoying the winter. You can have hot tea while snowflakes fall around you. If you like skiing, you can try it at Malam Jabba, which is the coldest city in Pakistan. So, get ready for a snowy adventure in Swat Valley!
Naltar Valley: A Frosty Gem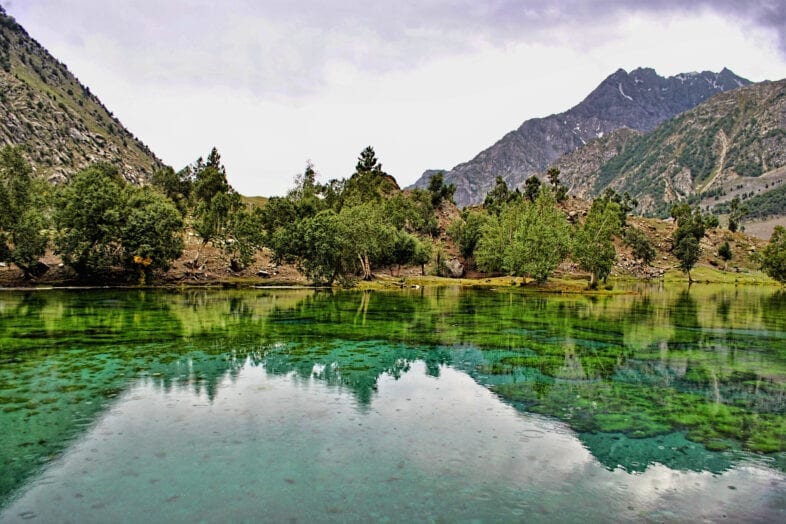 Naltar Valley is famous for its beauty, and it looks even more enchanting in winter. There are many tall pine trees and frozen lakes that make it like a fairy tale. If you're lucky, you might spot a snow leopard in the Naltar Wildlife Sanctuary, adding to the excitement of your winter adventure. Don't forget to capture these magical moments with your camera to cherish them forever!
Rawalakot: A Winter Escape
Rawalakot is a beautiful place in Azad Kashmir, and it becomes a special place in winter. People love to visit it during this time. You can sit by the warm fireplace and enjoy the snow-covered views. There's a lovely lake called Banjosa Lake that looks magical in winter, and you can taste the special "gur chai" made uniquely.
Gorakh Hill: A Snowy Retreat
Gorakh Hill is not as famous as other places, but it becomes a snowy wonderland during winter. It gets very cold there. It's perfect for those who want to enjoy some peace away from the busy city life. It's an ideal spot for camping under the twinkling stars and going on a fun snow safari in a big vehicle. Don't forget to build snowmen and have snowball fights for extra winter fun!
Kaghan Valley: A Winter Wonderland
Kaghan Valley known as the coldest place in Pakistan is usually green during the summer. However, in winter, it turns into a winter wonderland with lots of snow. You can see a beautiful lake called Saif-ul-Malook Lake, all frozen and covered in snow. The people there celebrate the winter season with fun festivals, and you can go skiing and snowboarding in the valley, which is a thrilling experience. If you're lucky, you might even spot some rare species of birds and animals that are native to the area.
Ayun and Bamburet Valley: Winter Serenity
Ayun and Bamburet Valley are special places where the Kalash people live. In winter, these valleys become calm and snowy. The Kalash people have their unique festivals during this time, and you can see their colorful traditional dresses in contrast to the white snow. Feel the calmness of these valleys and enjoy the beauty of their culture and snowy surroundings. It's a special winter experience you won't forget!
Jhelum Valley: A Snowy Respite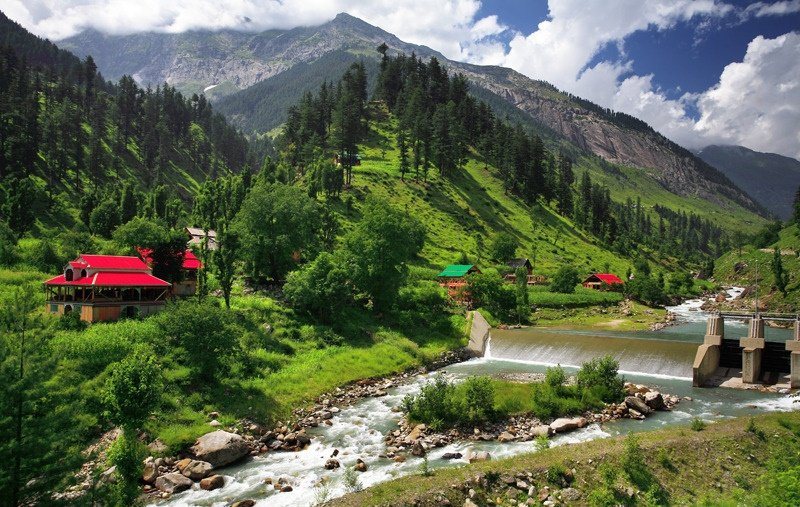 Jhelum Valley in Azad Kashmir becomes a peaceful snowy place in winter. You can enjoy the view of the ancient Sharda University ruins all covered in snow. Walking along the Jhelum River with snow all around is a beautiful experience. Take a slow walk in the snowy valley and let the peaceful feeling make you happy. You'll have lovely memories to remember forever.
Murree: A Winter Haven
Murree is a very famous place near Islamabad, and it becomes a perfect winter haven with snow on the roads and a bit of cold. People come here to enjoy the winter magic and the fun of snowfall. You can go ice skating and buy cozy winter clothes. Don't forget to taste the yummy "gond ke laddu" to make your winter trip complete!
Pakistan has so many cold places to visit, and each one is special in its way. From Skardu and Naltar with snowy mountains to Murree and Swat with cozy winters, you'll have a lot of fun exploring these chilly places. So, don't forget your warm clothes and enjoy your trip to these ten most cold places in Pakistan. The memories you make will make you feel happy for a long, long time!
What do you think of the story? Tell us in the comments section below.