If you're a Coke Studio fan, you definitely remember the song Dilruba Na Raazi that was performed in last season's episode 3 by the dynamic duo of Zeb Bangash and veteran Pakistani singer Fakhir.
However, after the end of the season, a young woman gave numerous interviews to different newspapers about how the song has been copied. According to her, the song belonged to her father who had produced it almost 40 years ago!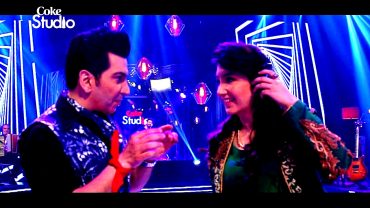 The song surely stood out as one of the most talked about songs from season 9 and why wouldn't it be? It was a catchy tune with an upbeat composition drawing roots from Pashto/Persian origin music and Fakhir was the man who 'produced' the collaboration. However, he wasn't the real composer behind Dilruba Na Raazi, and we've got proof of it.
According to reports, Dilruba Na Raazi is a revamped version of a '70s Pashto song that was originally performed by singer/songwriter Fazal Malik Akif, who was popular for blending modern and contemporary sound elements to Pashto folk music.
According to the claim made by his daughter, Namsi Khan, while talking to a newspaper, she stated that she has contacted the authorities of Coke Studio for using her father's 40-year-old composition and using it to their benefit.
The daughter of 69-year-old Kohat based Pashto musician further said that: "I got in touch with them and was told that they didn't know Dilruba Na Raazi was my father's composition. They haven't been disrespectful and added his name to the credits. My father made his career in the '70s and to see a contemporary artist make a name off of his composition is quite underhanded. The public should know about this."
While talking on this matter, she demanded that the popular former Awaz frontman, Fakhir, should come out publically and give credit to his father for composing the tune and admit he had been inspired by her father's idea: "The point is the theft of intellectual property. Fakhir and Zeb are getting the credit so I'd like Faakhir to publicly come out and acknowledge the original composer."
Usually, Coke Studio is known for giving credits to the original composers of the songs but this wasn't the case with this Pashto rendition that was appreciated by millions of music admirers who follow Coke Studio from different parts of the world.
We're hoping that the authorities and management of Coke Studio will look into this matter that Fazal's daughter has raised and we're also hoping that Fakhir would be stepping forward to acknowledge Fazal Malik Akif with the credits he solely deserves.
Read Also: 5 Fruitful Add-Ons For Coke Studio 10