Every Pakistani can tell how long and tiring the day is until the new episode of Coke Studio feel.  Last week Coke Studio mesmerized us with some amazing performances.
This week, Coke Studio allowed us to celebrate yet another music icon who we owe a lot
About her, Ustad Salaman Ali Khan once said:
"Allah Nay Un Ko Pur Asar Awaaz Di Hai Jiss Ki Waja Say Sur Ka Jadoo Jagta Hai Or Ganay Ka Asar Qaim Rehta Hai."
Yes, you guessed it right! In this week's episode, Coke Studio paid homage to the icon of our industry: Madam Noor Jehan. History bears testimony of why Noor Jehan held the honorific title of "Malika Tannamum". Her contribution to our music is enormous and remains an asset we still benefit from today. Her records span more than a decade and each was a masterpiece that holds paramount importance today since this is partly where our music industry owes its success.
Humera Channa joined Nabeel Shaukat to present the rendition of Mujh Se Pehli Si Muhabbat.
Their performance was powerful and soulful. Humera Channa and Nabeel Shaukat's combination proved to be exceptionally good.
The tribute was indeed solid; let's talk about how the new talent in this episode is winning us over!
In the last 10 years, Coke Studio has discovered and brought a heap of talent to the mainstream. It's a remarkable addition to our music industry as we continue to cherish the emerging talent discovered and promoted by Coke Studio. One such example is Coke Studio's 'Baazi'.
Coke Studio managed to blend two different styles, two different vocals in one stunning record by Aima Baig and Sahir Ali Bagga
Quite a way to uncover the talent of the two stars. The song, "Baazi" has been released as Aima and Sahir mark their solid debuts. Let's put it in a way that it's a beautiful combination; presenting two different styles in one song. Where we cannot stop romping to the part of Aima, we find ourselves in a soulful mood as Sahir's vocals take over.
Talk about their styles, both Aima and Sahir come across as two different energies uniting the appeal of the song. Sahir begins with a rhythmic and uplifting and transitions into his contemporary folk style. Whereas Aima, she continues by marking her powerful vocals to give a new charm to the entire composition.
Simply what you can expect from the one and only Coke Studio!
We absolutely love how #CokeStudio10 brings two amazing talents and put them at their very best.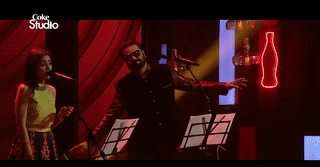 And hey, there's a lot more in the episode that's making us go gaga about…
The Powerful Performance of Sajjad and Zaw Ali Is Worth A Mention
As soon as we saw Zaw Ali in the Coke Studio Season 10 line-up, we got excited about this entrant. The father-daughter duo spectacularly pulled off the rendition of Ronay Na Diya, a tribute to the Queen of Ghazals – Begum Akhtar.
If you have not listened it yet, you need to do it NOW!!
And Thank God for Qurat-ul-Ain Baloch
For us fanatics, Faasle wasn't enough. We needed more of QB and this time, she presents us with a beautiful rendition of Laal Meri Paat featuring Arieb Azhar and Akbar Ali and once again left us all speechless.
Summing up our point, the latest episode of Coke Studio is the hallmark of what makes us go crazy about this show. From the beautiful covers to tributes and to strong debuts, Episode 3 will fantastically do the upcoming week until the new episode comes.