Once, Rahat Fateh Ali Khan took the stage with Momina Mustehsan in Coke Studio and brought a gem that we still cherish today
It was 19th of August, 2016, when the sensational "Aafreen Aafreen" was brought up by Coke Studio and fast-forward today, more than a hundred million – YES, 103 million+ times in fact – have listened to the song. It follows Tajdaar-e-Haram, the first song by Coke Studio to cross over 100 million views in Pakistan.
Coke Studio's success stands for a reason that it remains a platform, sitting as a pivot in keeping the music fraternity alive in Pakistan. Come to think of it, the bygone season personified everything the platform stands for. From paying tributes to showcasing new talent, Coke Studio Season 10 was remarkable in this regard.
The highlight of Season 9 remained "Aafreen Aafreen". As usual, Rahat Fateh Ali Khan, taking center-stage and proving his worth. Besides, we discovered another talent – the likes of Momina Mustehsan. All through the years, Coke Studio has proven to be one-stop for the supremely talented musicians and artists; one great example is Aima Baig and Sahir Ali Bagga.
Let us uncover exactly what is special about "Aafreen Aafreen…"
About 2 decades ago, the legendary Ustaad Nusrat Fateh Ali Khan serenaded the audience with a song called "Aafreen Aafreen." It became an imminent sensation back then and long after, it's still one of the best songs ever.
You can sense the brilliance of Faakhir Mehmood in the arrangement he pulls off. It's a different approach: two different vocal inputs, Momina and Rahat giving their absolute best. Rahat's approach is parallel to Momina's. He presents in an absolute Qawwali-style, whereas Momina Mustehsan, she transforms it into an unplugged track.
The atmosphere set here compliments the majestic voices of these 2 singers. Momina especially won millions of hearts after this performance!
That's not all; "Aafreen Aafreen" is well popular among foreigners around the globe
You can browse the following videos and each one of them shows how people are entertained and impressed. The key takeaway here is that Coke Studio manages to project a positive image through music among maximum people.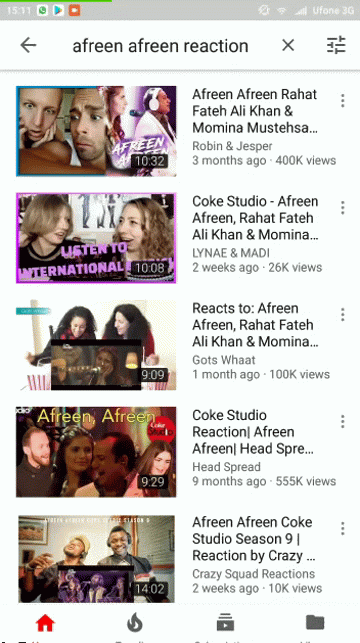 Coke Studio's success speaks for itself. It's an asset to the country and a much sought-after subject for millions of people. Each year, we await what magic it would bring in terms of music and entertainment for us and frankly, it never ceases to amaze us.
Ek baar aur hojaye? 🙂