Disclaimer*: The articles shared under 'Your Voice' section are sent to us by contributors and we neither confirm nor deny the authenticity of any facts stated below. Parhlo will not be liable for any false, inaccurate, inappropriate or incomplete information presented on the website. Read our disclaimer.
This article has been written by Zeest Marrium.
Change can take a toll on one's body and spirit. With the current pandemic in vogue, most of us have experienced changes in a matter of days and months, which we would have otherwise encountered in years. Work has changed drastically for the adults; the school is no longer a school for the kids, and most importantly social life and human interaction have inevitably upended for most of us.
You wouldn't be wrong in saying that "I'm sleeping too much, yet I feel if I hadn't slept" or "I'm EATING too much, but I feel as if I didn't eat at all". Well, let me tell you something…WE GET YOU.
Being forced to remain indoors, hearing, and reading continuously about the Coronavirus from the media can be daunting at times. Without a doubt, the dramatic changes in our surroundings have taken a toll on our physical and mental health but most importantly it has pushed our good old-fashioned dietary habits into the grey. Although you would wish to follow a diet and act out all healthy, the never-ending days spent at home makes it easier for you to overeat. So, what do we do now?
Well here's a solution. How about you begin your day guilt-free, on the right nutritional foot while simultaneously giving a treat to your taste buds? To me, it sounds like a plan. Here are three breakfast recipes that showcase a unique yet conventional combination of fresh fruits and oatmeal, packed with decadence and nutrition which shall hopefully power you to get through the entire day.
Oatmeal Banana Bread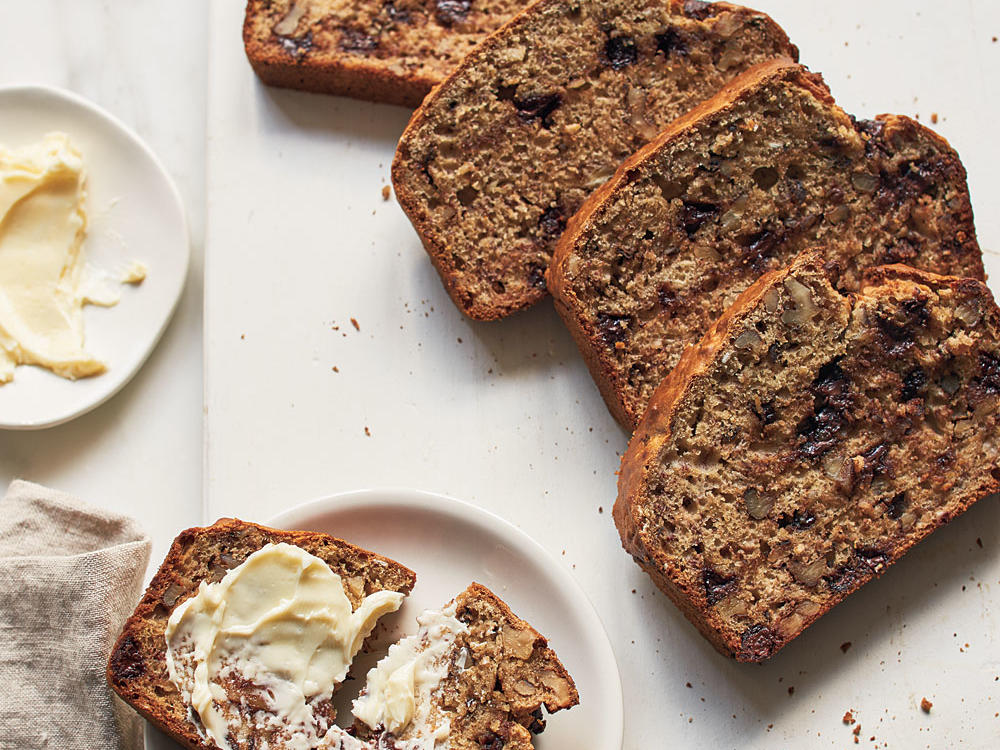 When it comes to comfort baking nothing compares to classic banana bread. One that has a hearty warm center, crusty golden edges, a hint of cinnamon, and some crunch of the nuts. This recipe calls for a simple yet wholesome combination of eggs, yoghurt, oats, ripe bananas, and honey, thereby giving you your go-to recipe for fool-proof best-ever banana bread.
Recipe (Serves: 4 persons / roughly 8 to 10 slices)
Ingredients
Eggs 2
Brown sugar 4 tablespoons
Vanilla essence 1 teaspoon
Cinnamon powder 1 teaspoon
Honey ½ cup
Coconut oil 4 tablespoon
Whole wheat white flour ½ cup
Quick-cooking oats ½ cup
Baking soda ¼ teaspoon
Baking powder ½ teaspoon
Yogurt ¼ cup
Over ripped bananas 3 to 4
Method:
Preheat your oven to 200 degrees Celsius.
Grease a loaf tin and layer the bottom with parchment or greaseproof paper. Set aside.
In a bowl, beat eggs using an electric mixer for 5 to 6 minutes or until they have doubled in volume. Once the eggs are light and fluffy, gradually add in the brown sugar. Beat for another minute. Now whisk in the honey, vanilla essence, coconut oil, plain yogurt, and cinnamon powder.
Use a fork to mash the bananas in a separate bowl until they are lump-free. Mix the mashed bananas into your egg mixture.
In a separate bowl, mix the whole wheat white flour, quick-cooking oats, baking soda, and baking powder. Add the dry ingredients in three intervals and fold using a spatula or a wooden spoon. No matter how tempted you get to use an electric mixer at this stage, stick to a spatula otherwise you'll end up with a bread dough.
Pour the batter into your prepared pan. Sprinkle a few chocolate chips on top.
Place the loaf tin into the preheated oven for 30 to 40 minutes or until the top turns golden and a toothpick inserted into the middle comes out clean.
Remove the tin from the oven and cover it with a foil (this helps retain the moisture of the
bread).
Enjoy your best-ever banana bread with some honey on top and sliced bananas on the side. The banana bread stays well in the freezer for up to two weeks. Tempted to enjoy a slice in the morning? Well simply microwave the bread for 20 to 30 seconds and serve warm with honey on top.
10-minute Oatmeal Power Bowl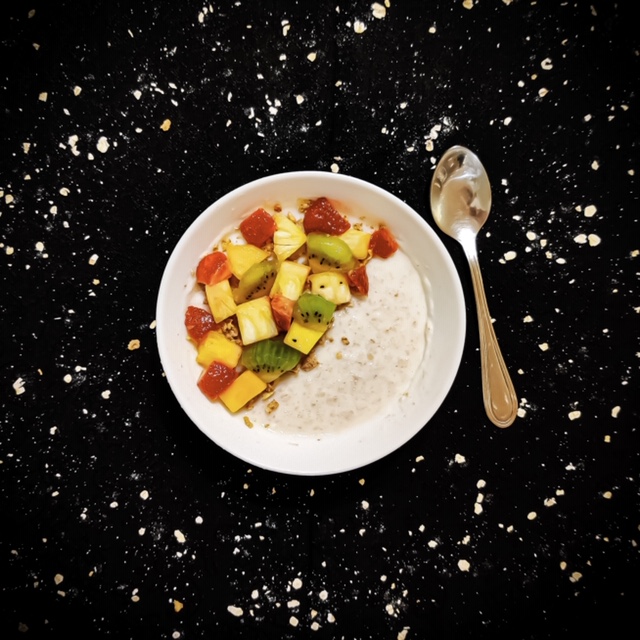 The wholesome combination of roasted almonds, puffed oats, and fresh seasonal fruits in this breakfast bowl will surely set your morning on the right nutritional foot even with a generous glug of honey over the top. Loaded with nutrition, this effusive breakfast takes 10 minutes to prep, and believe me it will revolutionize your breakfast routine forever.
Recipe (Serves: 1 person)
Ingredients:
Quick cooking oats 5 tablespoon
Milk 1 cup or 225ml
Cinnamon powder ¼ teaspoon
Fruits of your choice (We prefer Strawberry, Kiwi, Banana, and Mangoes)
Roasted almonds ¼ cup
Honey as required
Method:
Heat milk in a saucepan over the stovetop.
Once the milk reaches its simmering point, add in the quick-cooking oats and let the mixture cook for 5 minutes on medium heat.
Reduce the heat to medium-low and cover the saucepan with a lid. Let the oats cook for another 2 minutes. Remove the saucepan from heat and set the oats aside for a couple of minutes to cool down. Once the oats have cooled slightly, serve them with your choice of fruits, coarsely chopped almonds and a generous glug of honey over the top.
Banana and Oat Pancakes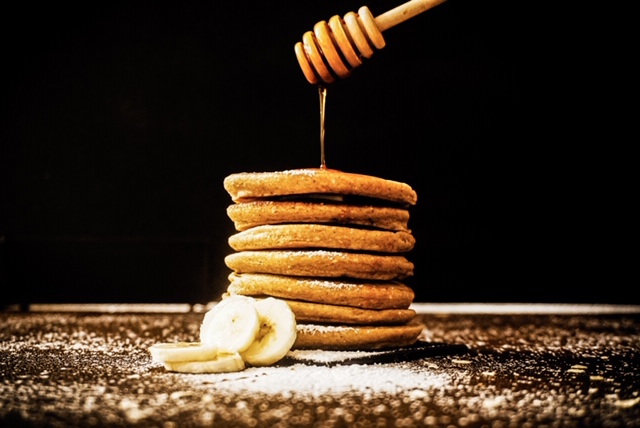 Rolled oats, ripe bananas, a dash of cinnamon powder, a generous splash of whole milk, and some eggs in a blender is all you need to cook yourself a healthy morning meal. Try the amazingly moist stack of pancakes, as we head into another week of self-isolation. Once you try this easy homey recipe, you'll see why you may never want to go back to your traditional flour pancakes. Without further ado let's dive into the luscious batter.
Recipe: (Serves: 2 to 3)
Ingredients:
Banana 3
Quick cooking oats 1 cup
Honey as required
Milk 4 tablespoon
Eggs 2
Cinnamon powder ½ teaspoon
Baking powder ½ teaspoon
Butter or oil to grease the pan
Method:
Add quick cooking oats in a blender and poss them until they are finely grounded. Add in the bananas, milk, cinnamon powder, baking powder and eggs. Continue blending for 3 to 4 minutes or until a homogenous batter is obtained.
Place a non-stick pan on the stove. Once the pan is warm add, in the oil, or butter just enough to lightly grease the bottom which should prevent the pancakes from sticking. Using a ½ cup measure or a small ladle and measure equal amounts of the pancake batter and drop two to three pancakes at a time on the heated pan.
Once bubbles appear on the surface of the pancakes, flip them and let the other side cook until it reaches a nice amber color.
Remove the pancakes from the pan and serve hot with honey and sliced bananas on top.
What do you think of the story? Tell us in the comments section below.