If you think your parents embarrassed you in your childhood, think again! After reading this you might want to run back to them, hug and kiss them for being so considerate all this time. All that public yelling, humiliation, and scolding will mellow down in front of this… so, what exactly are we talking about?
Okay, so you might have been invited to a lot of events, Birthdays, Anniversaries, Aameen, Khatam, Bismillah,  Aqeeqa, etc but have you ever been invited to a circumcision party? Maybe, you might have been… but have you ever seen such an interesting invitation card?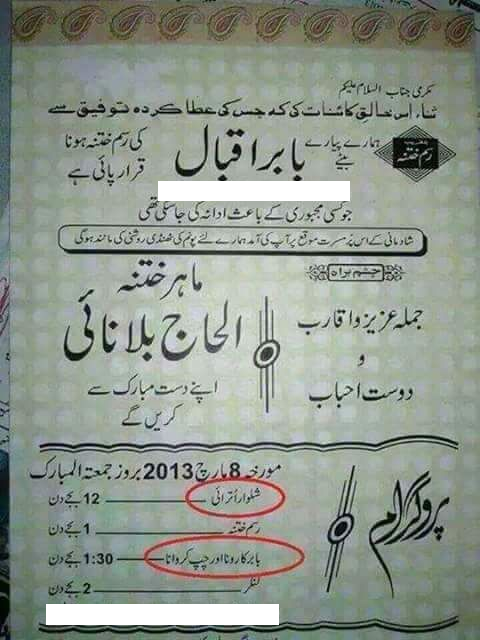 Shadmani k is purmusarat mauqay per appki aamad hamaray liyay poonam ki thandi raushni ki manand hogi
Yeah, you read that right! This is going to be a very interesting event since everything has been anticipated and taken care of in advance. I hope they are not going to telecast it live considering that apparently, they believe in sharing every minor detail with everyone!
The event starts at 12pm with the strangest opening act ever, the 'Shalwar Utrai Ceremony'… that will last for one full hour! After that they will move on to the main event, the 'The Actual Circumcision Ceremony' done by some famous expert 'AlHaaj Bilani'. There will be a post-event 'Rona Dhona' that's scheduled for 1:30pm. Only God knows how poor Babar will hold his tears for half an hour, or maybe they have planned a shock treatment for him till then… Who knows? Anyway, they have made arrangements to console and comfort him as well.
Finally, at 2pm, they will offer food to all the guests. This will be a token of celebration. *hopefully they will not lose their appetite*. We wish Babar and his family all the best. With all due respect, we might prefer ditching it and doing something productive, like watching paint dry!
Let's pray that no boy goes through this pain ever again. Before you kill us and call us 'Yahoodi Sazish', let us clarify that we are not talking about the pain of circumcision but the pain brought by this ridiculous invitation card.