Innovative Theater Format Debuting 
HONG KONG, Dec. 11, 2018 /PRNewswire/ — CJ 4DPLEX, the world's leading cinema technology company and Cinepax announced today plans to launch the first two 4DX theaters in Pakistan.  The two locations, Ocean Tower Mall in Karachi and Packages Mall in Lahore, will launch in 2019. The announcement was made at the CineAsia trade show being held at the Hong Kong Convention & Exhibition Centre, December 10-13, 2018.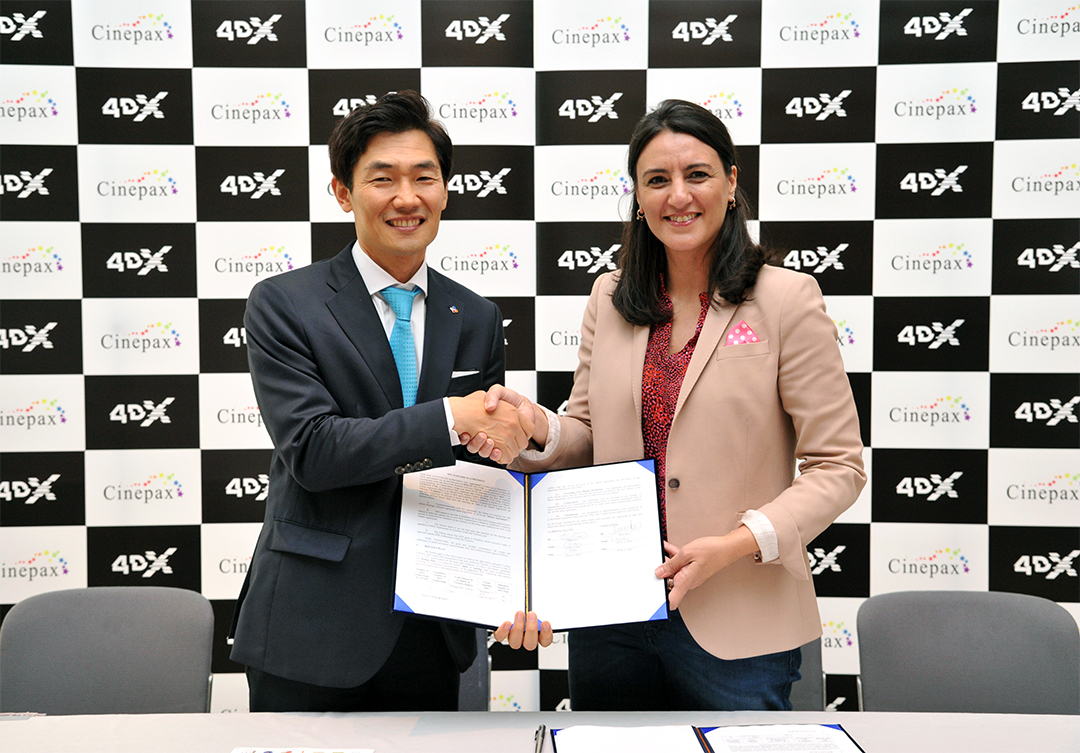 (Left)JongRyul Kim, CEO of CJ 4DPLEX / (Right)Mariam El Bacha, CEO of Cinepax
Cinepax's flagship location, a 10 screen multiplex, at the Packages Mall, Lahore, will house the first 4DX theatre in the country. The addition of the 4DX theatre at the Ocean Tower mall in Karachi will exemplify how Cinepax is pioneering the worldwide trend on how families interact at the movies as opposed to the traditional cinema environment.
Overall, Cinepax is committed to bring Pakistan world-class entertainment in order to revitalize the industry and give consumers' choice when experiencing cinema. The company believes there is an experience for everyone, and 4DX changes the way people interact inside the theatres. Being the first in bringing 4DX to Pakistan elevates the company to a new level of differentiation and sophistication, in an era of innovation in cinema technology advancements.
"At Cinepax, we aim to wow our guests by delivering a state of the art entertainment experience and service excellence together and CJ 4DPLEX just hit the mark," said Mariam El Bacha, CEO, Cinepax. "Pakistan deserves to experience the excitement and reality of CJ 4DPLEX and we couldn't be prouder to open our first theatre in our Packages Mall location, which is the biggest multiplex in Pakistan. Bringing 4DX to Pakistan links our purpose of being Pakistan's most favourite entertainment company as well as it enforces our commitment to the country and its families to deliver a world-class family entertainment experience."
"We are working closely with Cinepax to provide our premium cinema technology format in an effort that positions them as a leading cinema exhibitor across Pakistan with a commitment to delivering new and enriching cinema experiences to customers," said JongRyul Kim, CEO of CJ 4DPLEX. "We continue to expand our innovative theatre formats to give audiences worldwide experiences that are unlike anything available in theatres today."
About Cinepax
Cinepax Limited is Pakistan's leading family entertainment company.  Cinepax started operations in 2006, by reopening the cinema business in Pakistan with its first site in Jinnah Park, Rawalpindi.  Currently is operating through 13 locations and 44 screens with 7,400 seats across 9 cities, becoming the only cinema chain with a national network.
Cinepax aim to Pakistan is to ensure that we wow our guests by delivering a state of the art entertainment experience and service excellence together. Cinepax's vision is to be the favourite entertainment company in Pakistan. Cinepax Limited is looking to continue its expansion across Pakistan with more screens as well as play areas/amusements and Family Entertainment Centres.
Cinepax group of companies also includes, Foot Print, the largest distributors in Pakistan of English content and represents Universal, Paramount, DreamWorks, Fox; Cineflix, the digital services arms of Cinepax geared to target 65 million telco customers recently launched StarzPlay by Cinepax in September 2018; as well as, Excellency Films, the production joint venture that aims to creates, promotes and distributes Pakistani content.
About CJ 4DPLEX
CJ 4DPLEX is a leading, next-generation cinema technology company, headquartered in Seoul with international offices in Los Angeles and Beijing. The company has created immersive film technologies for theaters worldwide that include '4DX', 'ScreenX' and '4DX with ScreenX' for consumers to experience films in ways that were never before possible.
4DX provides moviegoers with an immersive, multi-sensory experience, allowing the audience to connect with movies through motion, vibration, water, wind, snow, lightning, scents, and other special effects that enhance the visuals on-screen. Each 4DX auditorium incorporates motion-based seating synchronized with more than 20 different effects and optimized by a team of skilled editors, maximizing the feeling of immersion within the movie, beyond the limits of audio and video. More than 570 Hollywood and local titles have been screened in 4DX. To date, more than 68,000 4DX seats operate in 587 auditoriums, spanning 61 countries.
ScreenX is the world's first multi-projection theater technology used within a theatre setting, marking it as the most visually immersive theater experience of CJ 4DPLEX. ScreenX allows moviegoers to go beyond the frame of the movie screen by utilizing a proprietary system that expands images of feature films and pre-show advertising to the left and right walls of the theatre, creating an immersive, panoramic, 270-degree viewing experience. To date, ScreenX has been installed in 184 screens around the world, including 85 screens in South Korea; 61 screens in China; 11 in the United States; 5 in England; 4 in Turkey; 4 in Japan; 3 in Switzerland; 2 in France; 2 in Vietnam and 1 in Spain, Hungary, UAE, Kuwait, Thailand, Indonesia, and Israel.