When it comes to traveling around the country, the Northern areas the most talked about and the most visited parts of Pakistan. The North's scenic beauty and lovely weather that compliments in the perfect manner take away everyone's attention. To understand the beauty of the country, Pakistani traveling fanatics believe it is essential to visit the North.
People from all over the world who have embraced their presence on the Pakistani lands have also shared how beautiful and underrated the Northern areas of this country are.
However, Let's Not Limit Ourselves to Just the Hilly Tops and Mountains – There Should Be More to Adventure…Don't You Think?
Ever wondered what it would be like to take a swim in a natural setting and that too, on chilly winter morning?
Churna Island is the perfect location for this sort of adventures!
Located near the Mubarak Goth, Kiamari town in Karachi, Churna Island is a small and extremely underrated island located on the Arabian Sea, sharing the boundary between Sindh and Balochistan. Karachiites commonly refer to the island as Cheerno.
It is located approximately 6 km away from the 2nd largest fishermen locality of the city, the Mubarak Goth.
The Pakistan Navy uses Churna as a firing range as well. However, for the locals, it is the ideal location for underwater photography, freediving, scuba diving, kneeboarding, speed boating, hiking, cliff diving and banana tubing!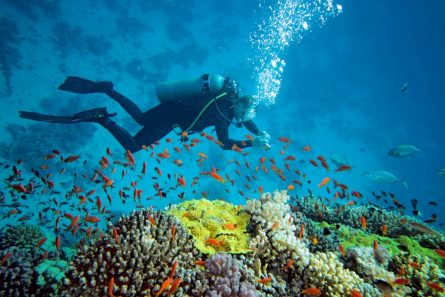 Here's Why You Shouldn't Be Worried About the Cold Weather When Going to Churna Island
When one visits the North, they have to cover themselves with layers of clothing due to the temperature which falls below the zero degrees. Pretty cold, isn't it?
In case of Churna, the average temperature of the water even in the Winter is about 25 degrees. Essentially, people are not required to put on the wetsuits as the body fat is enough to tolerate this degree of water.
So there you go – a perfect place to visit with family or friends this Winter if you can't visit the North!