Hey, looking for some quick and delicious and fingerlicking food recipes to have for iftar? Here are a few simple but yum recipe ideas for you this Ramadan. Enjoy!
1- Potato Cheese Balls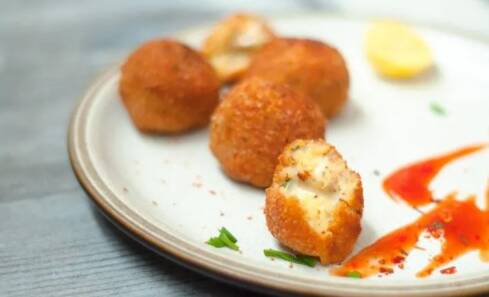 FOR SEASONING
3-4 tbsp bread crumbs
500 grams potatoes
2 tbsp chopped fresh coriander
2 tbsp chopped green onions
2 tbsp lemon juice
½ tbsp red chili powder
1 tsp garlic paste
1 tsp cumin powder
¾ tsp salt
FOR CHEESE
100-gram cheddar cheese, cut into ½ inch cubes
¼ tsp red chili flakes
¼ tsp dried basil or another herb
¼ tsp black pepper
FOR COATING
2 tbsp cornflour
1-2 eggs, as needed
¼ tsp red chili powder
¼ tsp salt
1 cup bread crumbs
Oil, to fry
Boil and mash the potatoes. Add all ingredients of seasoning in the mashed potato and mix well. Cut cheese into 20 cubes. Add red chili, black pepper, and herbs to it. Roll 20 balls out of mashed potato and insert cheese cubes. Beat eggs with salt, red chili powder, and water. Set aside. Roll all balls first in cornflour then in egg wash and then in bread crumbs. Refrigerate for 30 minutes, and then deep fry for 2-3 minutes until golden and crispy.
2- Eggplant Fries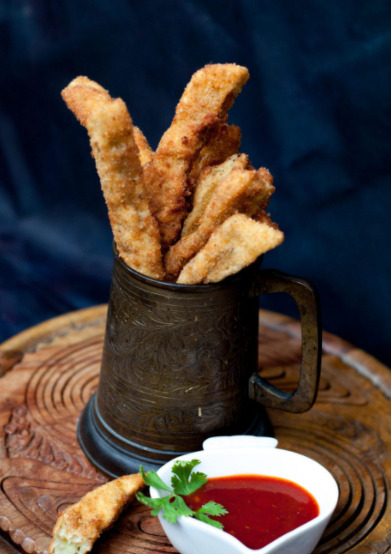 2 cups water
2 eggplant
½ cup milk
¼ teaspoon salt
FOR COATING
½ cup flour
½ teaspoon dry basil leaves
1 chicken cube, or 1 tablespoon chicken powder
1-2 eggs
1 tbsp milk
Pinch of salt
a pinch pepper
1 cup bread crumbs
Oil, to fry
Mix milk, water, and salt in a large bowl set aside. Peel eggplant and cut lengthwise like fries then soak in milk water solution for 10 minutes. Mix all ingredients of flour coating. Wipe excess water from eggplant slices and coat each slice in flour coating. Beat eggs with salt, pepper, and milk. Coat each eggplant slice in the egg mixture first then coat with bread crumbs. Deep fry until golden brown. This is the most fingerlicking food recipe you can have in iftar.
3- Bread Pakora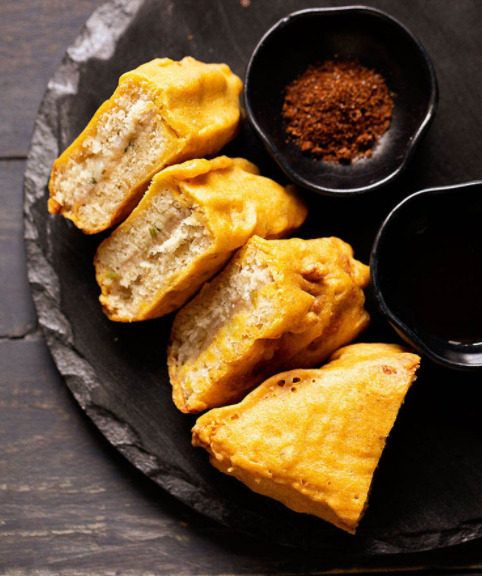 FOR STUFFING
2 medium potatoes or 1 large potato
1 tsp chopped green chilies or serrano peppers or 1 to 2 green chilies
1 tbsp coriander leaves – chopped
2 tsp mint leaves – chopped (optional)
¼ tsp red chili powder or cayenne pepper
¼ tsp Garam Masala Powder
½ tsp dry mango powder
salt as required
FOR BATTER
1 cup besan
½ tsp ajwain
¼ tsp red chili powder
1 to 2 pinches turmeric powder
¼ tsp Garam Masala Powder
1 pinch hing
1 to 2 pinches baking soda
½ to ⅔ cup water
salt as required
4 to 5 bread slices
Oily to fry
Boil and mash the potato. Add all the stuffing ingredients to the grated potatoes. Keep aside. In a bowl, take the besan, and add all the batter seasonings. Slice the bread into triangle or rectangle slices. Take around 2 to 3 tablespoons of the mashed potato mixture and spread it on the bread evenly. Cover this potato stuffed slice with another slice, and press the triangular sandwich. Dip it in the besan batter and fry until crisp and golden brown.
4- Vanilla Custard With Fruits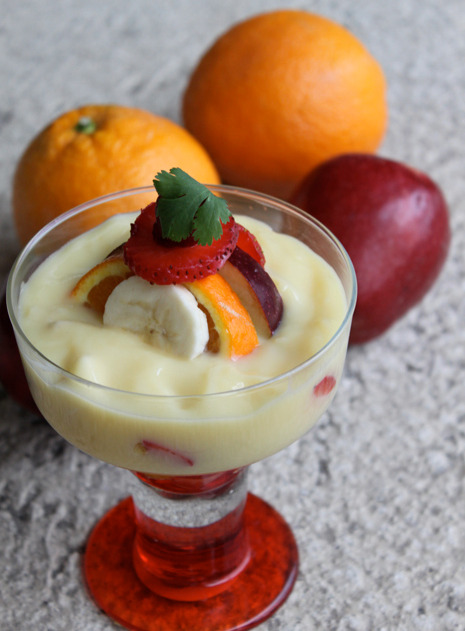 Sugar- 2/3 cup
Corn starch- 1/4 cup
Salt- 1/4 tsp
Milk- 2 1/2 cups
Egg yolks- from 4 large eggs
Vanilla extract- 1tsp
Butter, unsalted- 2 tbsp, cut into small pieces
1 Apple chopped finely
1 Orange, chopped finely
Banana, ripe, chopped
4 Strawberries, chopped finely
Combine sugar, cornstarch, and salt in a saucepan and add milk slowly until cornstarch dissolves. The mixture will start to thicken, whisk constantly till it thickens. Remove from flame and pour into a bowl. Add butter and vanilla extract and refrigerate for 3 hours. Serve with fruits in a dessert bowl.
We hope these dishes will add more fun to your iftar table. By the way, did you check out our 5 quick desi recipes for sehri?
What do you think of this story? Let us know in the comments section below.