"Apa sab hi adjust kartay hain. Is mulk main 80 % log aise hi hain. People work for their marriages" This was, two brothers attempting to urge their sister to reunite with her emotionally abusive husband and find a solution.
These sentiments and mindsets may sound completely normal in a typical desi household, but they are what Fahad Hussayn's fashion film 'Domestic Janjaal Pura' is challenging, that women should not be willing to compromise their own happiness and sanity.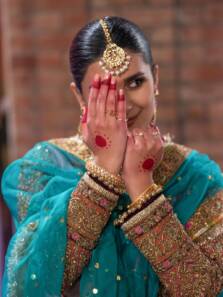 Hussayn does an excellent job of showcasing his heritage bridals and bespoke men's wear while also conveying a powerful yet practical message in this impactful short film.
#ChangeYourNarrative
Check out the official Instagram page.
The film is an attempt to shift narratives about prioritizing one's personal happiness over saving problematic and toxic marriages and there is subtle but powerful messages throughout the film highlighting this.
Check out their collection.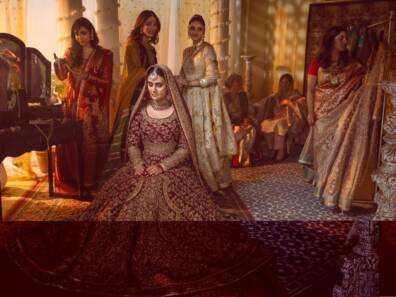 Rehmat (Kubra Khan), looks stunning in Fahad Hussayn couture ensembles, a girl who is getting married for the second time, and her family is shown to be delighted and supportive of her decision.
"Main ne apni khushi choose ki"(I chose my own happiness)," she tells her soon-to-be husband when meeting with him in a lovely and intricately embroidered purple and peach dress.
This statement conveys a simple but crucial message about the value of one's own happiness over society's orthodox ideas.
'Domestic Janjaalpura' urges women and others in our society to broaden our views on marriage and relationships. It stresses that in order to sustain a relationship, a woman should not compromise to the point of losing her sanity.
It goes on to debunk several common misunderstandings regarding abuse, claiming that gaslighting and mental abuse are just as destructive as physical abuse and should not be tolerated.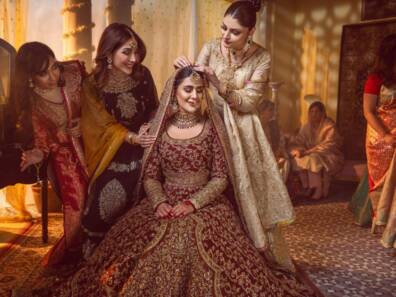 It provides a strong and uplifting message to women in this society, reminding them that happiness is their birthright and that nothing should come before it.
Fahad Hussayn's Couture Revival:
Fahad's new couture revival collection.
We appreciate how the film is the embodiment of fashion with a purpose, and how it presents a dreamlike glimpse of Fahad Hussayn's unique yet gorgeous heirloom bridal and wedding apparel while still being meaningful and informative. In a flamboyantly traditional lehenga with adda work and gotta embellishments, Kubra looks majestic.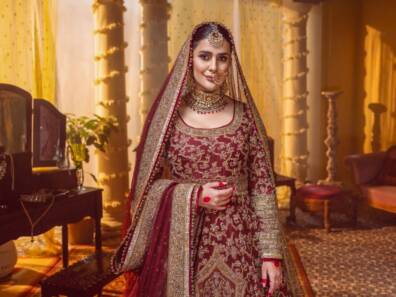 The attire of Rehmat's sisters are particularly irresistible; Sabeeka imam in a pastel pink, front open angarkha is a sight to behold. Not only the women, but because it was a celebration despite the janjaalpura, the males were also dressed to the T in bespoke Fahad Hussayn sherwanis and kurtas.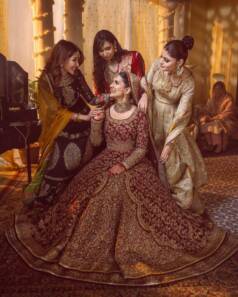 The film is a remarkable attempt to empower women by allowing them to choose what they want before anything or anyone else's opinions and beliefs. It's an attempt to make our society a better and more inclusive place for women. Domestic Janjaalpura has long been a part of our lives, and it's about time for us to change the narrative and think beyond the "Log Kya Kahenge"
Have you seen this incredible Fahad Hussayn film yet? If you haven't already, do so now:
Click on the link to watch Fahad Hussayn's film.
What do you think of the story? Tell us in the comments section below.