While the first day of actor Usman Mukhtar's wedding celebrations seemed to be more of a toned-down affair, his mehndi on Thursday night proved to be a bright, vibrant affair filled with impressive dance routines.
The Hum Kahan Ke Sachay Thay actor tied the knot in a beautiful nikkah ceremony in April with his wife Zuniara Inam Khan. He announced the big news through a heartfelt post for his wife on Instagram. Their mehndi comes a few months after the nikkah ceremony.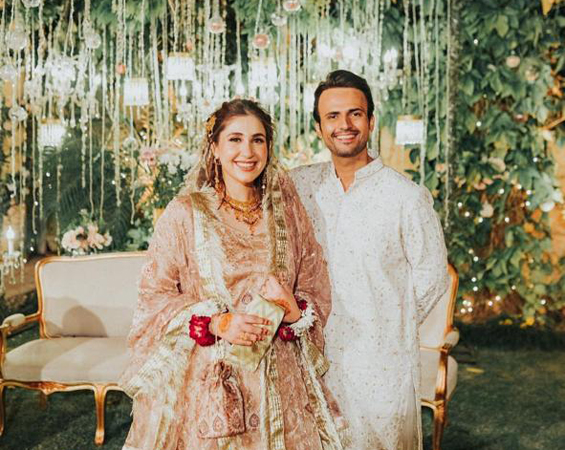 The wedding festivities began on Wednesday with an intimate mayoun event attended by family and friends, followed by a mehndi event on Thursday night.
Mukhtar and his guests were the life of the party at his mehndi event that took place in Islamabad. Many famous faces were spotted. The mehndi was attended by Mukhtar's closest friends and extensive industry milieu.
Ahmed Ali Akbar and Osman Khalid Butt were seen posing with singer Uzair Jaswal and actor Mariyam Nafees at the event.
We also spotted producer Nina Kashif having a good time alongside actor Hareem Farooq.
Looks like the groom's mehndi look was designed by Sadaf Fawad Khan, actor Fawad Khan's wife.
Mukhtar's wife Zunaira Inam Khan wore a beautiful ensemble herself.
Celebs set the dance floor on fire
Mukhtar's wife cheerfully busted some moves on the dance floor alongside family and friends.
Of course, no one could keep the groom away from the dance floor either. Just look at him rocking the dance floor with these cool moves!
This is definitely not the kind of wedding where people sit or stand around awkwardly. Clearly, everyone seems to be having a blast!
"Zunaira Inam Khan. Thank you for making me the luckiest man on earth," Mukhtar wrote on Instagram as he made the big announcement previously. "I haven't felt such happiness in a very long time. You have stood by me in the moments I was down and amplified the happy moments. Been my rock and my support. I am blessed."
Mukhtar and Khan tied the knot at a nikkah ceremony in April. Their wedding functions are now being held around six months later. The Sabaat actor's wedding sure seems to have a fun and cheerful start. We can't wait to see what comes next in the wedding event line-up.
What do you think of this story? Let us know in the comments section below.