With the ongoing speculation surrounding Ahad Raza Mir and Sajal Aly's alleged divorce, the fraternity urges fans and netizens to give some privacy to the couple.
Sajal and Ahad are now legally divorced as reported by senior journalist Amna Isani. The Yaqeen Ka Safar pair parted ways after two years of marriage.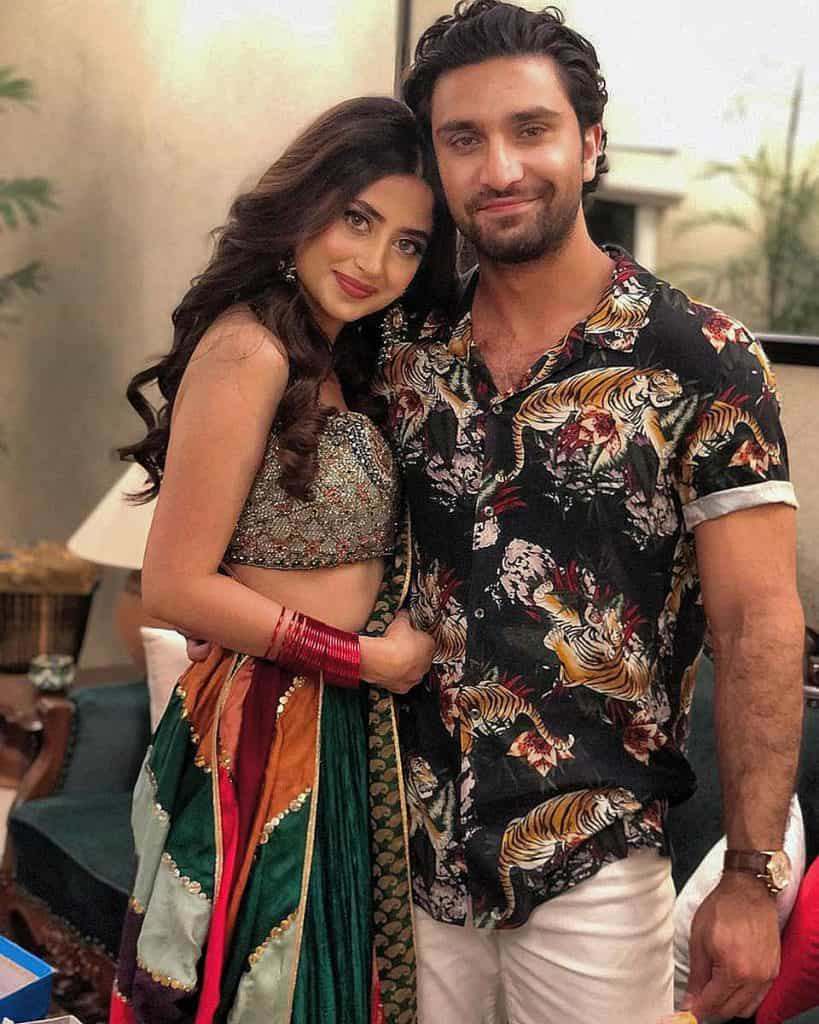 Claims about the couple parting ways have been doing the rounds on social media for quite some time now. The rumor mill gained further momentum after Sajal removed Ahad Mir from her name on Instagram.
Sources confirm divorce:
Amid the ongoing speculations surrounding their alleged divorce, several celebrities have taken to social media to request everyone to provide the couple some privacy.
Actor Azfar Rehman took to his Instagram stories to pen down a thought-provoking message. "Divorce is a very difficult decision to take, especially when the world knows about you and your spouse," the Saza e Ishq actor asserted.
'Act responsibly'
He went on to request everyone to act responsibly instead of sending insensitive messages to the actors in question, or connecting dots that may have nothing to do with the situation – in the case that there is a situation.
"We must show compassion and grant privacy to such couples," the model-cum-host went on to plead. "Kindly be understanding and don't bombard their inboxes with hurtful questions. Act responsibly, thanks," concluded Azfar.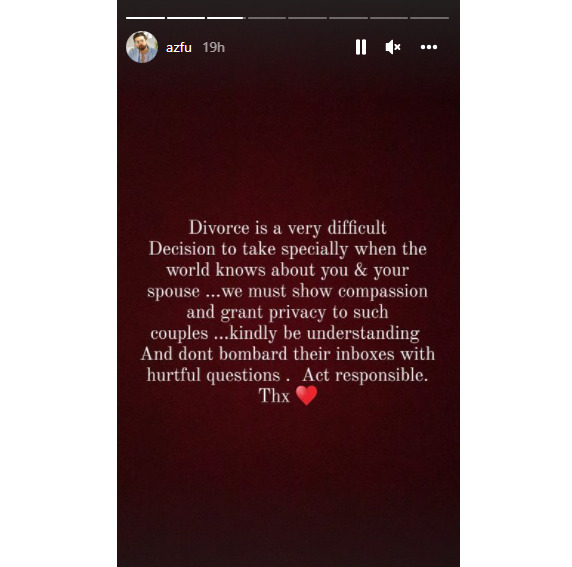 Former model and entrepreneur Freiha Altaf also tweeted rather sternly to remind her followers that celebrities are humans too.
"I urge everyone to leave Sajal Aly and Ahad Raza Mir alone. Stop speculating and gossiping." She reminded netizens that "Divorce is not easy" and it must indeed be "a very difficult time for the family," suggesting that the claims are to be trusted. "Celebrities are humans [too]," added Frieha, "We need to respect their privacy."
Anchor and actor Maaya Khan penned, "Stop [sharing] pictures of Sajal and Ahad. May Allah give them the strength to go through this time. Social mediums and other platforms should leave them alone. They lost a home, they lost love, they lost hope in their relationship, but people are losing character in the process."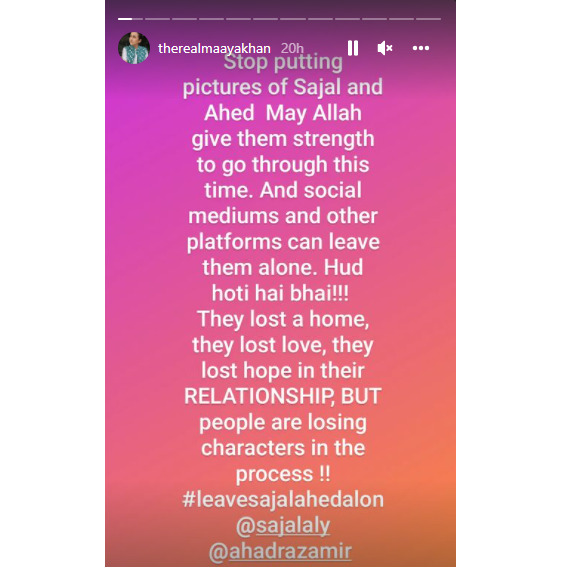 Many others requested the same.
The fraternity's posts, though, are also being dubbed a confirmation of them parting ways. They all seem to be certain that Sajal and Ahad are going through a tumultuous time. Since yesterday, various blogs have also been running confirmation stories about the duo's alleged separation.
But bear in mind that neither Ahad nor Sajal have confirmed or denied any of the reports yet. Hence, no conclusion can or should be drawn unless the actors in question address the situation.
What do you think of this story? Let us know in the comments section below.