It's raining. Karachi welcomed heavy rain on Friday after a long spell of heat. Rain lashed the entire metropolis. Neighborhoods were soon inundated with rainwater and experienced an immediate power outage.
Parts of Karachi that received rainfall included  Saddar, Clifton, Malir, Gulistan-e-Johar, Dhoraji, Bahadurabad, PECHS, University Road,  Shah Faisal Colony, Shahrah-e-Faisal, M.A. Jinnah Road, Garden, and others.
Electricity was cut as soon as light rain started in several areas. While e there were traffic jams on numerous roads in the city, including Shahrah-e-Faisal, Saddar, I.I. Chundrigar Raod and Zainab Market.
Despite all the madness that rain brings in Pakistan and particularly Karachi, people enjoyed the weather to the fullest, particularly, Pakistani celebs. It seems like they were waiting for a downpour.
Here's how some of our celebs and people enjoy the day today.
First up is the newly-wed couple Mr. and Mrs. Falak Shabbir, enjoying their first rain together after their marriage.
Here comes Sana Javed, enjoying the weather…and rain.
Actor Humayun Saeed is happily dancing that it's FINALLY raining in Karachi.'
Happy that it's FINALLY raining pic.twitter.com/R8FnJqZAOj

— Humayun Saeed (@iamhumayunsaeed) July 17, 2020
Yasir Hussain is having a blast in the rain while playing cricket on the streets. WOW! what fun.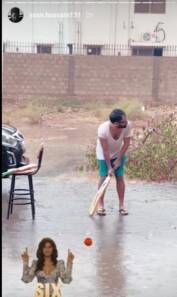 This is what's going on in karachi . Enjoying with family pic.twitter.com/ikKJCU1Pwy

— Shehzad Roy (@ShehzadRoy) July 17, 2020
Some of the common people, having fun on roads as they get stuck in jams after the rain in Karachi.
Shahrah e Faisal After Heavy Rain #karachirain pic.twitter.com/OlrEqvYThR

— Adil Shah (@SyedADI911) July 17, 2020
This road is considered to have one of the most expensive real estate of the city.

Has a major storm water drain running in the middle of it.

Kh.e.Shamsheer DHA 5 Karachi pic.twitter.com/TF8pndOcrR

— norbert almeida (@norbalm) July 17, 2020
It rained fish in my house! Can someone explain what is this phenomenon.
For context, I live almost 1 km from Karachi sea! #karachirain pic.twitter.com/kSCGznMGhC

— Majida Malik (@MajidaMalik) July 17, 2020
Also Read: Karachi Hit With Worst Rain In A Decade And Unfortunately, The City Is Collapsing!
So, what is your rain story today? Share with us in the comments section below.