Disclaimer*: The articles shared under 'Your Voice' section are sent to us by contributors and we neither confirm nor deny the authenticity of any facts stated below. Parhlo will not be liable for any false, inaccurate, inappropriate or incomplete information presented on the website. Read our disclaimer.
2016 has been the best year for some Pakistani celebrities. Some have yet to get married or engaged and some are getting married or engaged who have found their ideal better halves. Here are the list and pictures of some of the celebrities who got committed in a relationship in 2016.
1. Momina Mustehsan With Ali Naqvi:
Beautiful singing sensation Momina Mustehsan got engaged with Ali Naqvi who is a banker in Los Angeles, in September 2016. Their story was quite simple; they met each other, their families liked each other, and they got engaged.
2. Anum Fayyaz with Asad Anwar
Young and beautiful Pakistani drama actress Anum Fayyaz recently tied the knot with her London-based friend Asad Anwar on November 26, 2016. Only close friends and family members attended the gathering. Here is a beautiful picture of the couple.
3. Noor Bukhari with Wali Khan:
Very pretty and brilliant actress of Pakistani film industry Noor Bukhari married Wali Khan. They are working for their upcoming movie "Ishq positive", this is Noor's fourth marriage and she already has a daughter from her previous marriage.
4. Sanam Jung with Qasim Jafri:
The very talented actress and host of Pakistan, Sanam Jung got married in 2016 to Qasim Jafri. Qasim jafri is FAA Certified Flight Instructor at Alpha Tango Flying Services and now they have a beautiful daughter named Alaya Jafri.
Pakistani fashion model and actress Rabia Chaudhry recently tied the knot with Musician Mekaal Hasan.
6. Aiman Khan and Muneeb Butt:
A very beautiful and young actress Aiman khan is in a relationship with the very talented Muneeb Butt and they will officially get engaged in coming January 2017. We wish them a happy life ahead.
7. Urwa and Farhan:
Beautiful actress Urwa Hocane and Singer Farhan Saeed recently got married in December.
 8.Yasra Rizvi and Abdul Hadi:
After a review of all these lovely couples, now we are going to discuss the very talented and everyone's favorite lady, who has done a lot for the Pakistani drama industry, whether through a serious role or a comedy role in a drama, she makes her name. She was born on November 15, 1982. She is 34 years old and not married yet, but no longer single either, she recently got engaged in a private ceremony with drama producer Abdul Hadi, who is the brother of drama actress, Sundus.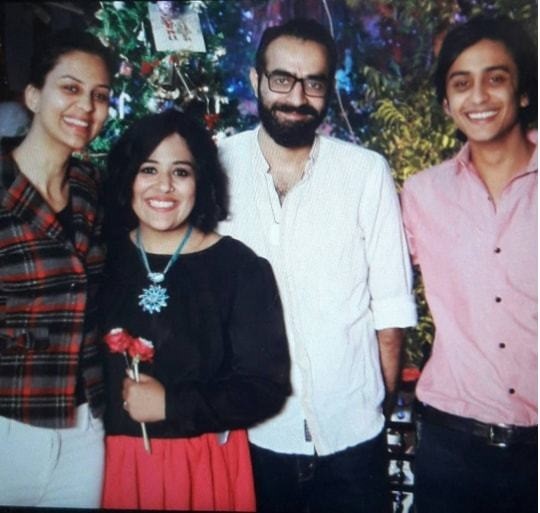 They have a group of four; Abdul Hadi, Yasra Rizvi, Sundus and her husband  Well, the very interesting thing in their relationship is that Abdul Hadi is almost 10 years younger than Yasra Rizvi.
Yasra and Abdul Hadi recently talked on a morning show and Abdul Hadi told everyone how he was in love with her for the last 3.5 years, indeed a big time, he also told that he liked her from their first ever meeting but Yasra wasn't ready to marry him… the phrase  "Love is Blind " suit him. Yasra, however, is worried about the age issue, but Abdul Hadi says the following beautiful words:
  "Our Prophet (P.B.U.H) married Hazrat Khadijah who is elder than him"
Some people wish the best of luck to them and would really like to see them together. Yasra and Hadi recently got engaged in December and here is a beautiful picture of their Mayoun. They are getting married pretty soon!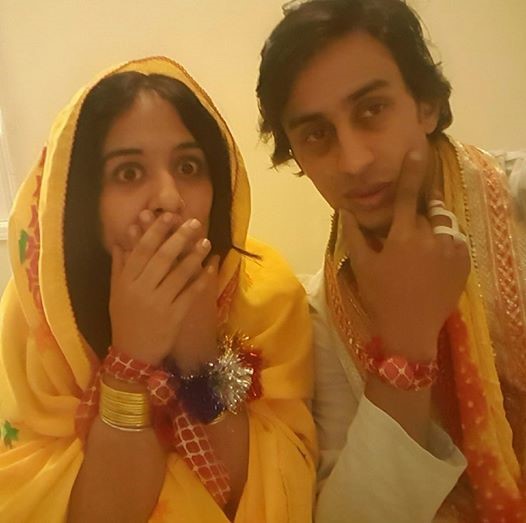 We wish them all the best of luck and good wishes for their future lives. Stay blessed and happy!