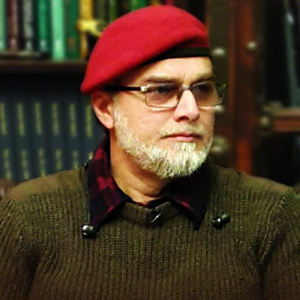 Zaid Zaman Hamid
Syed Zaid Zaman Hamid, better known as Zaid Hamid, is one of Pakistan's most controversial figures. He can be considered an author, a political scientist, a political commentator, and a loyal son of Pakistan. As per his Twitter bio, Zaid Hamid claims he is a veteran of the Soviet-Afghan war, a National Security Analyst & a founding consultant for BrassTacks – The Advanced Threat Analysis Think Tank.
Early life and education
Born in Karachi, Pakistan, in 1964 – little did people of the world know Zaid Hamid was going to be a name to remember. His father, a retired Major of the Pakistan Army, Mahmood uz Zaman Hamid, fought in the wars against India in 1965 and 1971.
Growing up, Zaid spent the early days of his life in Karachi. After his primary and secondary education, Zaid Hamid's interest in religion increased. He went on to do his Ph.D. in Islamic Studies from NED University of Engineering & Technology in the 1980s.
Political views and ideology
Many in Pakistan and around the world think of Zaid Hamid is a political conspiracy theorist. However, many of his predictions over the years have carried weight. Being a die-hard Pakistani and an ideological Muslim, Zaid's views have often been considered controversial.
Through his numerous tv programmes and Youtube videos, Zaid Hamid holds a firm belief of a global nexus between RAW (India), Mossad (Israel) and the CIA (USA). Moreover, he constantly claims that these three organizations have been working to destabilize Pakistan.
As for the Mumbai attacks of 2008, Zaid Hamid is of the opinion that it was an 'inside job' carried out by Hindu Zionists. He has been working to expose this nexus and prove that the Mumbai attacks were only carried out to blame Pakistan.
Furthermore, Zaid is an avid critic of Ajit Doval, a RAW officer who works as Prime Minister Narendra Modi's national security advisor.
One of Zaid Hamid's most prominent topics of interests revolves around 'Ghazwa-e-Hind'. He believes that the Prophet Muhammad (PBUH) declared the Ghazwa on India. And the country will be "trounced and enslaved according to sharia if Hindus don't repent and embrace Islam."
Apart from that, Zaid Hamid, on his official website states: "Welcome to our battle station in a war to defend Pakistan's Islamic ideology and national identity! This is our platform and weapon system to launch the counter attack against ideological subversion by the hostile forces through the axis of disinformation and propaganda warfare.
Our mission is Takmeel e Pakistan, completion of Pakistan's unfinished destiny! Defending Pakistan ideological and geographical frontiers leading up to the promised Ghazwa e Hind, the final showdown with the arch enemy India.
The vision also envisages Pakistan taking its rightful place in the community of Muslim nations in a grand United States of Islam, which is run on the model of Khilafat e Rashida based on real wealth based economic model of Quran and Sunnah!
We want to create a society where humanity is respected, protected and in peace based on love of Allah (swt) and Ishq and adab e Rasul (Sallalaho alaihe Wassalam)."
Zaid Hamid's prominent arrest in Saudi Arabia
One of the most important and unforgettable events in Zaid Hamid's life took place in Saudi Arabia. In June 2015, Zaid was arrested in Saudi Arabia for making controversial speeches against the Saudi government.
This was the time when Prince Muhammad Bin Salman was slowly coming into power. A charge laid down against him was spying for Iran in Saudi Arabia.
Zaid was on a personal tour with his family to the Kingdom when he was arrested by authorities. Later, rumors suggested that Zaid Hamid had in Saudi custody, which was false of course.
By July 1, 2015, news reports came out that the Saudi govt had sentenced Zaid Hamid to 8 years in prison, while also getting 1000-1200 lashes for his remarks. However, media reports later claimed that the news was not true.
The Pakistani embassy then formally requested the Saudi authorities for counsellor access. By October 2015, Zaid Hamid was released from a Saudi prison. This, after a 'lack of proof' on the charges of him spying for Iran.
In addition, rumors suggested that the Ex-COAS of Pakistan, Major General Raheel Sharif played a vital role in his release. Zaid Hamid's arrest garnered a lot of social media attention as well. Consequently, many favored his release, while others were happy with his arrest.
Alleged assassination plan of Ex-COAS Kayani
In November 2013, a former staff officer of Zaid Hamid made startling remarks. As per Imaad Khalid, Zaid Hamid was planning to assassinate former COAS Ashfaq Pervaiz Kayani, a pro democrat Chief of Army.
Imaad went on to show the media emails from Zaid Hamid to numerous Army Officers for sabotage. Additionally, Imaad said: "Zaid Hamid is a quisling and enemy of Islam and Pakistan, who had plotted unsuccessfully to assassinate the pro-democracy army chief Gen Kayani."
Not just this, but Imaad claimed that Zaid Hamid had prepared a hit-list of important figures. This hit-list included the names of then Prime Minister Nawaz Sharif, Ex-CJ Iftikhar Chaudhry and other media personnel.
As a response to Imaad's press conference, Zaid Hamid said: "Pak Army (Pakistan Army) is an extremely professional org. Anyone contacting thousands of officers for rebellion against COAS cannot survive," in another tweet he wrote, "Imaad was our team member who suddenly became hostile in April & joined the enemies."
TV show and books
Zaid Hamid gained recognition in the country from his TV show BrassTracks. The show aired on NewsOne and featured harsh criticism on the capitalist system of the world.
In his show, Zaid Hamid claimed that it was capitalism that pushed the world into numerous wars. Subsequently, one of his works, a series on 'Economic Terrorism' earned him a lot of praise.
Moreover, Zaid Zaman Hamid is the author of numerous books. These include: – Pakistan: ek ishq, ek junun – Islam ka siyasi tassavur – Hindu Saihunyat – Dehshatgardi ke khilaf Amreeki jang – Iqbal Purisrar – Maujudah Pak-Afghan Taluqat – Yahudi aur Isayi Saihunyat and Khilafat-e-Rashadi. As for his English books, Zaid has authored 'Mumbai: a dance of the devil' and a book called 'From Indus to Oxus'.
Subject to immense criticism
Now comes the tricky part of Zaid Hamid's life. For years, Zaid has been subjected to severe criticism for his views and opinions. Many Pakistani journalists, authors and even Islamic scholars have taken Zaid to task for his views.
Moreover, the word attached to his opinions mostly is 'conspiracy'. Zaid has been labelled as a xenophobic commentator who makes hate speeches against Hindus, Jews and surprisingly, Pashtuns too.
People are usually of the opinion that Zaid Hamid thinks less and talks more. It is a narrative against him that he works to spark attention and comes up with conspiracy theories for the sake of hullaballoo. On the contrary, Zaid Hamid counters this narrative with further analysis/opinions on criticism against him.
Zaid Hamid, in all his glory, is what he is. He doesn't shy away from his words, neither his thought process. He is an avid religious thinker and a seasoned political commentator.
His current activities
Currently, Zaid Hamid continues to showcase the same narrative he has for decades. Countering growing secularism in Pakistan, fighting of Indian aggression, chalking out Zionist policies, and keeping an eye on the US' stance in the world. He has remained to true to his personal cause and does not shy away from it.
From time to time, Zaid Hamid uploads videos from his life as well. He recently uploaded a video where he taught the common man how to use pistols and guns for if needed when the times comes.
To sum it up, you can love Zaid Hamid or you can hate him, but one thing remains for a fact – you just cannot ignore him.