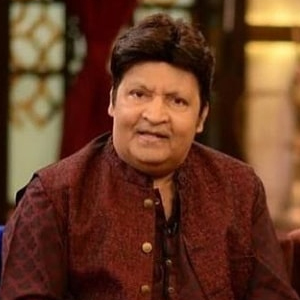 Introduction/Biography
In the world of the Pakistani comedy industry among so many brilliant comedians, there's one specific name that everyone remembers "Umer Sharif". Umer Sharif has taken the comedy to the next level where no one beat him. He raised the bar of stage shows and is known all over the world for his exceptional comic timing.
Umer Sharif entered the industry with the motive to be the best at what he does and simply he did it. No one can beat the way his comic timing was, even brought up some new names in the industry which didn't disappoint Umer Sharif at all by their performance.
He's known for his outstanding stage shows like 'Bakra Qistoon Pe and Buddha Ghar Pe Ha.'
Across the border in India, Umer Sharif was famous and been called to judge comedy shows. Umer Sharif also got a large fan base there, even some of the legendary Indian comedian artists love Umer Sharif for his outstanding comedy.
Face File
Fact‌ ‌File‌ ‌ ‌
Birth‌ ‌Date‌ – 19 April 1955
Birth‌ ‌Place‌ ‌–Karachi, Pakistan ‌
Age‌ ‌–‌ 66 in 2021
Wife- Zareen Ghazal
Marital‌ ‌Status‌ ‌–‌ Married
Nationality‌ ‌–Pakistani‌ ‌
Religion–‌ ‌Islam‌ ‌ ‌
Occupation – Actor, comedian, director film, producer, television personality
Background
Umer Sharif belonged to an Urdu-speaking family in Liaqautabad, Karachi. He started his journey at a very early age of 14 and there he began his stage career. He joined the theatre with the name Umer Sharif, which later he kept and went on it.
From stage shows he got most of his popularity where people started knowing him very well. He became a popular star at that period because he used to record his stage shows and sell out on rent just like movies in that era.
Yes, Sir Eid and No Sir Eid were the first stage shows that come out on video. His stage shows were even popular in India and some of the celebrities claimed, that "they have learned from his stage shows a lot."
He also did some films Hisab, Kundan but he's known for the role in "Mr.420" for which he got appreciate ion from the senior actors too.
Marriage & Family
Umer Sharif's marriage life was different and he had major ups and downs during that time. The star married thrice in his life. His first wife was Deeba Omer from her he had three children including two boys Jawad Omer and Fawad Omer and one daughter Hira Omer. Jawad Omer also tried his best to do in the showbiz industry, but couldn't do enough.
Then Umer did second marriage to actress Shakeela Qureshi, which later didn't work out and ended in divorce. Then after few years, Umer Sharif again got married to her stage co-actress Zareen Ghazal.
Professional Life From Stage To TV
Looking at the journey of the Umer Sharif, it's mesmerizing in every way. His walk path from stage show to TV looks tremendous.
In the year of 2009, Umer Sharif started his Television journey where he used to host a late-night talk show 'The Shareef Show' in which he called celebrities, politicians, and many Pakistani famous faces. He was also invited to several award shows like the Zee Cinema Awards, where he performed in front of thousands of people including Shahrukh Khan, Amitabh Bachan, etc.
India's most famous laughter competition show "The Great Indian Laughter Challenge" where many of the Pakistani comedians also participated, Umer Sharif was invited to judge the finals two times.
Talking about his awards, where he also stole the show and grabbed some big awards in his bag. Umer Sharif has received National awards for Best Director and Best Actor in 1992 for Mr. 420.
Not only that, but he has also received ten Nigari Awards and he's the only one who received four Nigar Awards in the same year. Along with that, he received three Graduate Awards. Sharif is also a recipient of Tamgha-e-Imtiaz.
Love For The People
Umer Sharif was not only a great comedian but also a perfect human being. At the time of making name for himself, he thought about others and established Umer Sharif Welfare Trust. Umer Sharif came forward and stated the goal of creating it, a "state of the art health center that provides services free of cost."
Illness & Death
This year on September 10, 2021, Waseem Badami shared the video of Umer Sharif in which he was appealing for help from the Prime Minister of Pakistan for cancer treatment facilitation overseas. The moment the video came out many of the celebrities also asked Ex PM Imran Khan to help him out which includes, Daler Mehdi, Johnny Lever, and other Pakistani celebrities as well.
On the 16th of September, the government granted him a US visa for his treatment along with the approved 40 million rupees for the treatment. But unfortunately, on the 2nd of October Umer Sharif passed away in Germany. Umer Sharif has left us with a lot of good memories, laughter, and iconic moments that no one will ever forget. He left the legacy, as he was referred to as the "King of Comedy". Umer Sharif is no doubt considered one of the greatest comedians in the whole Indian Subcontinent. He also got another title from the Popular Indian comedians such as Johnny Lever and Raju Srivastav "The God Of Asian Comedy".