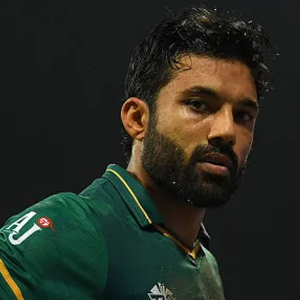 Very few cricketers climb the ladder of success and transform themselves from being an underdog to a rising star.
Mohammad Rizwan is one of them, who stood like a lion in front of all the criticism he faced when he began his international career. Rizwan's consistency became the key element of his remarkable performance throughout 2021.
He faced a lot of setbacks in his initial time, but such things couldn't stop him from becoming the number 1 T20 batsman in the world.
Early Life
On June 1st, 1992, Mohammad Rizwan came into this world with the dream of becoming a cricketer. He belonged to a decent Pashtun family and has always shown his down-to-earth behavior. His batting skills were appreciated on the domestic side, and he left his mark while playing for Sui Northern Gas Pipelines Limited during the final of the Quaid-e-Azam Trophy, one of the biggest domestic events.
He clutched the opposition with his performance and led his side to victory. After that, he was selected for List-A, where he played against Kenya in a shorter format in 2014.
After the 2015 World Cup, Mohammad Rizwan made his international ODI debut against Bangladesh, in which he scored 67 runs off 58 balls. In the same series, he also got the chance to debut in the T20 format but couldn't get the chance to bat. But he officially made his T20 debut against Zimbabwe, and there his downfall began.
He struggled to face bowling attacks from England, New Zealand, and even Bangladeshi bowlers too. His poor performance cost him the T20 World Cup 2016 position. He looked fading because Sarfaraz Ahmed was securing his place preciously.
Rizwan 2016 made his test debut and he got out for a golden duck, which led the team to lose the match. In all of his formats, Rizwan couldn't perform the way he should have.
At the time when Sarfaraz led his side to the 2017 Champions Trophy victory, Rizwan was grinding in the domestic league.
After grinding in every domestic league, he came back again and scored his first century against Australia in the UAE. But for World Cup 2019, PCB went to do some experiments and included Rizwan in the squad against South Africa. The outcome was the same, he couldn't do much, and there he again lost his World Cup spot.
Rise Of An Underdog
Mohammad Rizwan was back in the game with the performances he has delivered in the past couple of years. His performance displaced Sarfaraz Ahmed as the first-choice wicket-keeper across all international formats.
He then played 5 tests against Australia, Sri Lanka, and Bangladesh, where he shut critics' mouths with his unmatchable performances.
Even scored 95 runs against the full-stock attacking bowlers of Australia.  After COVID-19, the Pakistan team played a test series against England, and Rizwan scored two half-centuries, which grabbed everyone's attention.
Right after that, his success journey began and was followed by his consistency so that no one could break it. He was named in the T20 World Cup squad under the captaincy of Babar Azam. He helped his skipper in chasing the target against India, where Pakistan had beaten India for the first time in the World Cup campaign.
His unimaginable innings and shots made everyone give him loud applause. His innings were appreciated and applauded by Indian skipper Virat Kohli himself as well.
Awards:
Ever since he returned to international cricket, he has achieved everything from records to awards in 2021. It can be said that 2021 was his year.
PCB's Most Valuable Cricketer of the Year for 2021
Named in the ICC Men's T20I Team of the Year for 2021
Wisden Cricketers of the Year for 2021
Mohammad Rizwan undoubtedly showcased his true class of excellency and skills. As per the current ICC T20 ranking, Mohammad Rizwan stands tall in the no. 1 position.