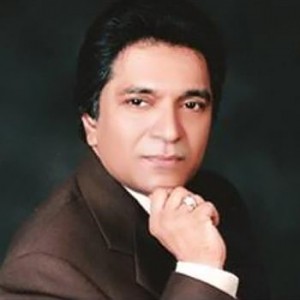 Introduction – Moin Akhtar
Moin Akhtar was a Pakistani stage actor who later joined the television and film industry and enchanted millions of Pakistani and international viewers with his humorist style, comedy and impersonations of famous and ordinary people. He was also gifted with a thick and charming voice which also led him to being a host and singer. Moin  Akhtar had a way with words and combined with his vast experience he was also able to write, direct and producer numerous shows which rose to fame in era of Radio Pakistan along with his co-actors Anwer Maqsood and Bushra Ansari. His world recognition, not only within the Pakistani viewers but in India and other parts of the subcontinent came from his performance in "Rosy", in which he played the role of a peculiar woman and is considered one of the most important figures in the history of the film industry of Sub Continent. His career spanned more than 45 years, from childhood in the Radio Pakistan era of modern film making until a year before his death in 2011.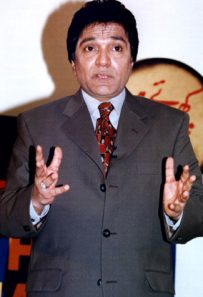 Moin Akhtar was known to provide humor to people of all ages, and with an etiquette that remains unmatched. His humor always attempted to avoid vulgar jokes and remarks which made him extremely popular among family audiences especially within the Sub continent where the line between mild and vulgar joke is very sensitive. Moin Akhtar not only spoke fluent English and Urdu, but was also well versed in Bengali, Sindhi, Punjabi, Memoni, Pashto and Gujrati. His performances were extremely famous in Pakistan but his fame was not limited to it. He was extremely popular in India as well and played in several stage shows across the border like Bakra Qiston Pe and Buddha Ghar Pe Hai with Umer Sharif.
Moin Akhtar is recognized by fellow actors, actresses, hosts, directors and producers as one of the most influential figures of all time in the history of Pakistani television. He had changed the course of Pakistani media by his out-of-the-box approach and portrayal of his roles and opened doors for new ideas to flow. Not only was he known for his talent as an actor and a host, he was also known as a good person. Co-workers and people close to him always recall him as a humble man who was always calm and composed in all situations.
Fact File
Birth Date: 24 December 1950
Birth Place: Karachi, Sindh, Pakistan
Death Date: 22 April 2011 (aged 60)
Death Place: Karachi, Sindh, Pakistan
Nationality: Pakistan
Occupation: Tv host • writer •singer • film director • film producer • comedian
Years active: 1966–2011
Early Career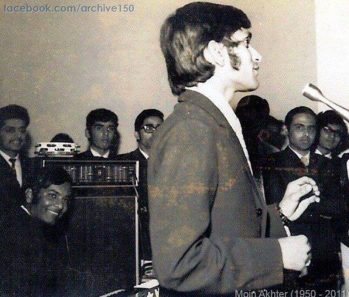 Moin Akhtar started his acting career as a child when he played the character of Shylock in Shakespeare's The Merchant of Venice in theater at the age of 13. He made his debut for television on 6 September 1966, in a variety show held on Pakistan Television (PTV). The show aimed on celebrating Pakistan's first defense day and Moin Akhtar was part of this inaugural celebration. After this minor exposure, He took his career to the next level and started as a stand-up comedian in 1966 by impersonating Hollywood actor Anthony Quinn and one of John F Kennedy's speeches. In both of his performances, he also mimicked the voice of the former president and the actor which received wide recognition and applause by the general viewership. After this, he continued to perform several roles in TV stage shows and later teamed up with Anwar Maqsood and Bushra Ansari. Akhtar rose to the national spotlight and gathered critical acclaim for his performance in the drama Rosy, in which he played the role of a female TV artist. The drama Rosy was a remake of the Hollywood film Tootsie which tells the story of a talented but volatile actor who changes his makeover and takes over a new identity due to his difficult personality. Tootsie was also widely acclaimed and Dustin Hoffman received huge acclaim for his role, similar to that of Moin Akhtar. Moin Akhtar held his work in Rosy in high regards and stated that it was his best performance among all.
Further Works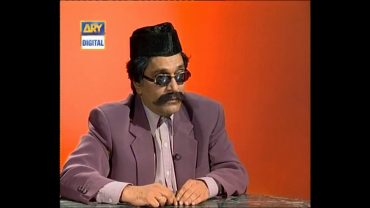 Loose Talk is a name which is recognized by each and every member of the viewership in Pakistan, subcontinent and others. It began in 1995 on ARY Digital, where Moin Akhtar appeared as a different character in each and every episode with a total of over 400 episodes. The program was written and hosted by the very talented Anwar Maqsood who aimed the program to focus on social issues such as corruption and abuse of power. The show was an immense hit in India and Pakistan alike with huge viewership and later DVD sales of the show. To this day, Loose Talk is watched by fans of Moin Akhtar and episodes are played on cable TV.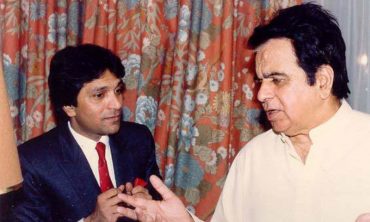 Moin Akhtar also briefly hosted the game show Kya Aap Banaingay Crorepati? The show is the Pakistani version of Who Wants to be a Millionaire? This was also hosted by Amitabh Bachan in India. He has also been honored with hosting numerous talk shows with major personalities as participants including King Hussain of Jordan, President of Pakistan Zia-ul-Haq, legendary Indian film actor Dilip Kumar, singer Lata Mangeshkar and Madhuri Dixit to name a few. With his modest style of speaking along with command on language, Moin Akhtar was one of the first choices for a host on the television screen in all of Pakistan.
Music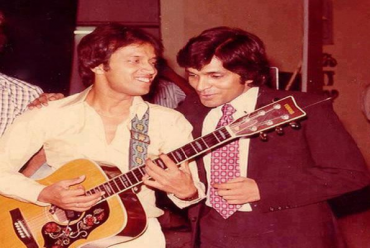 Apart from being talented in acting and parody skills, Moin Akhtar was also blessed with an angelic voice which was deep enough to touch anyone's heart. He also made an album named Tera Dil Bhi Yun Hee Tadpe (Your heart should also suffer from pain) which consisted of seven songs sung by him. Later on he would be asked to sing songs on his shows which he would oblige to very happily. He ironically sang "Aye Dil Kisi Ki Yaad Mei" very intensely in one of his last shows aired on television which was "The Shareef Show" on Geo Televison. This show was aired a couple of weeks before his death.
Death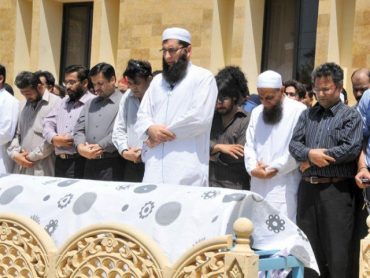 Moin Akhtar suffered from heart diseases for a very long time. So much so that he had multiple bypass operations which increased his life span. After battling his diseases vigorously, Moin Akhtar died on 22ndApril 2011 at about 4:30pm in Karachi after suffering from a heart attack. He was 61 years old when he passed away. He is survived by his wife, three daughters and two sons. The funeral prayers of Moin Akhtar were held in Tauheed Masjid in Karachi near his residence. His final prayer was led by none other than the famous singer and preacher, Late Junaid Jamshed. Numerous artists around the country came to the funeral and others sent their condolences to the family. The President and Prime Minister of Pakistan also gave their condolences to the family. His absence was not only felt on the television screens of the country but also in the neighboring country as well where numerous artists sent their condolences and messages of support and acclaim for the deceased. Nana Patekar, the famous Indian actor, stated that the absence of Moin Akhtar was felt in India as well.
It has been rumored that the world-famous wax museum Madame Tussauds had expressed its wish to include a statue of Moin Akhtar in their London museum. If the statue is made, it will be one of the first to represent an artist from Pakistan in such an esteemed museum. Moin Akhtar's demise was certainly a dark day in Pakistan's history. The obituary news left every single soul of the nation sobbing and weeping with grief. It was a massive loss to the entertainment industry of Pakistan which cannot be replaced by anyone.
Condolences on Death
Colleagues and co artists contributed deep grievances for the notable performing artist, Moin Akhtar, who passed away on April 22, at a memorable condolence reference held out by the Karachi Press Club on Friday.
Performing artist Mustafa Qureshi quoted, "He was not just a comic. He was an entire on-screen character. With Moin Akhtar's demise, author Anwar Maqsood is currently fragmented." In his discourse, Moin's child, Mansoor, said that he would proceed with his dad's main goal of helping the destitute. "When I leave this world, I need individuals to state, 'That man did things any other way,'" he stated, citing his dad.
Chief Iqbal Latif said that having Moin Akhtar as a companion was a gift from God. "We were companions since youth. When I went to his home on the news of his demise, I saw many individuals there, the vast majority of whom had never gone to his home. They were pulled in to Moin's adoration and chuckling," he said.
He said that they are attempting to include Akhtar's name in the Guinness Book of World Records as he has more than 400 get-ups and mimicries in a solitary arrangement added to his repertoire.
Shahnaz Siddiqui gave an individual record of the veteran player. She depicted how Moin Akhtar helped his partners get work and how he helped them magnanimously in times of desperate need.
"I never observed Akhtar battle with anybody. At whatever point he came late for a shooting he would apologize to everybody."
Awards and Recognition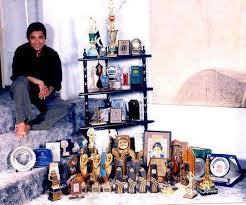 During his lifetime, Moin Akhtar had been awarded numerous awards for his work and services to the Pakistan media. He was honored with a special reward for comedy in the inaugural Indus Drama Awards held in 2005. He was also awarded the Pride of Performance award by the Government of Pakistan in 1996, which is one of the highest civilian awards that is awarded to those who have performed with distinction in the fields of art, science, literature and other social sciences. This was awarded to him by the Prime Minister of that time Nawaz Shareef. Moin Akhtar was also given an honorary citizenship of Dallas in 1996 for his achievements as an actor and a host. If this was not enough, Moin Akhtar was also awarded Sitara-i-Imtiaz by the President of Pakistan. This is the third highest award that can be granted by the State of Pakistan to an individual for their services to the country or humanity.
Bond with Anwar Maqsood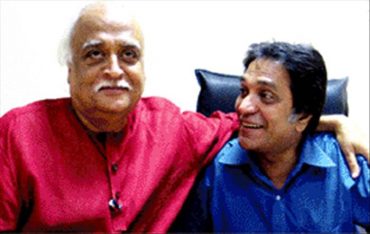 Famous Writer and Legendary figure in the Pakistan Entertainment industry, Anwar Maqsood worked with Moin Akhtar the most, yet he stayed under the radar at the companion's demise, apparently because he was in intense grief and was in some undefined state of shock which naturally took him time to come out of. Later after recovering himself from the grief, he recalled Akhtar as an exquisite individual, an awesome artiste and an astounding companion who was no less than a family member to him, quoting in one of his interviews: "I had a stunning time with Moin Akhtar as we were companions for more than 40 years — 32 of which we cooperated. For the last seven and a half years, we performed together in Loose Talk and every week we concocted another getup, distinctive exchanges and an infectious situation.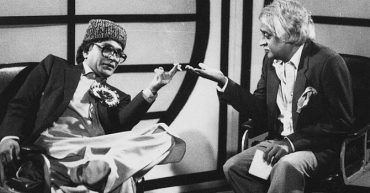 Moin stunned in every last scene with his discourse conveyance and astonishing depictions. "In spite of the fact that we battled a ton, particularly when he protested discoursed that conflicted with the administration, I generally advised him that legislatures will pass however our kinship won't. Besides, he was the main individual I know in showbiz — anyplace on the planet — who used to regard the script given to him. Never did he attempt to include anything of his own in my scripts. I was astonished to locate my old scripts in his room when I went there after he had passed away."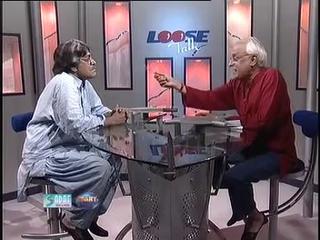 The exemplary duo of comedy cum sarcasm between the two of the artists is irreplaceable, despite many such combos made entries to the industry, no one matched the exceptional delivery of fun and entertainment to the audience like they two did. Moin Akhtar and Anwar Maqsood's dialogues and extempore conversations were all that kept audience alive and hooked up to the most of the television shows for more than three decades and still are among the most talked about and loved shows.