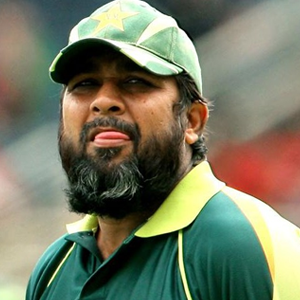 Inzamam-ul-Haq Biography
In the cricket world, every few batsmen out there left their mark with tons of runs and earned huge respect. From international to local Pakistani cricketers have managed to make their way towards success through their skills and created legacy. One of those well-known cricketers include Inzamam-ul-Haq.
Pakistan has always been known for producing endless lethal fast bowlers to demolish opponents and scare the hell out of them. But the Pakistan cricket board also introduced some outstanding batsmen who made their name out there and left their identity in the world of cricket.
Players like Javed Miandad showed the world how to hit the iconic six to win the match for his side. Among all the other batsmen there's another batsman risen who was part of the 1992 World Cup and held some marvelous records.
The crowd used to call him Aloo, but his friends and teammates call him Inzi. Yes! Inzamam-ul-Haq is one of the finest batsmen Pakistan has ever produced.
Inzamam-ul-Haq has given us iconic moments and memories to remember him. He's one of those players who played under various captains and produced some marvelous innings. He also had some outstanding partnerships with Mohammed Yousuf and Younis Khan as well.
Early Time
3rd March 1970 in Punjab, Inzamam was born in Multan a state where so many other players came out. He belonged to Sufism and a religious family. In the early 80s he started his journey of cricket from his hometown Multan, he was a right-handed batsman and used to bowl as a lefty in orthodox fashion.
With his marvelous and unmatchable batting skills, he pulled out some exceptional records that no one could ever forget. At the age of 15, he started his career in domestic where he played from different local clubs. But in 1991, he got his real breakthrough and debuted against West Indies. In one of the two matches, Inzamam scored a half-century and performed brilliantly.
Followed by his West Indies performance he was selected against Sri Lanka where he also delivered a great performance with 2 centuries and one-half century in four matches. His rhythm was getting real and his batting style demolished bowlers.
Up till now, he didn't debut in a test, in 1992 against England at Edgbaston, where he was not out with a score of 8. That test series was considered the worst series for him, as he averaged only 13.2 runs per inning.
Soon, he got his form in the test format and started scoring runs which helped the team to secure victories in the 1994 test series.
Rise of his Glory
His real success started when he was chosen by the living legend Imran Khan for the 1992 World Cup squad. He was disappointed by his performance at the start of the tournament.
But later he started contributing runs which helped Pakistan to come out of crucial situations. He also led Pakistan to victory in the semi-finals by scoring 60 runs off just 37 balls.
His contribution in the finals of 48 runs also helped the team to win their maiden World Cup. Right after that, his actual cricket ride took place.
He also become the International Cricket Council's number one ranked batsman in 1995. As everyone knows success comes with some difficulties, his batting style was highly appreciated, but his between the wickets running has always been criticized.
It happened throughout his career and his co-players had to face a hard time as well. As cricket started to become more of an athletic game, Inzamam's physical state was questioned on several occasions.
Inzamam also indulged in controversy wherein in 1997 at Sharjah he assaulted an Indian crowd who mocked him in public over his physical existence.
Not only he was also accused of discriminating against cricketers based on their religious beliefs.
On the club side, he represented, United Bank Limited, Faisalabad, Rawalpindi, National Bank of Pakistan, and Water and Power Development Authority in his homeland – Pakistan.
From 2003-7 he was appointed as a captain of the national team. Under his captaincy Pakistan has played 30 Tests, winning eleven, drawing nine, and losing ten. His journey as a captain wasn't successful at all. Under his captaincy, Pakistan faced a harsh and biggest upset of the 2007 World Cup where Ireland had beaten Pakistan that shocked the whole world. That particular match knocked Pakistan out of the tournament as well.
Followed after that match Pakistan's coach Bob Woolmer also passed away in his hotel room.
Records
Inzamam Ul Haq bagged some records too while he was hitting every delivery to the boundary. As a captain, they had the third-highest average in ODI cricket after Ricky Ponting and Mahendra Singh Dhoni. He also had the record of most half-centuries, up till Sachin Tendulkar, Jacques Kallis and Kumar Sangakkara surpassed him.
He was also the second batsman to score 10,000 runs in one-day internationals. Inzamam-ul-Haq has also been awarded Sitar-e-Imtiaz by the Pakistani Government in 2005.
Inzamam retired from the ODI right after the 2007 World Cup and later on, he also announced his retirement from the test side too. He was appointed as the coach of Afghanistan's national team and in 2012 he was appointed as the batting consultant for Pakistan as well.
In April 2016, PCB appointed Inzamam-ul-Haq as the chief selector of the Pakistan national cricket team. Under his selection, his nephew Imam-ul-Haq also joined the national side as well.
Inzamam-ul-Haq has given us memories, moments and created history in his entire journey. He gained endless love not only from his own country but also from the neighbor country India. His relation with former Indian players showed that his attitude and personality made everyone be at his side.
No doubt, Inzamam is our iconic batsman and left his legacy for the youngsters out there.