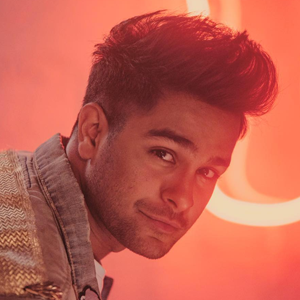 Very few Pakistani artists have grabbed the audience's attention through their skills and got into the industry without any link. Among them, Asim Azhar one of the finest and most popular superstars in the current slot stands tall.
Asim Azhar has delivered some of the great songs that made every young generation his fan and no one can ignore his presence at all. He came to be known when he made his debut in the Coke Studio with Mohmina Mustehsin and from there he started climbing the ladder.
After that, he was trolled also for his looks and voice. But like others, he avoided such comments and moved on. He was also in the limelight because of dating one of the most famous actresses in the industry Hania Aamir.
Although they split up in a chaotic way fans even hold up the news and the majority were against Haniya when she released her statement. But right after that, his musical journey out of nowhere took the charge and he became insanely famous throughout Pakistan. And now he's known to the whole world as Asim Azhar and people love him for whatever he does.
His fans don't know much about him, because he has been very secretive and that's where we come in to share his life insights or say biography.
Asim Azhar Early
On October 29th, 1996 Asim Azhar came into the real world. He's a Karachi kid and has grown up in the streets of Karachi knowing every area of it.  His father Azhar Hussain, and actress Gul-e-Rana were blessed to have him. Despite having an entertainment family, he achieved everything on his own and became a self-made man.
His family was filled with talented people, his father Azhar Hussain was an ace at playing Piano and he was one of the acclaimed musicians of Pakistan. His mom Gul-e-Rana is a senior and fruitful TV performer.
From the early stage of his life, Asim knew what he want to and he followed his passion. he began singing vocation when he was 16 years of age. His popularity began when he did Coke Studio Season 9 and his songs took his fame to next level. Right there he started walking towards the success route which also led him to be part of the HBL PSL 5 Official Anthem "Tayyar Hain" along with Ali Azmat, Arif Lohar, and Haroon.
He was not just a singer, he was a performer and with that, he holds a style in himself. Back in 2020, he received an award for received the Best Stylish Performer at PISA in Dubai.
His Rise
His song Jo Tu Na Mila featuring Iqra Aziz hit 100M views on Youtube making him the fourth Pakistani singer to cross 100M views after Atif Aslam, Rahat Fateh Ali Khan, and Momina Mustehsan in May 2020. Asim also planned to sing a song for Bollywood, but due to cross-border issues, things didn't go well.
His dream is to become the voice of none other than Shahrukh Khan in one of his films. Asim released 4 singles 'Submits The Air', 'Maahi Aaja', 'Soniye', and 'Sunday' in 2014 which were colossally adored by individuals and he wound up being one of the set-up male artists of Pakistan in a brief time.
Personal Life
Going inside his personal life, Asim Azhar had a bad experience in it and it all went viral. It was chaos all over the internet when Asim Azhar and Haniya Amir broke up.  Both of them unfollowed each other on every social media account.
It all came under the radar when Hania did the live chat, Aamir responded to a question by a viewer. He asked whether she is still with the singer Azhar. To this Aamir replied, "He's asking if we're still together. We're friends, we're not together, we're not dating, we're not a couple. But we are best friends." She categorically denied the existence of any romantic relationship with him.
His Asim Azhar publicly reacts to it. "We are 'good friends. "The bond we share is beyond anyone's comprehension. It is bigger than any label for me," he wrote.  He further added,  "I will always be there for her and vice versa because that's the impact she's had on me. She made me learn to give and love".
The singer further said, "Yes, I am single and I have been single for some time." "It was a mature and mutual decision between us," Azhar added.
In 2022, Asim Azhar tied his knot with Merub Ali and he announced it over his social media account. Merub Ali is a model and recently she made her debut in Sinf-e-Ahan alongside Sajal Aly, Kubra Khan, Saira Yousuf, and many other big names.
His Musical Discography
Whistle"
"The A-Team"
"Maahi Aaja"
"Patakha Guddi"
"Hands in the Air"
"Sunlay"
"Soniye"
"Khuwahish"
"Teriyaan"
"Jo Tu Na Mila" Featuring Iqra Aziz
"Humrahi"
"Tere Liye"
"Humraah"
"Sassi"
"Tum Tum"-Featuring co-singers Young Stunners, Shamoon Ismail, RAAMIS, and TikToker Areeka Haq
"Soneya"-Composed by Qasim Azhar and Lyrics by Kunaal Verma[19][20]
"Har Ghari Tayyar"
"Anabia"
"Saajna"
2″Pagli"
"Ek Pagli Hai Ye"
"Noor"
"Tere Bina" "Tere Bina"
"Balu Mahi" "Balu Mahi"
"Ehd-e-Wafa" "Ehd e wafa OST"
"HBL PSL 5" "Tayyar Hain"
"Ishqiya" "Ishqiya OST"
"Tasveer" "Tasveer "
Asim Azhar climbed the ladder of success rapidly and gained endless popularity all over the world. His songs truly touch young female's hearts and he's no doubt a young icon