Abida Parveen Biography
Sufism is something that touches everyone's heart and soul. In the heaven of Sufism Pakistan is known for the hub of with some great artists like Abida Parveen. From Pakistan some outstanding artists came out and produced the unique essence of Sufism.
Ustaad Nusrat Fateh Ali Khan led the tradition of Sufism in his prime time, but there's one lady who did something that she's still going with it. She has created a new era of Sufism where people indulged and found their true spiritual meaning.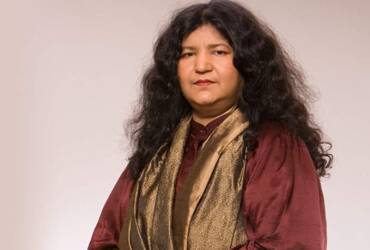 Her Kalams are out of this world, she's world-known musician, singer and her presence bring all the positivity. Abida Parveen that's the name.
Abida Parveen Jee has done something that no one expected, her voice is so special that no one can hold their joy to fall in love with her voice and music. She has given endless Kalams, collaborated with international and across-the-border Indian musicians too.
She spread the love of Sufism and Allah all over the world with her words. She has set the bar of Sufism and made the legacy.
Facts
Full Name: Abida Parveen           
Date of Birth: 20th February 1954
Birth Place: Larkana Sindh, Pakistan
Nationality: Pakistani
Marital Status: Widow (Late Ghulam Hussain Sheikh)
Children: Saranj Hussain, Pereha Ikram, and Mariam Hussain
Early Life
Abida Parveen is one of the most well-known Pakistani singers of all time. Being known around the world as the 'Queen of Sufi music. And is referred to as one of the greatest mystic singers of all time. Born and raised in mohalla Ali Goharabad in Larkana, Sindh, Pakistan.
She was born to a Sufi family. In which the father, Ustad Ghulam Haider, owned his musical school and took up the helm to teach Abida music and singing himself. It was at her father's music school where she first found her love for music.
Her talent was so exceptional from a young age that even her father chose her as his musical heir over her two older brothers.
While her foundation for music was built by her father, she was later taught by Ustad Salamat Ali Khan of the Sham Chaurasia Gharana, a well-known singer in his own right, who nurtured her talent to the point where she was able to become what she is today.
While her beginnings were of humble origins, her rise to stardom is something that only a handful of people have ever achieved in one lifetime.
She initially started performing at Dargahs Urs in the early 1970s and for Radio Pakistan. Radio was her breakthrough because she introduced to the bigger audience that got attracted to her voice. Her first-ever big hit was the Sindhi song 'Tuhinje zulfan jay band kamand widha'.
With her impressive impact, she became the official singer of Radio Pakistan in 1977 and there her career took the take off from the platform.
She did what no one has done it ever, she spread the love of ghazals and Sufi music beyond her native Pakistan.
In the 1980s, she has become so popular that her international tours had begun too. she continued to travel to every country. Her tour to the U.S., U.K., and France such tour became her success.
In the 90s, Abida Parveen gave license her spiritual ghazals to Bollywood. Fun fact, she didn't sing for any Bollywood film but her pre-recorded songs were used. She has collaborated with Salim Suleman, but never particularly sung for any film.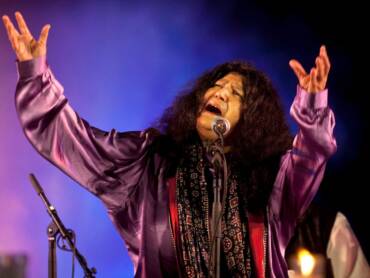 In the early time, she didn't involve her, but due to her massive success only on the demand of her fans, she lend her voice to films.
She joined other legends as the judge in an Indo-Pak singing show 'Sur Kshetra'. In 2010, that same year she also became part of the internationally acclaimed Pakistani show "Coke Studio".  
Other shows she appeared in in 'Shehr-e-Zaat' (2012), 'Jhalak Dikhhla Jaa' (2012), 'Pakistan Idol' (2014), 'Sama-e-Ishq' (2014).
Personal Life
Abida Parveen married Ghulam Hussain Sheikh, who was a senior producer at Radio Pakistan, in 1975. He was her pure supporter, he always encouraged her and he even resigned from his position to manage her music career.
In 2010, she suffered a heart attack as she's heart patient, but her health improved later.
Solos & Albums
There's no doubt, Abida Parveen is one of the living legends. Her solo albums have created a great impact, that her singles also touch deep down to your heart. Her famous songs are 'Yaar ko Humne' from the album 'Raqs-e-Bismil' and 'Tere Ishq Nachaya' which is a rendition of Bulleh Shah's poetry.
Awards & Achievements
Abida Parveen was honored with the President of Pakistan's Award for Pride of Performance in 1984. In the same year, she also received Gold Lal Shahbaz Qalandar Medal.
In 2005, she was also awarded Sitara-i-Imtiaz the third-highest honor and civilian award in the State of Pakistan.
In 2012, she was awarded the Hilal-e-Imtiaz award, which recognizes individuals who have made an "especially meritorious contribution to the security or national interests of Pakistan, world peace, cultural or other significant public endeavors".
Abida Parveen has given us pure heaven of Sufism and no doubt she has contributed her big part in this area.