Celebrities enjoy their luxurious lifestyle in such a way that attracts fans as well. Their lifestyle revolves around luxurious items because they have to maintain themselves in a way that makes them on top of the list.
Celebrities love to have luxurious items and mainly it becomes the main center of attention. Many celebrities own great expensive luxurious items and stand in the first place.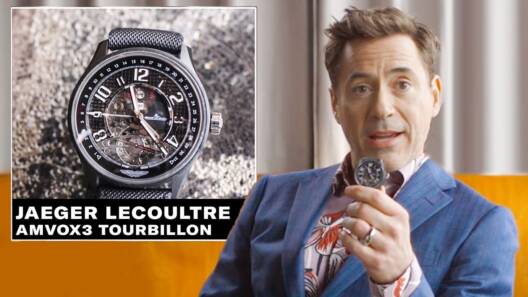 But there's something that every celebrity or sport athlete love to have on board. Yacht, is one of the most desired expensive items celebrities love to own it once in their livelihoods, it's the best thing to have and there are a lot of celebrities to own it.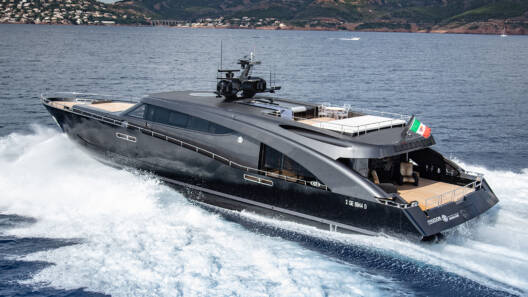 But who owns the most expensive yacht in the world? Here you get to know about it in detail, where you get the list of celebrities with the most expensive yacht.
Celebrities with the most expensive Yacht in the world
Giorgio Armani
In the world of fashion, Giorgio Armani needs no introduction for to work he has done. In the list of celebrities who own the most expensive yacht, the fashion industry legend owned a $ 60 million superyacht, which he bought in 2008 and still owns.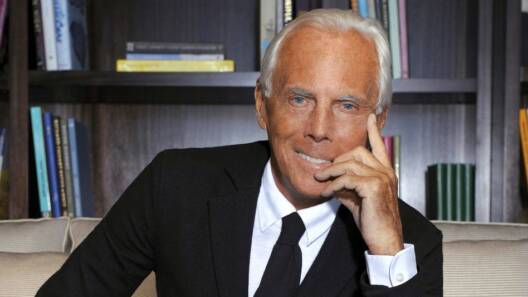 To the world, this special Yacht known as "Main", was fully constructed by Codecasa in 2008 and he tried to make it distinguish from others. With its rare design, there's no surprise in knowing that one of the fashion icons has put his interest in this beautiful piece.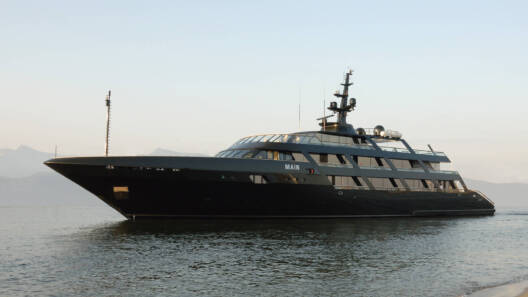 It is dark green, which helps it camouflage at sea. Fun fact, Giorgio Armani himself worked on the interior of the 65-meter-long yacht along with his designers Studio Dellarole and Ortelli. And of course, he also joined the designing team because after all he wanted to have his essence in the design.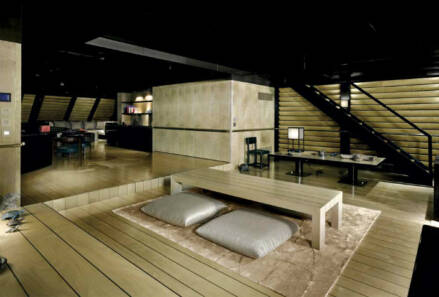 Let's talk about the interior selection, Armani went with a minimalist color scheme combined with Asian aesthetics, such as Japanese-style low tables, which dominate the décor across rooms and the main salon. If you get inside the yacht, you will surely fall in love with the interior.
In this yacht, there are seven amazing suites built to accommodate 12 guests.
Tiger Woods
To the world of golf, he's a legend and there's no one can come near to his extraordinary records. Tiger Woods is one of the icons in golf sports history. Tiger Woods secured his place on the list, as his yacht is considered one of the most luxurious yachts in the world.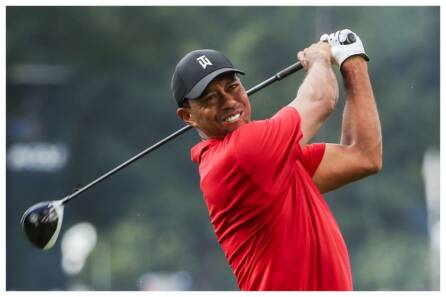 To the world, his yacht was known as "Privacy which he bought in 2004, and at that particular time, he paid USD 20 million for the 48-meter-long vessel. It also has 5 cabins for 10 guests.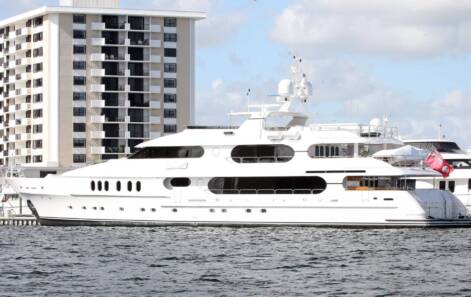 There are a lot of amazing features, but among those, there's one key feature "a jacuzzi" on the deck where around up to eight guests can enjoy the dip. Apart from that, a bar, cinema room, and modernized gym help the tiger to be in shape even off-season when he's on the Privacy.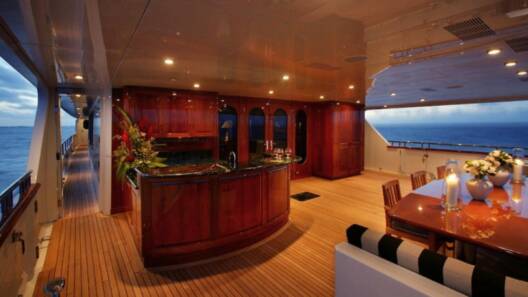 He also built a decompression chamber where you can go scuba diving, jet skis, ocean kayaks, and motorized scooters.
This year Tiger Woods was inducted into the World Golf Hall of Fame as well.
David Geffen
Surely the name goes with the exterior and interior "Rising sun" which measures 138 meters and is considered one of the most promising celebrity yachts on board.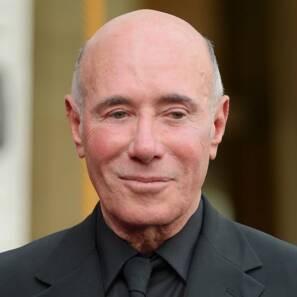 This yacht was built in 2004, six years later David Geffen (the founder of Geffen Records and co-founder of DreamWorks Pictures) bought it from Oracle founder Larry Ellison.
Everyone knows his obsession and love for the yachts. The moment he bought the yacht, he used to throw an insane party and invite big movie stars such as Leonardo DiCaprio, Oprah Winfrey, Katy Perry, Orlando Bloom, and Chris Rock.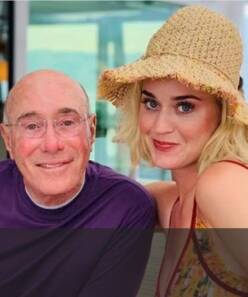 Even back in 2019, Amazon founder and the world's richest man at that time Jeff Bezos was also there holidaying with his girlfriend Lauren Sánchez.
You won't believe it, Geffen paid USD 590 million for this luxurious superyacht. But according to Forbes, they revalued the yacht in 2020 and it summed up to around $570 million.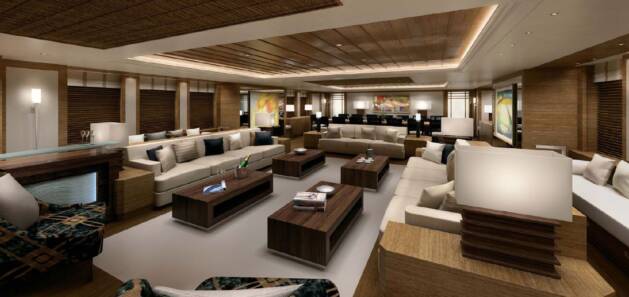 There are incredibly luxurious rooms for 18 guests, other features include a spa, a gym, a helipad, a swimming platform, and a double-height cinema.
David and Victoria Beckham
Next up is none other than a famous and iconic couple known for their style. David and Victoria Beckham who has been in the news since they tied their knot.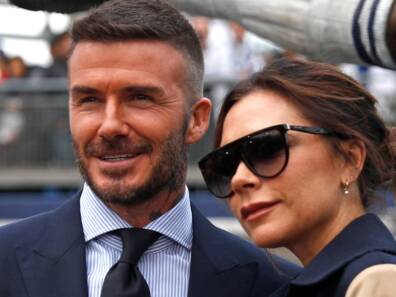 They have been in the limelight for their luxurious lifestyle and the money they spend to buy the most expensive stuff.
As we are discussing the expensive yachts, the couple found themselves on the list for their brilliant and beautiful "Seven". Yes! That's the name of their yacht, seven was the jersey number of the star player and the yacht was built in 2021.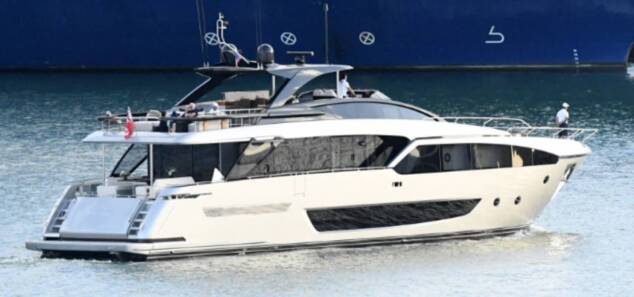 How many of you remember Beckham's unique hairstyles? Which one was your favorite?
So, it's new in the market. They also hired some of the best people to build this unique and amazing yacht. Ferretti Engineering Department joined them to build the 28.5-meter-long vessel, along with them Mauro Micheli's Studio Officina Italiana Design worked on designing both interior and exterior.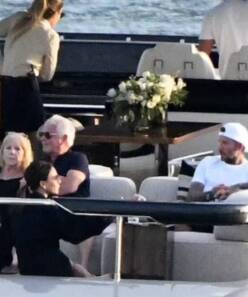 Talking about the design, it has a large glass window and a dark lacquered ceiling.
Seven's worth is about $40 million and the couple with their kids recently found enjoying their holiday on seven as they off to the coast of Miami, US.
Rafael Nadal
The Spanish tennis star and godfather of the clay-court Rafael Nadal also loves to spend his fortune on Yachts. In 2020, Rafael bought a yacht for himself on his 34th birthday and named it the Great White. According to the report, it cost him $6.2 million.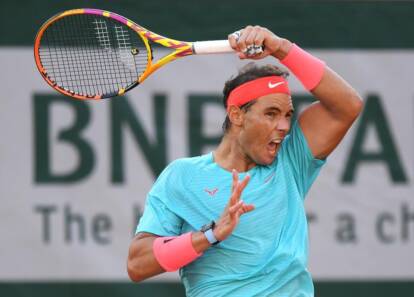 Don't look at the price, because it's one of the most famous yachts owned by celebrities. It has a 23.95-meter-long vessel was built by Sunreef Yachts in Poland. Plus it was delivered to Rafael's hometown Mallorca, Spain.
It's different from other yachts in terms of unique features. One of the coolest features is the two-hull vessel. Meaning it's a customized Sunreef 80' Power catamaran.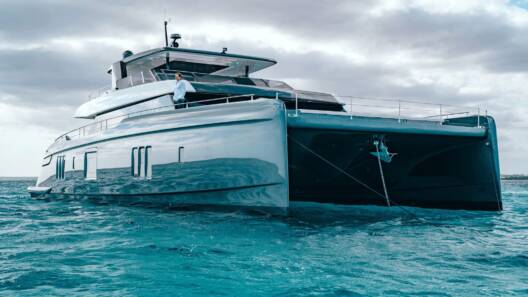 Fun fact, Rafael Nadal himself worked on the interior design of his beloved yacht. He chose beige, coffee, and cream colors which are Spaniard's favorites. The yacht has 371.6 square meters of living space.
The yacht has four luxurious cabins premium fitted for 10 guests. Not only that, Nadal's private suite has a foldable balcony and an overhead skylight.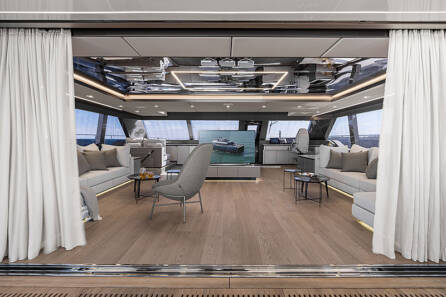 To keep his guests entertained, on the flying bridge you get sun pads with a fully equipped wet bar and a barbecue. Along with that, there is a waterfall spa pool as well.
Rafael Nadal also created a large garage to store jet skis for his personal use.
David Howell Evans aka The Edge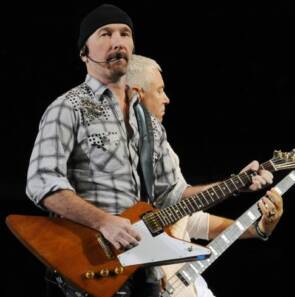 British's one of the most popular bands U2's lead guitarist David Howell known to the world as "The Edge". Recently edge and his band's frontman Bono were caught enjoying Cyan in Ibiza.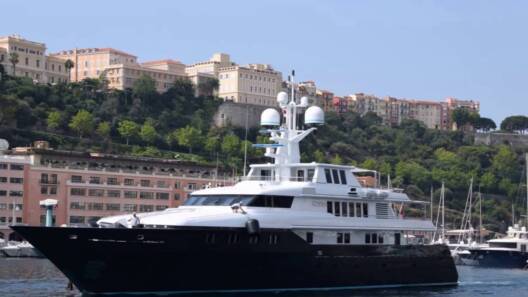 Edge bought his luxurious yacht in 2004 which cost him around GBP 12 million (between USD 17-20 million at the time). One of the interesting things is that the day he purchased it his wife Morleigh Steinbergrefurbished it.
One of the famous yachts owned by celebrities, Cyan has a unique look that anyone can easily recognizable with its dark hull.
Its' a 48.7-meter-long vessel with imaginable luxurious four cabins that can fit up to 12 people easily in the comfort. Edge also kept some amazing toys if anyone wants to take part in water sport which includes, wakeboards, inflatables, and WaveRunners.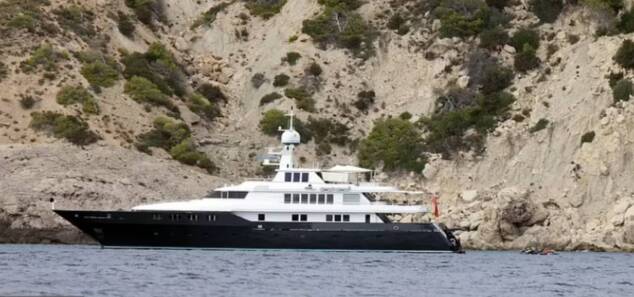 For entertainment and more relaxation, they have got a great cinema and movie library. The three-meter-long outdoor cinema has a movie library with more than 1,500 titles.
Cristiano Ronaldo
The world's top scorer and one of the richest sportsmen in the world love to spend his fortune on luxurious items. The all-time world top scorer has also became highest-paid Instagram celebrity that gives him full leverage to have splendid luxurious life.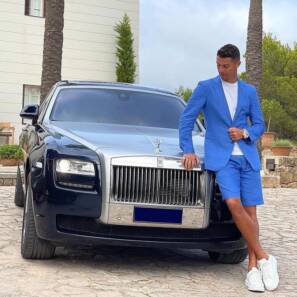 We all have witnessed his undesirable love for sports cars, and watches, but there's another thing he loves the most and that's the superyacht he bought in 2020.
Before having his yacht, he used to rent one and this one cost him around £5.5million. It's lavish and eye-watering when it comes to the interior. His yacht is known to the world as "Azimut-Grande 27" and it's incredibly stunning with its dynamic stability and carbon-fiber structure.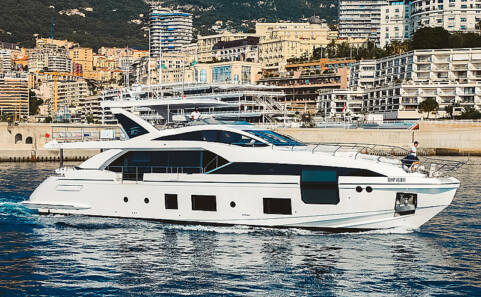 Azimut-Grande 27 consists of a modern kitchen, a long lavish dining room, and two most peaceful relaxation areas as well. It also has six modern bathrooms, five luxury cabins, and a special bar on the deck.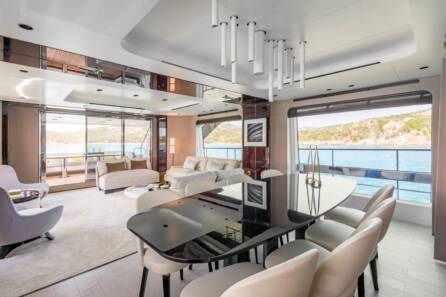 He bought this yacht when he joined the Italian giant club team Juventus. Just like his pace, Azimut-Grande is powered by two 1,900 horsepower engines.
The list might be surprising because here none of the world's richest celebrities of 2022 are included because they don't own such items or if they do that doesn't come close to them.
What do you think of the story? Tell us in the comments section below.