On Thursday, the famous Noor Jehan elephant in Karachi Zoo ferociously fell into a concrete pool and received a severe injury.
The elephant was already under treatment by foreign doctors, she was partially paralyzed last week and was on a fast road to recovery.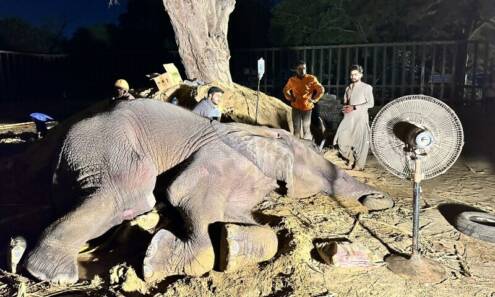 The video of the injured elephant was shared by the JFK Animal and Rescue Shelter. They also claimed that she is "badly injured and lifeless" as a result of the failure to adhere to the Four Paws' advice on her comfort and nourishment.
Soon the news spread all over the internet, and many celebrities jumped in and expressed their heartache at seeing the animal's plight.
Celebrities React To Noor Jehan Elephant Injury:
"I regret to say this, but I think Noor Jehan can only find peace when she dies," began singer Natasha Baig in an Instagram Story, frustrated by the elephant's condition. "Pakistan is truly incapable of showing mercy to animals," she continued.
"This is heartbreaking. Is there any way we can help?" asked actor Ayesha Omar while tagging an animal rescue organization, Ayesha Chundrigar Foundation (ACF) in the Instagram Story. Actor Zhalay Sarhadi also shared a disheartening video of Noor Jehan lying lifeless on the ground. "Heartbreaking!" she said, calling others to help the elephant.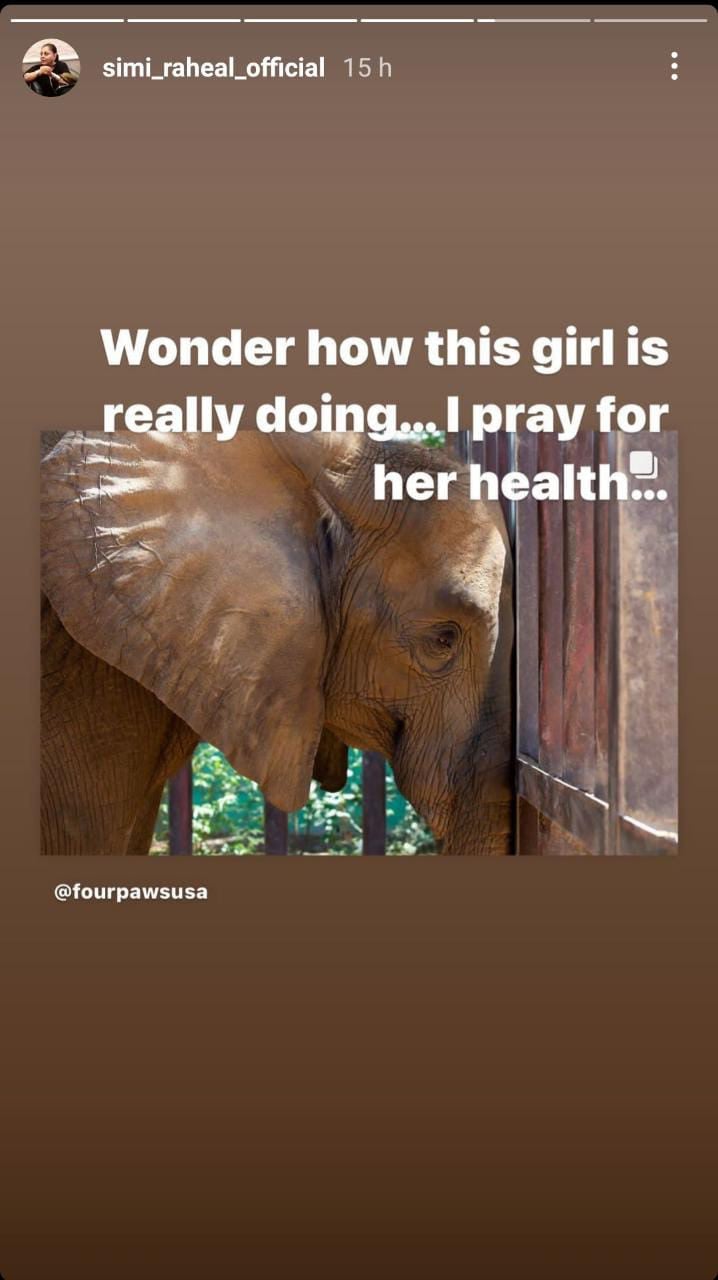 Veteran actor Simi Rahael also chimed in the conversation, offering prayers for Noor Jehan. "I wonder how this girl is doing. I'd pray for her health and recovery," she penned. In a separate Instagram Story.
She also raised her voice against the zoo authority for their negligence and cruelty. "The cruelty, the sadness, the absolute neglect! Shame on humans who create this misery" said the Sabaat star.
Boycott Zoo Culture: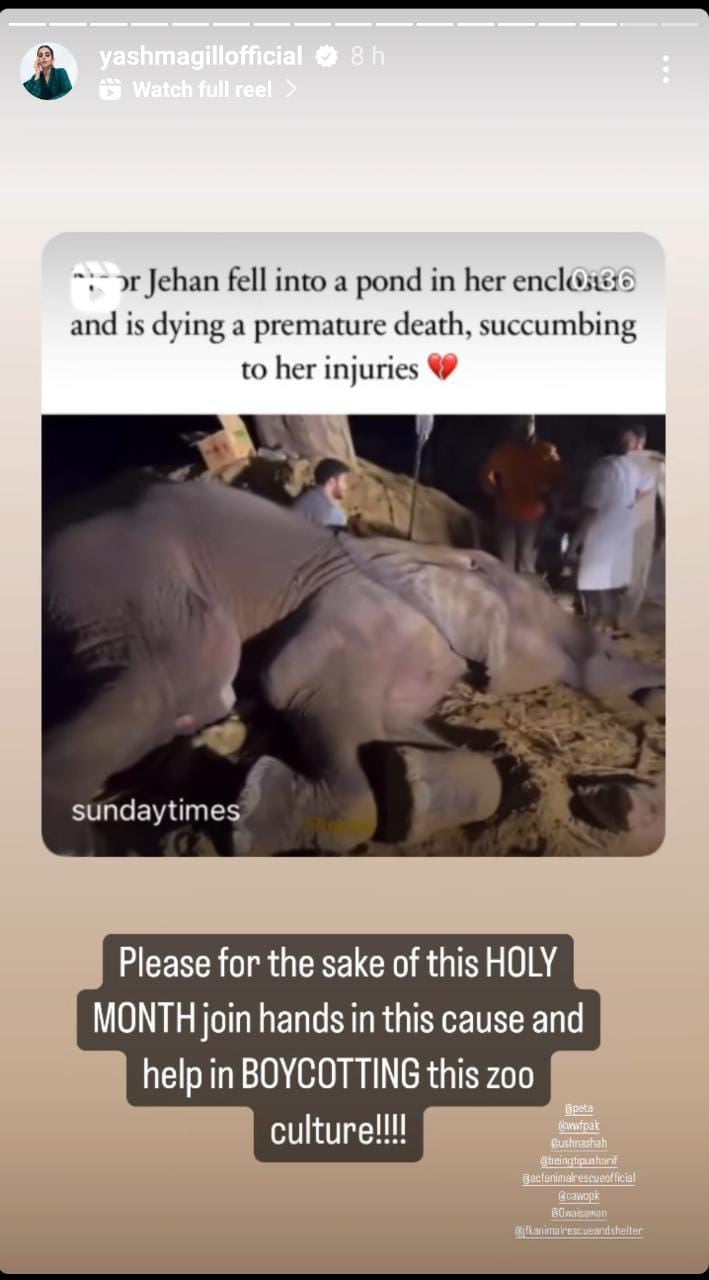 Yashma Gill took to her social media account and asked the people to boycott zoo culture. "Please for the sake of this holy month, join hands in this cause and help in boycotting this zoo culture."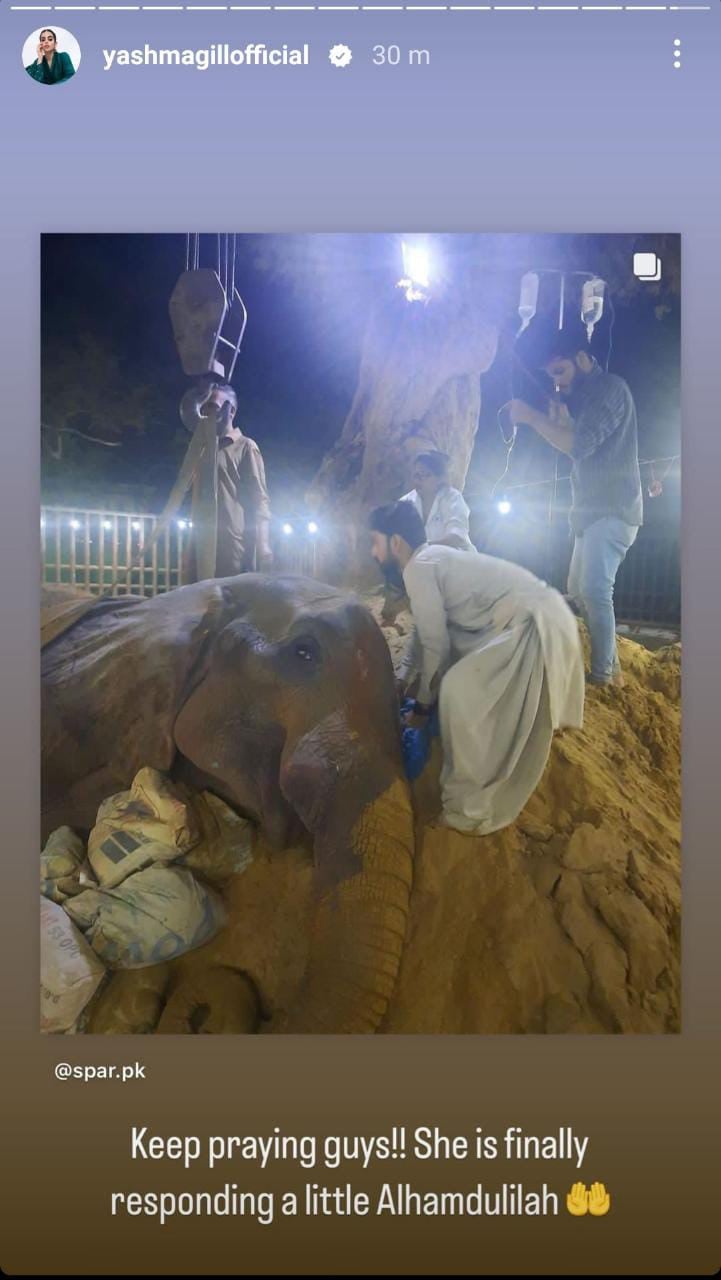 In another post she gave an update regarding Noor Jehan and wrote "Keep praying guys, she is finally responding a little! Alhamdulillah."
Back in 2020, Kaavan Pakistan's lonesome elephant was taken to Cambodia for a new life. Kaavan wasn't healthy and got weak badly.
What do you think of the story? Tell us in the comments section below.