It's been eight long dark years for the mothers who lost their angels at the APS attack and every night hear their beautiful kids scream.
Today marks eight years of the brutal terrorist attack on the Army Public School (APS) in Peshawar, which took the lives of 140 people, 132 of whom were children. For the unversed, December 16 is designated as "Black Day".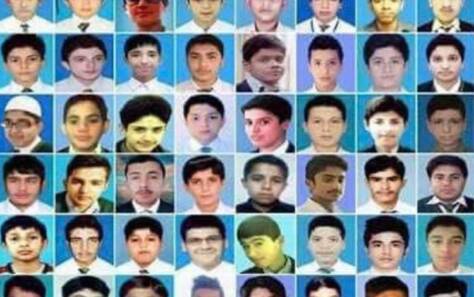 No one can forget that particular day, people were mourning in tears and praying for the rescue team to save the kids.
Still, even after eight years, celebrities pay high tribute to the APS victims with a Twitter trend and it reminds the darkest period of our country.
Celebrities Pay Respect To APS Attack Victims
Taking to the micro-blogging site, actor Adnan Siddiqui shared a gloomy, pitch-black photo titled, "Black Day." He also penned down a caption, reminding people that the grief of the APS attack is still alive in his heart.
"Eight years on, we are still heavy with grief. Some wounds never heal. May Allah have mercy on us," wrote Siddiqui.
In another post, Siddiqui prayed for the victim's loved ones, who live on in immense grief. "An act of senseless madness and sheer barbarism. It's an open wound, a somber reminder that the smallest coffins are the heaviest. May peace be upon the families who lost their young ones," he added.
Veteran actress Samina Peerzada also paid tribute to APS victims and prayed for them and hoped such incidents never repeat in history. "My heart is very sad today. May Allah keep my country safe, protect the children of my country, and save our people from all kinds of human evil.
Today forces us to think about the lives we have lost. I hope history is never repeated. May God give us the ability to make the right decisions. Amen," penned Peerzada.
'My heart was wrenching', Kubra Khan
Kubra Khan also spoke about the APS attack and shared her cents. "I remember waking up to this horrendous news this day years ago.
My heart was wrenching and my brain was unable to fathom the lack of humanity in humans. Seven years down to this day, I get the same lump in my throat, the same heaviness in my heart, and the same prayer on my tongue," she assured.
"May Allah have mercy on the families of those little souls now in heaven. May their hearts be strengthened. May there never be another who puts humanity to shame. God, please guide us," added the Sinf-e-Ahan actor.
APS survivors have made the nation proud with their academic records, just like Ahmad Nawaz who headed to Oxford University and later became the President of Oxford Union.
What do you think of the story? Tell us in the comments section below.