Celebrities in Pakistan supports Imran Khan and have been true supporters of him since day one. Imran Khan was appearing in court for corruption charges that he claimed are politically cultivated.
A few hours ago, Imran Khan was arrested by Rangers outside the Islamabad High Court, and the moment news spread celebrities react to the act and supports Imran Khan.
As per the reports, he was detained by forces in armored personnel carriers after entering the court compound.
Many celebrities have come forward and showcased their support. From Hassan Raheem to Annie Khalid.
Pakistani Celebrities Support Imran Khan
In a wild series of tweet sagas by Annie Khalid, she has spoken up for Imran Khan and requested people to leave their homes to lend support to the former premier of Pakistan.
Please get out of your homes guys. He's in jail FOR US. His entire career of political struggle comes down to today. He's telling us to fight for our constitutional rights, please GET OUT THERE AND PROTEST!

— Annie Khalid (@annie_khalid) May 9, 2023
Khalid also sent ill wishes to the "oppressors" who arrested Khan, while criticizing the establishment.
Actor Armeena Khan took to the microblogging site to share her disgust with the way events have transpired.
Absolute disgusting state of affairs and I stand with Imran Khan.

— Armeena ✨ (@ArmeenaRK) May 9, 2023
"Dozens in riot gear arresting a 70-year-old who can barely walk. For shame! Was this necessary? He said he was ready to go to jail if need be peacefully. Disgusting!" she shared.
No More Democracy
Singer Quratulain Baloch wrote, "It's official. We are no more a democracy," wrote Baloch in a tweet.
It's official. We are no more a democracy. #Imrankhan

— Quratulain Balouch (@Quratulainb) May 9, 2023
Khadijah Shah, the founder of Elan, also took to Twitter to share her anger. "Imran Khan was unconscious when they took him – they had hit him on the head, and legs and doused him with pepper spray which shuts you down and constricts your air passages," she tweeted.
She further added, "Anger building!! Each one of you must stand up and be counted for today, there are no other chances," wrote Shah.
Adnan Siddiqui was also seen in angry mode, "Shameful and shocking to see a former PM being dragged like a petty criminal. Never in the history of our country were such scenes witnessed. Power has surely gone to the ruling dispensation's head," he tweeted in anger.
Singers Hassan and Roshaan also shared their disgust over the sequence of events on their combined Instagram account. "They are right to be labeled fools. They've made a joke out of everything. Is this their father's nation?" read the Instagram Story.
Shameful!
Atiqa Odho shared a video of Imran Khan being arrested and wrote a note in anger. "Shameful! He was there to get bail but they used the moment to NAB him instead. Chief Justice should insist he's presented back in court to ensure his safety at once! Any citizen following the law and respecting the courts of Pakistan deserves security!"
Sana Faysal took to her Instagram account, shared the video, and labeled the day as "Black Day".
Maya Ali also seemed to agree. She took to her Instagram Story as well, sharing a video of the arrest.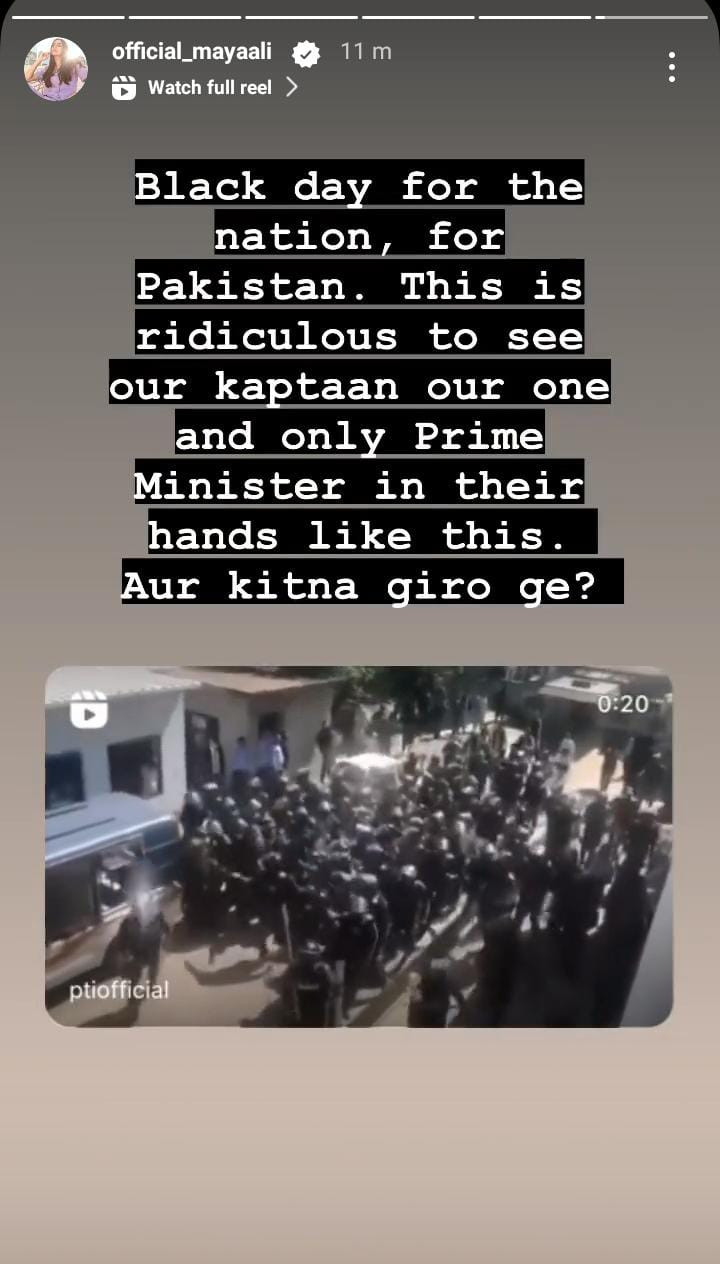 Up till now, no further details shared regarding Imran Khan's bail or anything. Imran Khan's supporters have come out and started their protest.