Last night everything changed for Pakistan Tehreek-e-Insaf as the Supreme Court turned the table in PTI's favor that made left the opposition speechless. On Tuesday rejected Punjab Assembly Deputy Speaker Dost Muhammad Mazari's ruling on the election of Punjab chief minister.
SC made a perfect way for the PTI's Chaudhry Pervaiz Elahi to claim his throne in the country's prestigious political heartland. Soon, the verdict announced that every PTI supporter couldn't resist celebrating their win and claiming the victory.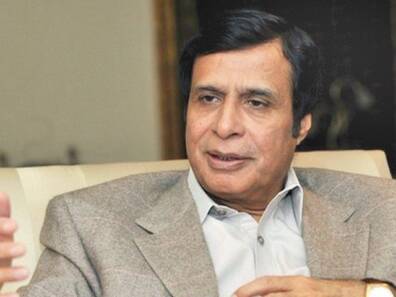 Even the celebrities also joined the social media to celebrate PTI's big win, from Osman Khalid Butt to Maya Ali everyone tweeted some great words.
Celebrities hail Supreme Court's verdict
In the conclusion of the hearing that grabbed everyone's attention for the past four days, a three-member bench, comprising of Chief Justice Umar Ata Bandial, Justice Ijazul Ahsan, and Justice Munib Akhtar, declared PML-N's Hamza Shehbaz's election null and void.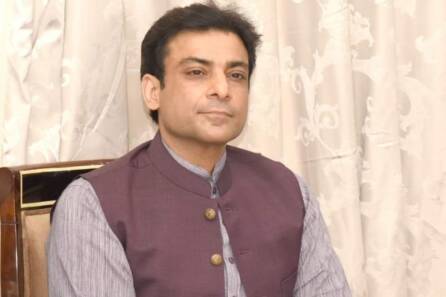 With that Shehbaz lost his status as the "trustee" chief minister. Not only that, all the advisers and assistants appointed by Shehbaz were also ordered to be relieved of their duties immediately.
The whole entertainment industry of Pakistan always showcased their open support to Imran Khan from day one and they have been doing the same till now. On Tuesday's verdict, microblogging sites filled with celebrities' endless tweets that only exhibit their genuine love for the PTI.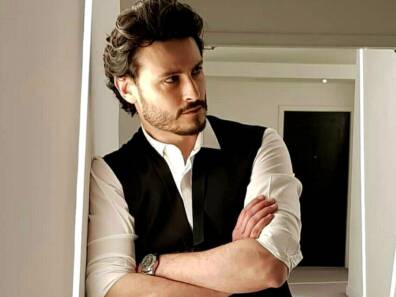 Actor Osman Khalid Butt shared snippets of the song Elahi from Ye Jawaani Hai Deewani to partake in the celebration.
Chupke Chupke actor and comedian Arsalan Naseer had a suggestion for Shehbaz. "Hamza bhai, tension ki koi baat nae hai. Office ko andar se kundi lagaden.
(No need to fret, brother. Just lock the office doors from the inside). In another rather hilarious tweet he asked, "Hamza Shehbaz bro since you don't need the sherwani anymore, can I have it? Might need it to a valima function."
Hail Democracy
Veteran actor Adnan Siddiqui also joined the party and was trolled by netizens when he personally met Nawaz Sharif for his film promotion. Adnan tweeted, "Hail democracy! People's faith has been restored. Hoping it's upheld by the elected leaders."
Actor Muneeb Butt held that Deputy Speaker Mazari "should be arrested now for breaking the constitution!" In another tweet, he said it's "time to celebrate."
Maya Ali took the advantage of her Instagram account and shared the verdict. The "wait was worth it." She added, "This is a great decision for Pakistan. [I] couldn't be [happier]."
Music producer Rohail Hyatt wrote, "Good things come to those who have patience. It's an important part of our internal growth to understand what patience truly is. It is, after all, an attribute of God. 'As-Sabur'. I pray our country observes and learns how one's patience pays off even in times of desperation."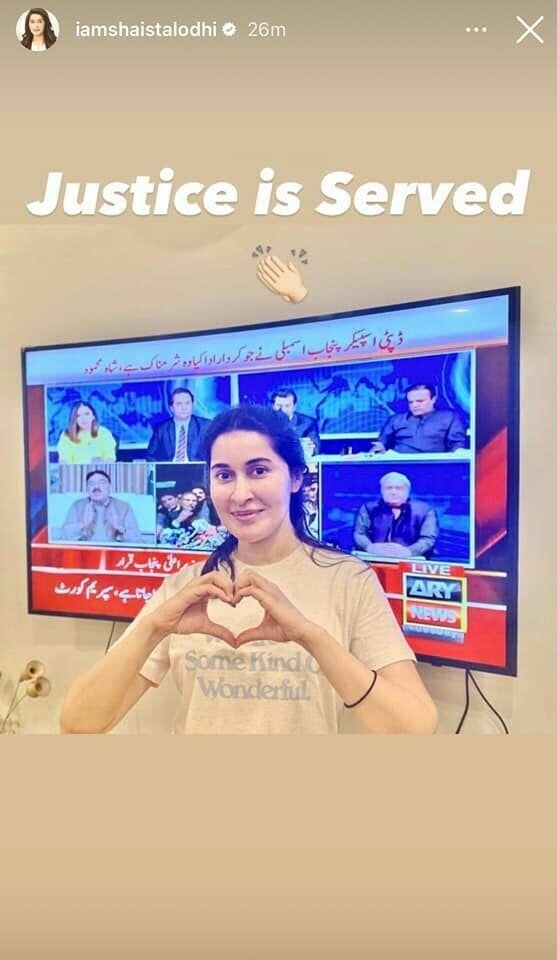 Shaista Lodhi shared a photo of herself ahead of a TV airing of the breaking news. "Justice is served," she wrote alongside it.
Death of Pride
On the other hand, some were not happy with the Supreme Court's verdict in which writer Khalilur Rehman Qamar dubbed the verdict "death of pride at the hands of the jurisdiction."
While veteran actor Iffat Omar, who's aired her reservations against PTI and Imran Khan quite a few times, wasn't too thrilled. "All the hard work and money invested in Project Imran can never be flushed out," she claimed.
It had to happen because the way people showcased their support in the Punjab election and PTI outnumbered PML-N in their hometown shocked everyone. In that win, celebrities also showed their love when the results were announced.
What do you think of the story? Tell us in the comments section below.