In 2011, I was fortunate to be the only one selected among a pool of 500 applicants from the Muslim countries and was awarded a prestigious Muslim-West dialogue scholarship to study Crossing Borders Global Studies Program in Denmark.
Continuing my term for the autumn semester, I spent nearly a year there which allowed me to not only meet diverse group of CB students, but it also provided a unique opportunity to initiate a chapter of Crossing Borders in Pakistan.
"Crossing Borders Pakistan" as an informal association of Crossing Borders Network.
Interestingly, this startup was initiated from the office of Crossing Borders in Denmark and long nights were served for the planning and implementation of it.
Certainly, there are no short cuts and without hard work nothing is possible.

Crossing Borders Pakistan provides a platform to the youngsters of Pakistan to come together and not only be tolerant to each other but interact, accept and respect one another while sharing their experiences and ideas for better Pakistan and making positive practical contribution for the development of the country and also promoting the message of peace and friendship between Pakistan and rest of the world
Currently, there are volunteers who are making a positive change via this unique platform and amidst tough times they have stood up to bring their energies and hope at Crossing Borders Pakistan.
Read Also: The Internet Can't Stop Talking About How Cute Ali Hamza Is
What started from only one person, now the family of CB Pakistan is ever growing with more than 1,500 members at its Facebook page.
Amazingly, the work of Crossing Borders has been noted both in Pakistan and abroad. In January, 2014 I was honoured to be included in the list of 26 amazing Pakistanis who have made the country proud! Read more here!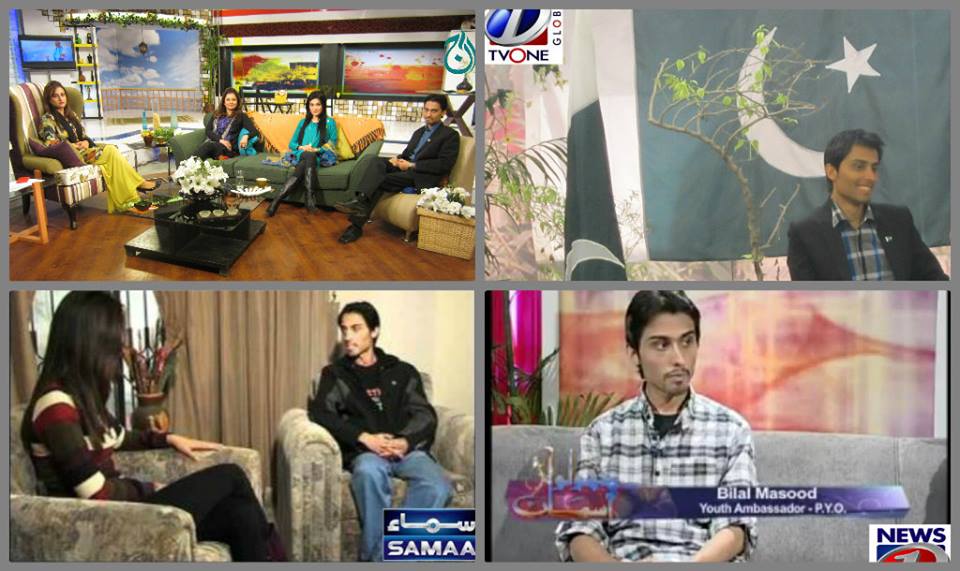 It was after returning from Crossing Borders Global Studies program that the series of features about me and Guest appearances at the leading Media Channels and publications were started and still going. I have also been invited as a Public/Motivational Speaker at number of youth events. Moreover, I have represented Crossing Borders Pakistan at global youth events in Egypt, Nepal and South Korea.
It is pivotal to mention here that it has not been a walk in the park to continue this initiative. While almost every day there is so much of online activism and space for dialogue being created, but there are many challenges involved to take all the good work at Crossing Borders Pakistan from an online world to the grass-root level. However, this has not deterred us in any way and we will continue to do what is possible in our capacities to bring even a little change we can.
The chapter which I established back in June, 2011 has continued in full swing till date, the seeds planted in Humlebaek and ECO villages back some years ago in Denmark are reaping fruits in Pakistan and beyond. I wish all Crossing Borders Global Studies Students experience Crossing Borders in an unprecedented way which I did.
If you want to volunteer for CB Pakistan or want to collaborate on projects please contact me: bilal@crossingborder.org, you can also follow me on my blog.
Last but not least, the story that you have just read, it has only started as I pen it down. Meanwhile, I hope the next story I read here will be yours!
Bilal Masood
Founder/Director Crossing Borders Pakistan
Crossing Borders Ambassador
Youth Ambassador of Pakistan