Since yesterday, everyone's attention grabbed by a viral video of a cat jumping on the Imam during Ramadan Taraweeh.
Muslims all over the globe enjoy the blessings of the holy month of Ramadan and reciting Quran. After breaking fast, Muslims offer the special Taraweeh rituals.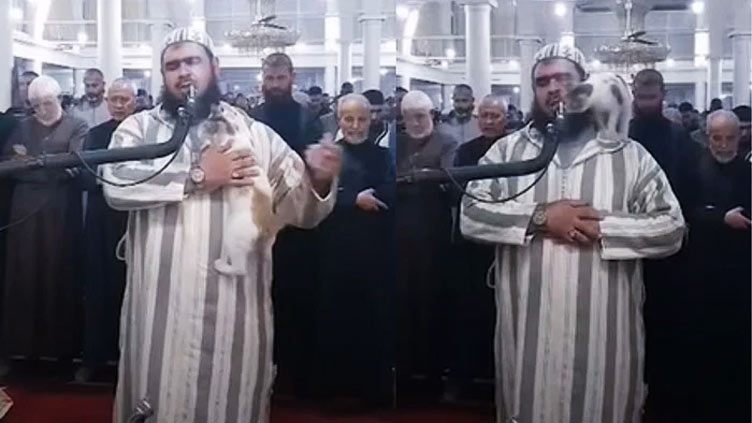 This cat incident took place in Algeria, where the imam was reciting a Quran verse and a cat jumped on him. The way Imam Saheb showed the gesture towards the innocent cat is winning everyone's hearts on the internet.
But who shared the video? The viral video was shared by the Official Page of Sheikh Walid Mehsas on Facebook.
Cat During Taraweeh On Imam Saheb
The two-minute-long video undoubtedly sealed everyone's attention as the Imam leading the Taraweeh at a crowded mosque in Bordj Bou Arreridj, Algeria.
The imam instead of getting anxious or scared petted the cat without stopping his prayer. The cat eventually climbed on his shoulder and also tries to kiss his face.
MashAllah this is so cute. My cat also sit me with me on Musallah when I pray after iftar. Petting a cat is Sunnah of Holy ProphetMuhammad (SAWS)❤️

pic.twitter.com/G9phtsJ5sq

— Sehar Shinwari (@SeharShinwari) April 5, 2023
The video shared on every social media platform, video has amassed over 46,000 likes and 10,000 shares. He captioned the post, "Glory be to God. Even animals fear the words of God. Watch a cat climb over the Imam. And he is reading the Quran in Taraweeh prayer".
"That is so beautiful, it brought tears to my eyes!" commented a person.
"As if the cat wanted to thank you for reciting the Noble Qur'an in a voice that pleases his ears, may God bless you, our Sheikh," said a user.
A third person added, "His response was amazing.. did not miss a beat, even petting the Kittie."
"That's so funny and awesome. Love how he kept his concentration but also welcomed the cat," added a fourth person.
"So heartwarming" commented a user.
See More: Man Tortures & Hangs A Cat To Death On Stairs Of His House
What do you think of the story? Tell us in the comments section below.