Have you ever been trolled on April Fools' Day? Well, it was routine call on 1st of April when we were kids. Now we hardly bother and even people have stopped making jokes about it. Back then, we went about creative ways to fool around our friends and my word, it was fun.
Nowadays people do not bother at all. It comes and it goes and no one bats an eye. People also tend to avoid specifically trolling someone on April Fools' Day for various other reasons. But looking it through a perspective that simply calls for a reason to share laughter, it is not bad.
Just today, it had been a normal day for many Pakistanis. Sun shone brightly, the weather seemed a little savage but we got on with it. People were normally kickstarting their day, looking forward to their plans on a Saturday and everything seemed normal. Some had to be at work, while some had other plans but they all were grateful that they would reach their destinations safely with all ease and comfort they could ask for. Thanks to the favorite ride-hailing service of the region, people are relieved of long-haul driving, traffic jams, and the exhaustion that tangles along.
It's just what people have immense gratitude for Careem. While Careem, it decided to get a little naughty with its customers. People headed to social media and found out that Careem just released an exclusive promo code hotline. Customers scrambled quickly towards dialing the hotline as they were supposed to leave a missed call in order to receive a promo code via a text message.
And then shots were fired… Happy April Fools' Day!
Careem had other plans… All these people who were buzzing with excitement saw their excitement change into joy and laughter as they found out they have been trolled by Careem. The message in return did not contain the promo code, rather broke it to the customers that they have been pranked on April Fools' Day.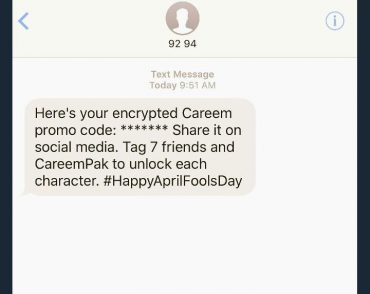 Ah, this was the moment of facepalms, laughter, giggles and just sweet emotions. They liked it. Nobody ever anticipated such a prank and it was a moment to enjoy a good laughter. Careem brought forward the idea of creatively pranking its customers. It was intended to put smiles on faces on a lighter and sweet note. Has any kind of business ever done such a prank to its customers? Not in our knowledge…
So, not only Careem makes sure the customers enjoy a supremely convenient service that has changed our lives, it certainly takes chances of getting personal, adding humor and amusing its customers. Must say, it was well played… Who would have thought they are in for a prank?
People simply were amused that Careem pranked them in such a unique way…
Hahahahaha my friend actually tried it. I knew there was something wrong when they said encrypted code ????????????????@CareemPAK pic.twitter.com/cZLvTI7jRK

— Noor ul Huda (@Noorrulhudaa) April 1, 2017
@CareemPAK April Fools ???? pic.twitter.com/FCAiyl5Ddw

— Hayyan Niamatullah (@hayyann11) April 1, 2017
@CareemPAK ye tau LOL hogaya Careem! pic.twitter.com/sJubPneiCh

— Amjad Hakro (@AmjadHakro) April 1, 2017
@CareemPAK knows a thing or two about marketing! ????????????????

— Wasay Khan (@iamWasayKhan) April 1, 2017
@CareemPAK Sahee choona Hai. 😀

— Annus Raza (@annusraza) April 1, 2017
Careem became a reason of laughter for some people. Kind of them to amuse their customers in such a way. I am sure many of us wish we were trolled by Careem before finding out about it.