Careem, the everyday Super App of the greater Middle East and Pakistan, has partnered with IHOP, an American multinational pancake house restaurant chain that specializes in breakfast foods along with a menu for lunch and dinner items (burgers, entree, sandwiches, and salads), as their first food delivery partner to provide them with delivery services. Customers can now order food from IHOP from the food tile in the Careem Super App in Karachi.
Careem launched its food delivery service in Karachi back in 2019 and has onboarded more than 1300 restaurants in their delivery portfolio with names like Tao, Chop Chop Wok, Pie in the sky, and Del Frio leading the list. With the increasing demand of one for its kind pancake houses, IHOP is the latest addition to the Careem food delivery service portfolio.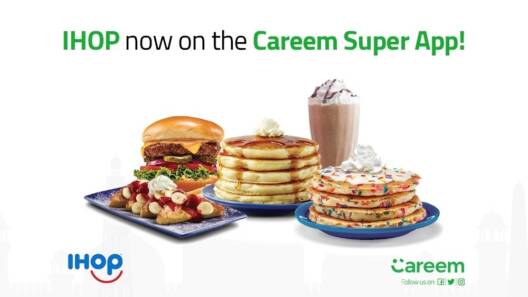 While ordering food from the Careem Super App, customers will not only get to enjoy the food from the comfort of their homes but will also be complying with the government's enforced regulations following the COVID-19 protocols in the city. Recently, after the launch of the franchise, owing to its international popularity, long queues were seen outside the restaurant, as food enthusiasts couldn't wait to get a grab.
Other benefits of using the Careem Super App to order food includes tracking orders in real-time from the interactive map and contacting the Careem captain either directly or through our dedicated Customer Care Centres.
Careem, which recently became a Super App, has added an expanded range of services to its portfolio across all of its 33 million registered users and 1.7 million captains across 13 countries and over 100 cities. In Pakistan, they have more than 500,000 Captains registered for the Super App features that include mobility of things and mobility of people.