Today's world is no less than a race and all brands are continuously coming up with new and interesting ads- some good and some bad. However, every once in a while, we see an ad and are left speechless with the thought "What the #%$% …"
The most recent ad which perfectly fits the criteria is Careem Pakistan's new ad for their branding of 'Delivery' service. The ad aroused a ton of thoughts in our heads.
Soch Tumhari, Delivery Hamari 😉

Gents ke bajaye ladies toilet mai chalay gaye? Jaldi main galti to hoti hai, par ab Careem Delivery is here to save the day! 😉#SochTumhariDeliveryHamariUse Careem Delivery, get anything delivered anytime, and get a whopping 70%* off on the delivery charges with promo DELIVERY70Careem Delivery – Soch Tumhari, Delivery HamariPromo T&Cs:- Promo valid in Karachi, Lahore & Islamabad- Valid till 24th Aug 2020- Max discount/ride: Rs. 90- Can be used 2 times

Gepostet von Careem am Montag, 17. August 2020
Mistakenly gone to the ladies bathroom..
So realistically, how many of us have even gone to the ladies bathroom? To be honest, kartay sab hain, but batata koi nahi hai. In all honesty, we do not blame the poor cutie in the pink shirt.
Delivery inside a bathroom? Really….. Wow!
The ad shows a guy stranded in a ladies bathroom thinking of an escape plan. He uses the Careem Super App for ordering a Burqa and it just pops up in his hand… So now Captains are delivering products inside bathrooms too, @Careem? Very nice. Very useful.
This particular ad very much reminds us of another real incident where someone tried to escape the police in a burqa but was caught. Wonder if that was the inspiration?
Privacy? Personal stuff?
The second ad, relatable to the Pakistan audience, showed an uncle snoring uncontrollably and his bichari begum ordering a chutki (peg – for the burgers) in the middle of the night through the app's delivery function. You have to admit one thing, COVID has no doubt made most of our parents relatively tech-savvy; where earlier they needed help in typing a simple text message and now they cannot stop ordering things online. Dear Careem, we get that your vision is to simplify and improve people's lives, but seriously… Saving people from kharatain?  Okay we have to admit, they are really annoying especially if you're a light sleeper.
While the videos have had a public sentiment of being silly, it did however manage to get the message that they'll deliver literally ANYTHING and ANYWHERE (emphasis on anything) loud and clear, all while engaging the Pakistani audience in an engaging manner. So kudos to that Careem!
In addition to these speechless videos, Careem was also seen putting up polls on its social media account asking its customers to mention the weirdest thing they have ordered from the Careem Super App, and the answers were actually pretty weird.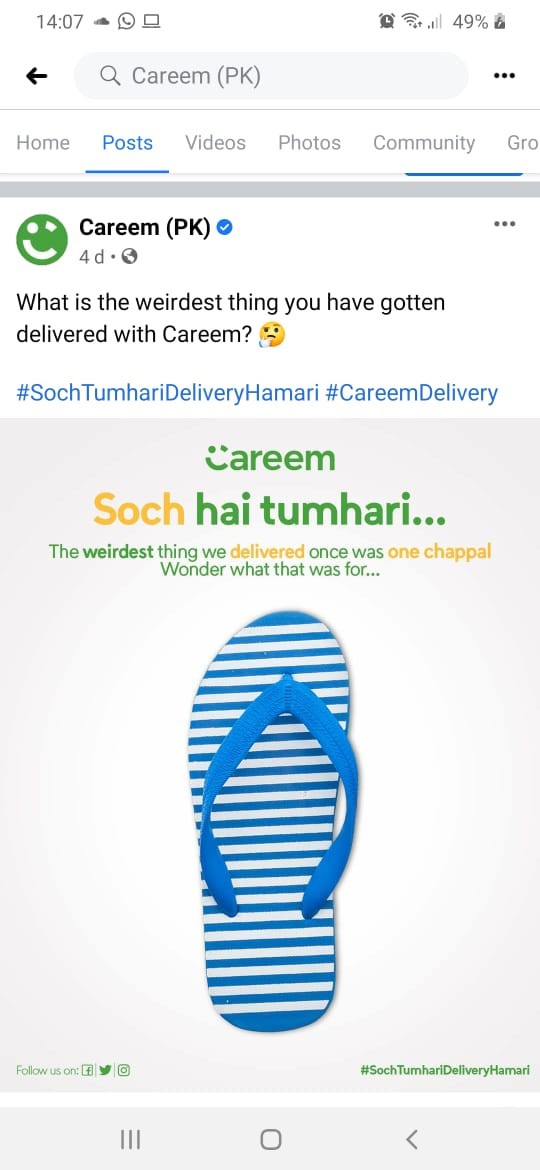 From mangoes, pants, lenses, keys, bakray ki raan, ispaghol to single chappal, people have been flooding the post with their oddest item and in all honesty, the responses of Pakistani's are indeed weird.
Just how the video showed a fantasy element in terms of production, similarly the Pakistani audience had a somewhat playful response to it as well.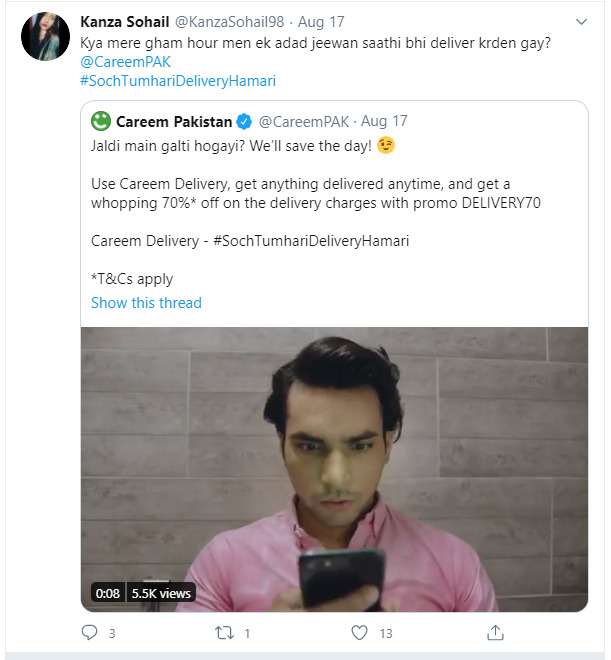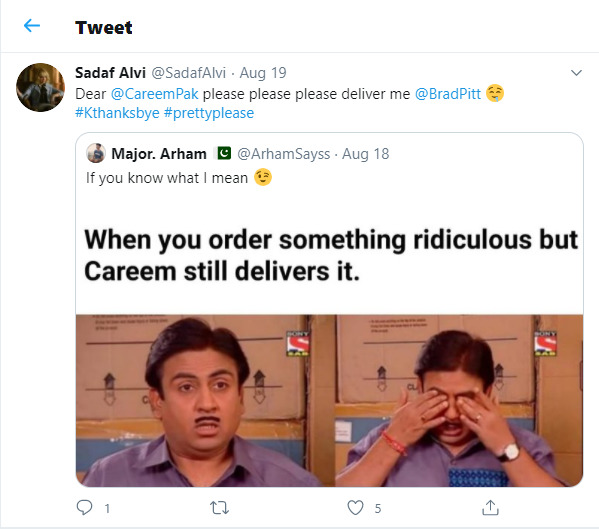 What's your personal opinion on the new Careem ads? Let us know in the comments down below.