Shahbaz Sharif and Maryam Nawaz who are the president and vice president of Pakistan Muslim League-N (PML-N) went to see Nawaz Sharif in Kot Lakhpat jail on Thursday. The meeting went on for two hours where both Nawaz's brother and daughter briefed him of the political affairs outside.
According to the sources, Shahbaz Sharif informed Nawaz about his meeting with the opposition parties' leaders while Maryam updated about her meeting with PPP's current chairman Bilawal Bhutto and future political activities. The family also had lunch together.
Inspector General of Police (IGP) jails on Wednesday, stopped the PML-N leaders from meeting Nawaz as per the ban that was imposed on them which was later condemned by Shahbaz Sharif. He called it a fascist mindset.
Shahbaz claimed that the Prime Minister was fearful of federal budget not being approved in the parliament. In his own words, "They can do whatever they wish to but we will not let the IMF's anti-public federal budget to be passed"
Moreover, an unfortunate accident occurred outside the jail where several PMLN workers were present in solidarity with their jailed leader. 
A Disabled PML-N Worker Was Hit By Shahbaz's Car Injuring Him Breaking His Foot.
Rashid Babar traveled all the way from Gujranwala to support Nawaz Sharif. When the car carrying Shahbaz arrived, the sources said Rashid rushed towards his vehicle. This is when the car ran over him.
Here's The Complete News Of The Event:
The party president immediately took notice and made corrective measures. He asked his guard to lift him and immediately admit him to a nearby hospital. Sources say he has taken complete responsibility of Rashid's medical expenses. Hopefully, the PMLN worker is recovering well.
Past Repeats Itself? Unfortunately, The Past Is Much Gruesome And Inhumane.
However, this isn't the first time the Sharif's vehicles run over people. Back in 2017, Nawaz Sharif's motorcade didn't just injure a merely 9-year-old child but took his life. The poor child lost his life near Lalamusa. This incident was never forgotten and the picture of the boy on the road that circulated the media was burned in every Pakistani's memory.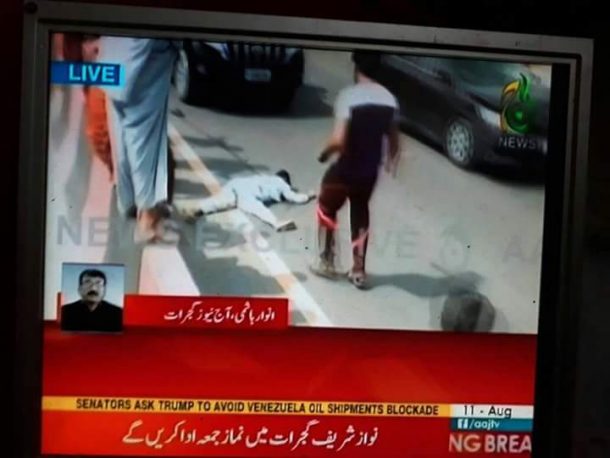 Instead of taking complete responsibility of the small child they glorified it in their favor calling it their rally's first democratic martyr. Disgusting.
Have anything to add? Let us know in the comment section below.