In a grisly incident, a car driver critically injured a traffic warden who was checking 'unauthorized' registration plates in Lahore on Saturday.
Following the incident, CCTV footage surfaced on the internet. The car driver evidently did not apply brakes when patrolling officer Fayyaz, standing in the center of the road, signaled him to stop. After hitting the officer, the driver took a u-turn and escaped.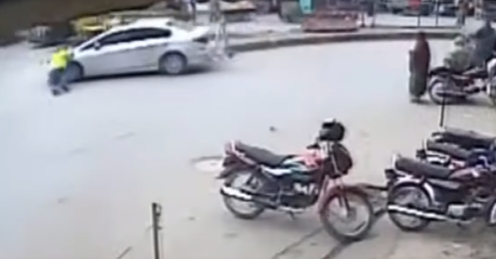 The incident took place on Nisbet Road. Police said Fayyaz was checking registration and unauthorized number plates. He was admitted to Mayo Hospital with critical injuries. Chief Traffic Officer Muntazir Mehdi has ordered the arrest of the car driver.
Police launched an investigation following the incident, adding that the culprit will be arrested soon.
Below is the CCTV footage:
WARNING: Some viewers may find the content of this video disturbing. Viewer discretion is advised.
From time to time, such incidents come upfront on social media creating a chaotic prospect among the awaam. In a similar incident last year, a man in Karachi's Gulberg misbehave with on-duty traffic police officials. The police officers tried to his vehicle over violation of traffic rules.
Instead of stopping his vehicle, the man tried to escape by running down the traffic police officials. One officer even tried to stop him by taking out his car keys. The residents of the area were able to catch the man. Fortunately, none of the traffic police officials got an injury during the incident.
Another similar incident took place in Peshawar toll plaza when an overspeeding car ran over a motorway policeman after he signaled the driver to pull over. According to the National Highways and Motorway Police (NH&MP) spokesperson, the motorway police also asked the driver to stop his car near Mardan but he refused to stop and ran away.
In a devastating turn of events, the motorway police officer who became a victim to being hit and run by the overspeeding car passed away after being in a coma.
What do you think of this story? Let us know in the comments section below.