During Tuesday's clashes with militants in the Zewa area of Kurram tribal district, two security personnel and an officer of Pakistan Army, embraced martyrdom including Capt Ali and Sepoy Bilal while three others sustained injuries, officials said.
The Inter-Services Public Relations (ISPR) said in a statement that three militants were killed during an operation conducted in the area after receiving information about their presence there. In addition to this, three more soldiers of Frontier Corps suffered injuries, officials said.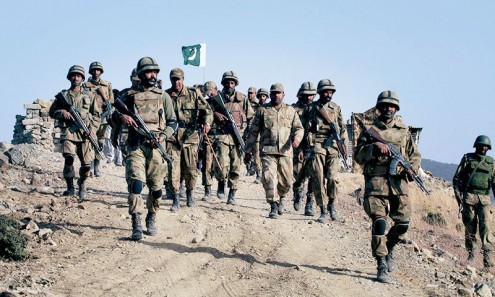 According to reports, paramilitary forces carried out the operation in the mountainous area of Parachinar to retrieve seven workers of a cellular company who had been kidnapped. The militants and the security personnel encountered each other on Monday.
The security forces launched the operation in the area when the bullet-riddled body of a worker transpired in Zaimokhet. Kashif, a resident of Okara District in the Punjab province, identified as the deceased worker. Dawn reported that a group of militants kidnapped five workers of the cellular company in the Zaimokhet area of tehsil central on July 6 when the workers were installing a cell tower in the area to launch the cellphone service.
An official claimed the kidnappers released a video of their captives demanding ransom. The official reporting on the security situation in Kurram confirmed that militant groups, including IS, were present in the central part of the city.
According to the ISPR, a cordon and search operation is underway in the area to eliminate other militants. Kurram district was the sanctum of militant groups in the central section, adjacent to Khyber and Orakzai tribal districts. Armed forces conducted multiple operations against militants. Moreover, the area de-listed as a conflict zone in 2011.
The martyred
Pakistan Army's Capt Basit Ali, 25, and Sepoy Hazrat Bilal, 22, embraced martyrdom in an exchange of fire with militants, according to the ISPR statement. Captain Basit belonged to Haripur district and Sepoy Bilal hailed from Orakzai tribal district.
Captain Basit Ali was from 134 PMA Long Course and belonged to the Baloch Regiment. He was posted to Thall Scouts, FC KP.
Captain Basit Ali was the coursemate of Lieutenant Khawar Shahab Shaheed and Captain Umar Shaheed. Both his coursemates had also embraced shahadat during counterterrorism operations in Waziristan.
He remained the team leader of the team which won the International PACES (Physical Agility and Combat Efficiency System) Competition. In addition to this, he received the 1st position trophy from Army Chief General Qamar Javed Bajwa.
May their soul rest in peace.
An explosion last year in October led to the martyrdom of a young soldier Captian Umer Farooq Cheema in Waziristan. Pakistan Army deserves all our love and respect!
What do you think of this story? Let us know in the comments section below.