For someone who suffers, only they know the ordeal of that pain. Imagine the pain of a parent when they lose a child at a young age. They may feel proud of the fact that their child lost their life while fighting for their country, but the void never fills.
On 31st May, 2013 25-year-Old Captain Hassan Javed Embraced Shahadat in Kurram Agency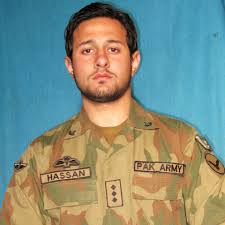 Captain Hassan Javed and his team were on the task to capture and control the Height Muhammadi Top located in the Kurram Agency. The brave Captain had volunteered himself to be a part of this difficult task as well. After scaling the mountainous terrain for more than 11 hours while carrying the combat load of 30 kilos, this was the mission where Captain Hassan embraced shahdat.
For 1 Hour and 15 Minutes, There Were Crossfires Between the Men in Green and Terrorists
During the crossfire, Captain Hassan received a bullet in his face and was bled to death on the spot, embracing shahadat. Captain Hassan kept fighting the evil till his last breath. He was awarded with Sitara-e-Bisalat for showing immense courage and bravery throughout his time as a jawan.
Before Embracing Shahadat, Captain Hassan Wrote a Letter to his Sister
15 hours before he passed away while fighting for this soil, Captain Hassan wrote a letter to his sister Sabahat Javed. In this heartfelt letter, you will see numerous emotions pouring in. This letter is written by a man who might have known that this his time to embrace shahadat. From writing about his smartphone code to passing on his love to the parents, Captain Hassan's letter will surely melt your heart.
Last letter written by capt Hassan Musahib javaid to his elder sister..This was written by him just 15 hours before his Shahadat..Nothing can be so heart wrenching than this ?#PakFoujZindaBad
Captain Hassan made sure to address all important points in his last letter. He talked about his savings, giving his regards to everyone he knows and even talking about the iPod he left behind for his sister.
Here's A Small Video on Captain Hassan; his Life and the Letter!
May Allah bless his soul and give sabr to his family, Ameen.