The owners of Cannoli Café Soul tried to downplay their problematic viral video as gup shup among colleagues but the undertones of a crucial power dynamic were all too obvious for the cyber citizens to simply let go of. While the media trial of the two women continues, the presumed 'victim', Awais Altaf, the manager of the Cannoli restaurant at last breaks his silence on victimization. Spoiler alert: It is not what you are expecting.
Lately, a video of two female owners of a high-end café in the capital apparently mocking the English language skills of their manager appears to have struck a nerve with Pakistanis on social media. There is no denying, the owners had it coming.
The video was just too painful to watch. It vividly exhibited the colonial hangover of the restaurant owner.
These women – who proudly introduced themselves as Uzma and Dia – can be seen making classist remarks towards their manager Awais, who apparently has been working for them for the last nine years. He may not know English very well, but he certainly displayed more manners, politeness, and humility than those women.
Even though an apology letter was issued by the café later, things did not cool down with the netizens. In fact, the apology came off to be rather tone-deaf and gaslighting than sincere. At last, the manager has spoken up on the matter.
Here is what the manager has to say about it
In an interview with a local media outlet, Awais, the manager breaks the silence and addressed the media trial of Cannoli employers as unfair.
"We were just making a video for fun, they had no intention to hurt me. I have been working for them for years. People have clearly taken the video in the wrong direction," he clarified.
"I did not feel like they insulted me. It all became an issue because of my English in the video."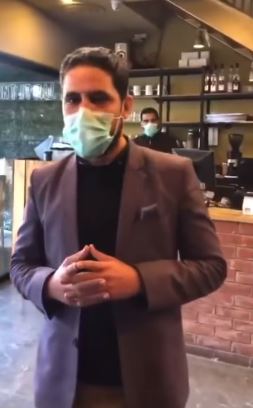 "Many people have been contacting me and feeling bad for me. They did not like what happened," he added.
"It is not that I cannot speak in English at all. I deal with the customers myself, and I do speak English while communicating with them. It was just that I was put on the spot which is why I could not speak properly" in the viral video.
Watch the complete interview here
Regardless of his take on the matter, it looks like the media trial is not going to end anytime soon. In fact, an Urdu Mushaira has been arranged by netizens outside the notorious café. Apparently, it will be taking place today (January 23).
Earlier, Shaniera Akram shared her two cents on the matter and slammed the owners for their insensitivity and inhumane behavior towards their manager. In addition, she spoke up about the familiarity of being 'put on the spot to speak another language'. She also challenged them for an 'English' competition.
What do you think of this story? Let us know in the comments section below.