In Pakistan, it's a rare sight if you write something to a renowned celebrity, politician or sportsmen, the probability of you getting a reply from them is too low because… who likes replying to someone ordinary?
Here's a story of a boy who received a reply from none other than the globally known Prime Minister of Canada, Justin Trudeau!
Saajan Ali Memon, a graduate of Mehran University of Engineering & Technology shared this 'unreal' moment with us when he got a reply from the hottest Prime Minister in the world, Justin Trudeau on Quora when he asked him to proof his identity to know if it's him replying or his assistants or the social media team. This is what he had to say about it:
Last day, when I noticed that Canadian PM is online and answering to various questions on Quora, being a Pakistani I thought that they are being answered by his assistant, not by himself personally. But surprised to see his answer to my question with proof.
Check this out: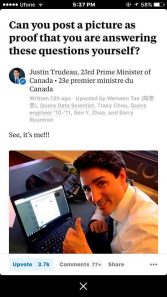 Right after his response, I remembered one thing happened with me when I was pursuing my Bachelor's degree. I went to the warden of our hostel to discuss problem and astonished to hear his unexpected response, even though, I was told to come tomorrow and went again but no response at all. Finally decided to quit.
Unfortunately, I never ever met with the honorable VC! How could I? It was considered to be an unpardonable offense.  This govt. officers in third-level institutes are actually appointed for us to make us a civilized nation, are not even willing to discuss problems, although, they are being paid with huge amount easily converted to hard currency, though. How could a selected MNA/MPA would response you? Even, MNA of my city doesn't know how to send an e-mail, not only this, he is still unaware of the total population of his own District. 
In a nutshell, those who are willing to do something special for the country, kindly, do it sincerely. I've been searching for hidden secrets of their (western) success since I noticed their humbleness and authority to speak against the government, today I found one reason behind this. Certainly, I'm sure, neither PM of our beloved country will response in such a manner, nor even President of our society union do.
Well, what else you would want from life when one of the most popular men just get in touch with you when you weren't expecting at all. Cool, isn't it?